Junior Allison Goldfarb spent one month of her summer in Thailand, climbing mountains, building irrigation systems, and exploring new cultures.
Goldfarb used a program called Rustic Pathways, a program that sends teenagers, college students and groups on trips to foreign countries for community service, gap years in college, or tourism.  Goldfarb chose an intensive community service program in northwest Thailand.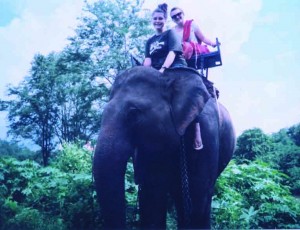 "I wanted to experience something different than my normal life and I thought it would be a good opportunity to learn more about myself and the world around me," Goldfarb said.
Goldfarb wasn't looking for a vacation, but a chance to do something truly different and exciting.
"If I go halfway around the world, I don't want to stay in a hotel with a bunch of Americans," Goldfarb said.
Goldfarb stayed in the Chiang Mai, Chiang Rai, Mae Hong Son and B'Pai areas of Thailand.  Goldfarb was somewhat intimidated by the trip at first.
"It was the most intense program," Goldfarb said.
In most of the areas Goldfarb traveled to, there was no running water.  For Goldfarb, a bathroom was a squat toilet and a shower was a bucket of water.  She slept on mats on the floor in the villages.
"At first I was like, This is going to be really tough," Goldfarb said.
After a few days, though, Goldfarb managed to adjust to her new surroundings.
"We were totally isolated from society," Goldfarb said. "There were no roads to get to the villages," Goldfarb said.
Goldfarb traveled in a group of 12 people, including two leaders who were in their early twenties.  However, there was no hierarchy in the group; Goldfarb bonded with everyone in the group.
Goldfarb felt especially lucky because of the unique opportunities the trip presented for her.
"Being able to stay in the villages was the best part," Goldfarb said.
Usually, tourists and visitors to Thailand only stay in cities and towns, and don't travel to the small, tight-knit villages.
"People are unable to visit these villages," Goldfarb said. "They are completely cut off from tourism. We were only able to visit these villages because of the personal connections that Rustic Pathways had in these villages."
The populations of these villages are very small.
"The largest one was 60 families, and the smallest was about 20," Goldfarb said.
Goldfarb recognizes the unique opportunity she has been able to experience.
"Each village we went to was a different hill tribe," Goldfarb said.
Goldfarb visited a Karen, Lisu and Ahka tribe, and encountered differing cultures from each of them.
"We would live in a village for a week and meet with elders to see what they needed," Goldfarb said.
Living in a village was a very new experience for Goldfarb, for several reasons.
"In all of the villages, there was livestock everywhere," Goldfarb said. "In our first village, there was a cow that would stand in front of the stairs to the house, and we would have to physically push it out of the way just to get in and go to sleep."
The group was in charge of planning a community service project for each village they visited.  Their responsibilities included planning finances, materials and construction.
"In the first village we built a roof over the water supply for the dry season," Goldfarb said.
The village had had problems with bacteria getting into their water supply.  Goldfarb's team also built a wall around the local school, so that the children could plant a garden without the pigs and other livestock trampling it.
Although most of the trip was community service, Goldfarb also spent some time in towns near the villages.
"We went to a longneck village after we stayed in our first village," Goldfarb said. "It was kind of disturbing, because it was their home, but it was also a tourist site.  It was like a human zoo—I felt terrible taking a picture."
The group's task in their second village was to build a wall around the spirit house.  Goldfarb indicated that she would rather have done something more practical.  However, the spirit house was the village elder's top priority and the group respected his wishes.
There were no women or white people allowed in the spirit house.  Consequently, the villagers had to cleanse the spirit house by slaughtering six chickens after the volunteers were finished working.
The third village brought the most challenging project of all.
"We redid their whole water system," Goldfarb said.
The water the villagers had been using contained fertilizer runoff, which was unhealthy to drink.  Water was also scarce in the village.  Their water was turned off from 12 to 5 pm, to conserve it.
"We had to trek through the jungle up a mountain with bags of cement and pipes on our backs, and then dig a trench with a hoe back to the village, lay the pipes, and then connect them," Goldfarb said. "It was the hardest work I've ever done in my life, but when I saw a drop of water come out of the last pipe, I was the happiest I've ever been in my life."
Goldfarb found that much of Thai culture was very different from that of the US.
"The people are very polite and very friendly," Goldfarb said.
In fact, Thai people have many etiquette customs that Americans do not practice.  For example, when you're talking to someone else, it is rude in Thailand to be on a different level than that person; if they are sitting, you must also sit.  It is also rude to point your feet directly at someone when talking to them. Goldfarb also enjoyed learning about Thai cuisine.
"Thai food is delicious," Goldfarb said.
Actually, Goldfarb also encountered some not-so-common dishes during her travels: cooked dog, cooked rat, insects like cockroaches (someone in her group ate one as big as her hand), frog, and even scorpion.  Goldfarb herself tried mealworm, but didn't enjoy it.
Goldfarb also did a bit of tourism in Thailand. She took a boat ride from Thailand to Laos to Myanmar in the Golden Triangle, visited temples, rode elephants, saw the Chang Mai night bazaar and other markets, gave morning alms to monks, visited the Long Neck Village, went to the House of Opium in the Golden Triangle, and went to a Muay Thai fight.
"We would just be driving, and then tucked into the hillside would be a giant, golden reclining Buddha," Goldfarb said. "It was incredible."
Goldfarb took all of her new experiences in stride.  She highly recommends trips like hers, especially community service trips, to other students.
"Make sure you immerse yourself in the culture as much as you can," Goldfarb said. "Take all the opportunities, because you can learn even from negative experiences."
Goldfarb was struck by the Thai way of life, and by how much it differs from Americans' viewpoints.
"I am grateful for what I have, but the philosophy is so different there," Goldfarb said. "The focus is on people and life and living."
Goldfarb thought that the Thai people she met were much less materialistic, because they weren't focused on their belongings. Nobody locked their doors at night, because there wasn't anything to steal.
One month in Thailand wasn't enough for Goldfarb, but she wasn't sure if she would go back as a tourist.  She is "conflicted," because the experience wouldn't be as rich.
Goldfarb won an award on her trip this summer, the Star Alumni award.  Goldfarb has decided to use the money from the award to help pay for a second trip next summer.  She will head to Peru for a six-week adventure.
Goldfarb's trip to Thailand has changed the way she looks at the world.
"It's pushed me," Goldfarb said. "I never want to be in a comfort zone, ever."