A Better AP?
Beginning in the fall of the 2011-2012 school year, the College Board will begin a rollout of major revisions to many Advanced Placement (AP) course curriculums and exams. One of the major goals of the reforms is to reduce the span of content covered to allow for a greater focus on deeper, analytical thinking.
The first changes to appear will be in AP World History, AP French Language and Culture, and AP German Language and Culture. The revisions to these courses will be set in motion next school year.
According to CHS AP coordinator and college counselor Carolyn Blair, teachers at CHS will be required to go through an AP Audit, starting in March.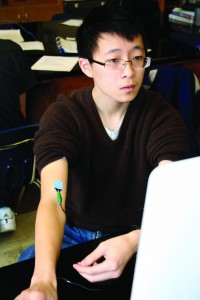 "Part of this process requires teachers to submit a syllabus which will be reviewed by College Board," Blair said. "All teachers with changing curriculums will have to redevelop their class and therefore their syllabus to the satisfaction of the College Board in order to continue teaching the course."
Changes to the language courses are aimed to focus more on communication and cultural awareness, while the multiple choice section on the AP World History exam will have only four answer choices instead of five. In addition, the AP World exam will no longer penalize students for guessing by subtracting points from a student's score.
The AP World History curriculum remains mostly unchanged due to opposition from educators, according to CHS AP World teacher Donna Rogers-Beard.
"Most World History teachers objected to the radical changes because the World History AP course was the most recent course added to AP," Rogers-Beard said. "It would put a considerable pressure on schools that had recently adopted AP World and trained their teachers to now make the changes suggested. The revision committee agreed to reconsider their changes and to put things on hold for two more years."
The lack of serious change for the moment may be part of the reason why the spotlight is mainly centered on the new AP Biology and U.S. History curriculums and tests, set to be implemented in the 2012-13 and 2013-14 school years, respectively. Also in the 2012-13 school year, revised AP Latin and AP Spanish Literature and Culture courses will take effect.
According to the College Board's website, the AP Biology revisions intend to "make 'doing science' a centerpiece for the revised course." More so than some of the other changing courses, AP Biology will experience a slightly different classroom dynamic.
"Moving away from the lecture-and-demonstration model towards a collaborative approach to teaching biology, the redesigned course provides students many opportunities to take risks and to apply reasoning skills through the inquiry process," the College Board website said.
CHS AP Biology teacher Sally Lazaroff said she learned of the revisions to the course last spring when she received a draft copy of the changes from AP Central. Over the summer, she attended the national AP convention.
"Attempts were made to further explain the decisions to focus the biology curriculum around four big ideas, to shift pedagogy towards more inquiry, and to emphasize the interdisciplinary nature of the study of life science," Lazaroff said.
The "four big ideas" of the new curriculum are evolution, cellular processes, genetics and information transfer and ecology. Each is divided into "enduring concepts," and further organized into "essential knowledge" topics. The goal is for students to be able to make connections across the different subject areas.
"This will not be a big change for us," Lazaroff said. "Our science department already has a strong scope and sequence, and a belief that there should be strong connections among the units of study and among the different disciplines of physics, chemistry and biology. There are 12 units of study in AP Biology. They are not studied as isolated concepts. Effort is made to point out the connections – chapters in the textbook are not isolated experiences."
In addition, the scope of material that students will be responsible for knowing on the AP test is less. The purpose of this is to allow more time for conceptual and inquiry-based thinking and understanding, according to the College Board. However, there are concerns that eliminating some of the memorization requirements will take away from the value of the class.
"The problem is that every organism, every biological process and every biomolecule in a biological process is named," Lazaroff said. "It becomes a foreign language, and hence the complaint that the study of biology is encyclopedic and requires a great deal of memorization. I think the language of biology is important, and despite the changes in the organization of the curriculum, this problem will not disappear. We will continue to use the terms and to know the names and to value the significance of using the language."
Sam Harned teaches AP U.S. History, or American History, at CHS. He, too, voiced concern about the College Board revisions.
"A lot of times these kinds of changes are smoke screens for really watering down the curriculum, watering down content," Harned said. "It's kind of like if people can't remember things, let's just change the format of the test so they don't have to remember things. Well, you kind of have to remember things in history."
Harned said he does not have any major problems with the current AP U.S. History exam, nor does he have any problems with memorization of material. He said the course is rich in content as it is now, so he is not looking forward to the changes.
"The smell of it is a little fishy, and some other people I've talked to feel the same way," Harned said. "They're a little worried that this is just a way to eliminate a lot of things so that people don't have to worry about remembering them and that maybe they can just get by a little easier."
Although the actual revisions may be for the better or worse, there is good cause for change, especially in AP Biology.
"The current AP Biology curriculum has a problem in that the school year keeps shrinking – earlier exams in May – yet the biology textbooks continue to increase in size with rapid changes in technology that allow for new research and understanding of molecular biology," Lazaroff said.
So, the curriculum and exam revisions may come out of necessity. Students commonly find AP courses stressful because of the large amount of information they must know in order to perform well on the AP exam. Likewise, teachers sometimes feel pressured to adequately prepare their students for the test.
"The changes in the AP courses are being made to allow teachers to go into greater depth in their class by lessening the breadth of the curriculum," Blair said. "In theory this will allow teachers not to feel so hurried to cover all the topics presented on the test. There is a lot of pressure, just time-wise, on teachers to get everything into the year or semester. With all the interruptions that take place in the classroom this can be a challenge."
The revised curriculums may prove to be advantageous in promoting deeper understanding and fostering student interest in learning.
"The teachers will now have to delve much deeper into topics and ensure a greater understanding," Blair said. "This takes time as well, but if a student is really interested in a certain topic, there will now be more of an opportunity to explore those interests. I think the best we can hope for is perhaps the classes will be enjoyable for both teacher and student."
The Student Perspective
For future students in AP Biology, the College Board's revisions to the course curriculum may help relieve some of the problems that current students face.
Senior Alison Bayly takes AP Biology, and she said that at many colleges she has visited, lab work in the classroom differs from high school level work in terms of student initiative and independence.
"They do labs where you have to come up with the idea," Bayly said, "and if you've never been exposed to coming up with your own ideas for labs, that can be difficult."
Regarding the AP Biology course, Bayly said that it is hard for both students and teachers to handle such a large amount of course content in such a short period of time. As a result, it can be a challenge for students to develop a passion for the topics they are learning about.
"It cuts out a lot of time to do lab work and really expand on things if you have to cover so much material and move at a really fast rate," Bayly said. "Students can't really get hooked on anything if they're just zooming through everything, and they might decide that Bio isn't their thing, even if there is something that could potentially be of interest to them."
Sophomore Hannah Bledsoe plans to take AP Biology during her senior year, the first year for the new curriculum and exam. The changes could have both benefits and drawbacks.
"I think the changes could be a good thing because it allows us to thoroughly understand the topics, not just memorize the material," Bledsoe said. "This would be a benefit, but it would also mean that there would be material that I didn't know, which could be a concern when it comes to college."
Junior Fergus Inder also said he had concerns relating to college.
"The changes will also give students greater understanding in certain lab-focused areas," Inder said. "However, I do think in a sense it's dumbing it down. These concepts and names that are to be memorized are probably expected to be memorized in college biology courses, which the AP class and exam are supposed to mirror. Call me undecided about the changes."
According to junior Dan Peipert, an AP U.S. History student, memorization is inevitable in order to prepare for the final AP test. However, he said that his teacher brings out the big picture and points out what is most meaningful and important to know.
"[Harned] does a great job of explaining the overall changes and themes brought by significant events," Peipert said. "I think that's more important, and it's probably what should be tested on anyway."
Likewise, the revisions to AP Biology are not a major concern among many students who will get to experience the changes.
"The newness of the curriculum might be a slight disadvantage, just because the teachers might still be working things out," Bledsoe said. "But because AP Bio has been taught at CHS so long, I don't think it will be much of a problem."
Peipert said the changes to AP U.S. will, for the most part, be good. In the larger scheme of things, the small pieces of information that will be cut from the curriculum will not be seriously missed.
"No one really cares about all the little things that happen so much," Peipert said. "We'll know there was a Progressive Era, but we won't necessarily know all the things Theodore Roosevelt did during that time. The important things are what Theodore Roosevelt brought to the Progressive Era, not the acts that he did and the dates those acts started."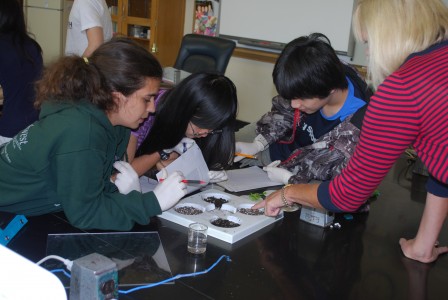 Leave a Comment