Books from founding father's personal library discovered
For the past 131 years, 74 books from Thomas Jefferson's personal library have sat among the shelves of Washington University's libraries, unidentified as belonging to the nation's third president.
Their recent discovery by Jefferson scholar Ann Lucas Birle and tracking by Endrina Tay has made WashU the third-largest holder of Jefferson books. The volumes originated in one of Jefferson's book collections, known as his retirement library, so were likely some of the last he studied before his death.
Professor of History and Law at WashU, David Konig, is a Jefferson scholar who has had the opportunity to examine the books.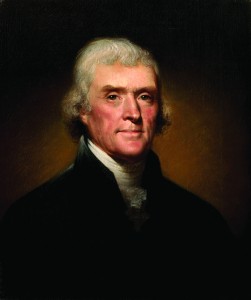 "Books are books, and you can get copies of books anywhere," Konig said. "What really makes these significant is, number one, there are books in there that we didn't know that he owned. So we know about some other interests that he had that we were not aware of already."
Furthermore, Jefferson's marginal notes add to the value of the books and give scholars insight into the mind of the former president.
"He did some scribbling in the margins of his books, the way many of us do, and these tell us a lot about him," Konig said. "It shows us, for example, how careful he was about accuracy and details. He would make corrections to typographical errors in the books. He would make corrections of statements that were wrong in books."
Historians had always known that Jefferson was an architect, but the discovered books reveal more about this side of him, according to Konig.
"This shows how precise and careful he was, because these are the books he used when he was designing Monticello, when he was designing his summer home, and when he was designing the University of Virginia," Konig said. "So we can see the mind at work as he's pointing these things out to contractors and builders, even while these buildings are going up. That really enhances our understanding of the working personality that he had and the genius, as well."
The fact that Jefferson read the books late in his life is also telling.
"It shows you that right to the end of his life he was still very deeply interested in Greek and Roman history, especially Greek history, and that the political background of the classical era was still very much in his mind," Konig said. "We can see him really cut straight to what he felt was important as he was becoming an older and older man."
The Jefferson scholars who discovered the collection learned that the books reached the university through a friend of WashU's founder William Greenleaf Eliot. That friend was Edmund Dwight, the son-in-law of one of Jefferson's granddaughters. Because the university lacked a library, Dwight offered to donate a 3,000-book collection, which included 74 of Jefferson's books. However, they were unidentified as Jefferson's when the donation was made.
"It shows how important the founding of the university was and how important it was viewed back in the 19th century – as a kind of institution that would advance civilization and culture into the far west, because we were sort of on the edge of the West," Konig said.
Konig said he thinks that Jefferson's books will be accessible to the public, most likely in a way similar to the Library of Congress, which has the largest collection of Jefferson's books. This would involve a process of applying and requesting to see the collection, in order to the protect the books.
The collection, which includes titles like Aristotle's Politica and Plutarch's Lives, has attracted the attention of many researchers and authorities on Jefferson.
"Personally, they confirm what I and most Jefferson scholars had known already about how broad-ranging his mind was and give us more details to place his thinking along with actual actions he was doing at the time," Konig said.
Leave a Comment