Bookstores struggle as e-book, online sales rise
Paper books, like paper newspapers, are falling out off fashion. An increased interest in digitalized books, chain bookstores, and online competition has challenged small, independent bookstores for years. And now, it is testing large, national bookstores as well.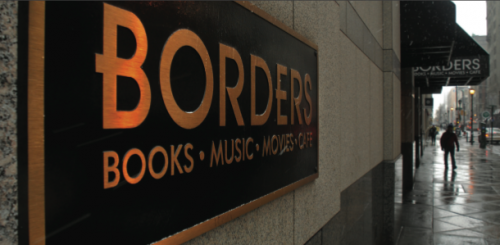 Even though these book superstores have historically been successful, stores like Borders have been struggling financially recently. Borders is experiencing the repercussions of not having jumped on the idea of e-books as quickly as its competitor Barnes & Noble did with its product Nook.
Amazon.com, the largest online retailer in the United States, has also hurt larger stores like Borders badly. The site allows users to order books online, a popular substitution to buying books at an actual bookstore.
"I prefer ordering books online instead of going to a store to buy them because of the convenience," junior Corrine Yap said. "I don't always have time to drive to a bookstore and look for a book, and sometimes, the book I'm looking for isn't in the store. Most of the time, I manage to get free shipping as well, so it doesn't cost anything extra."
Amazon also has a popular e-book similar to the Nook, called the Kindle. In the last quarter of 2010, Amazon reported it had sold more e-books for the kindle than it had in actual paperbacks.
Near the beginning of the year, Borders announced to major publishers that they would delay their payments to them as they continued refinancing talks.
"I would be disappointed if a large bookstore like Borders would close, but not completely surprised," Yap said. "When undergoing an economic recession, such as the one we're in now, humans have a history of letting education go first. So it's only to be expected that a bookstore like Borders would be neglected, especially with the competition from Barnes and Noble and Amazon."
Borders filed for bankruptcy protection in the middle of February but they assured the public that their stores would remain open during the bankruptcy process. Borders currently has 650 stores and 19,500 employees.
It's not only book superstores like Borders that are being hard hit financially, though. Small, independent bookstores have suffered many years of financial tribulations.
"In my opinion it's really independent bookstores that suffer from e-book sales because they're already hurt from big corporate stores like Borders," junior Rosalind Cuneo said. "Borders is already able to compete with Barnes and Noble and Amazon, and I don't think that e-book sales will change this dynamic, especially if Borders develops their own e-reader."
It is clear that books and bookstores are moving in a different direction. But it is still unclear as to what will prevail and what will fail in the grand scheme of things.
"I think the country is moving more towards e-books but that paper books will never become obsolete" Yap said. "I know of several people, myself included, who prefer owning and holding a physical book rather than having a digital library. For me, it's the experience of reading. I enjoy having a book in my hands and being able to turn the pages while reading rather than looking at a digitalized copy."
View Comments (2)