From the first day of readers' theater practice, the team of 19 students had one goal: to win  the state tournament.
On March 2, the squad became one step closer, winning the district tournament at Parkway South High School. Led by Jonathan Smith, a Saint Louis University Professor of racial studies, and Justin Seiwell, the speech and debate coach, the cast took on the production "The Man in the Well" by Ira Sher.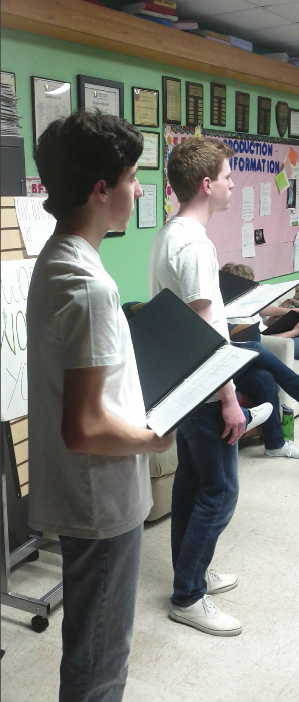 The show focuses on a group of children who find a man trapped in a well, but decide not to help him. Seiwell was thrilled with the show's outcome.
"I thought the show was absolutely phenomenal. I've seen lots of really good readers' theaters, I've never actually seen one that sent chills down my spine and … made me react the way this one did," he said. "It was, overall, a very phenomenal production."
Readers' theater productions only allow minimal sets and costumes, ensuring the acting of the cast members is the center of attention.
Smith, who Seiwell says is "one of the smartest people I know", decided to add a racial element to the show, casting Maalik Shakoor, the only African American who auditioned, as the man trapped in the well that the other children do not help.
Senior Ellie Gund, who played a chorus member, feels this racial element was one way the show effected audience members.
"I think our performance made the audience think about the prevalence of deep seeded casual racism in our society," Gund said.
Aside from bringing racial issues into the show, Smith blended the voices of the cast together, designating certain groups of people to say certain lines together.
Senior David Behrend, a chorus member, felt Smith's work made the cast blend together as one.
"I was impressed by how everybody on the team became a singular cast on the stage as we showed what we have been working on for the past few months," he said.
Upon his arrival at Clayton two years ago, Seiwell has been continually impressed by Smith's ability to utilize every voice on stage.
"[H]is mind is absolutely brilliant and he has an ear for voice and composition that I just will never be able to fully comprehend," he said.
With Smith's help, Clayton will head to its ninth straight state tournament on April 20 in Jefferson City. Overall, Seiwell credits the students for their role in the show, citing hist students as the primary reason for the show's success.
"I saw this [show] on day one, and then to see it in the theater two months later, it helps me remember how much this show has grown," Seiwell said. "And I think the fact that we qualified appropriately represents the amount of time and effort and sheer dedication that the 19 students that are performing for the cast have put into the show."