About
CHS Globe Online is a production of the journalism staffs of Clayton High School, located at 1 Mark Twain Cir. in St. Louis, MO, 63105. It is designed, written and maintained by students and all content decisions are made by students. For more information, feel free to send us an email at [email protected] or contact us using the form below in the "Contact Us" section.
The Globe Newsmagazine is affiliated with the Columbia Scholastic Press Association, National Scholastic Press Association, Missouri Journalism Education Association, Missouri Interscholastic Press Association and Sponsors of Schools Publications.
2022-2023 Staff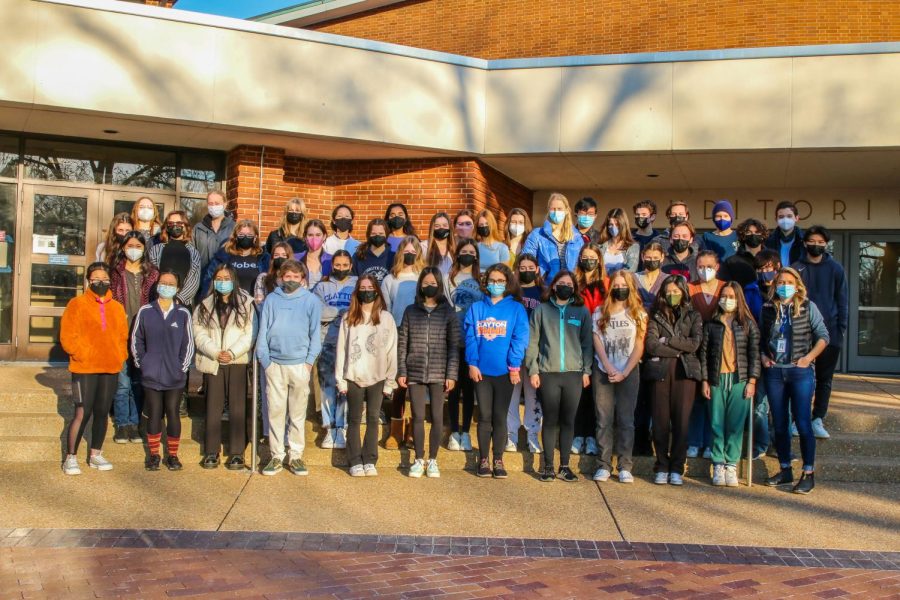 Leadership:
Erin Sucher-O'Grady, Advisor
Alex Slen, Editor-in-Chief
Ruby Nadin, Editor-in-Chief
Ivy Reed, Editor-in-Chief
Lily Kleinhenz, Chief Digital Editor
JiaLi Deck, Design Senior Managing Editor
Izzy Erdman, Design Senior Managing Editor
Iris Park, Design Senior Managing Editor
Rachel Chung, Copy Editor
Sofia Mutis, Podcast Editor
Sophia Lu, Social Media Editor
Ana Mitreva, Digital Design Editor
Alex Cohen, Writing/Community Team
Seraphina Corbo, Writing/Community Team
Section Editors:
Kipp Vitsky, News
Charlie Meyers, Features
Micah Lostoff, Sports
Ivy Slen, Review
Sidra Major, Opinion
Sam McDonough, Puzzles
Sonali Dayal, Art Editor
Page Editors:
Stella Bishop
Sam Braidwood
Victoria Fan
Isra Kayani
Riley Kerly
Chloe Lin
Avie Mallon
Charlie Miller
Kirby Miller
Poopy Orchard
Caleb Park
Hannah Teagan
Reporters:
Kennedy Anderson
Alyssa Blanke
Bria Broussard
Sanjana Chanda
Elisa Falsafi
Alexa Garcia
Aidan Haupt
Madeline Jeans
Elias Kilbridge
April Kim
Tess Krieger
Bethany Lai
Lavanya Mani
Yingjia Mao
Nathan Maurer-Halquist
Anna McAndrew
Cole McJunkin
Analee Miller
Isabela Moron Cousins
Maeve Nayler
Ananis Oge
Tess Palaermo
Yehia Said
Adrien Shor Perrier
Sophia Simanowitz
Cloe Smith
Mira Stahlherber
Kensei Tseng
Aria Wheeler
Leonardo Zhu
Riley Zimmerman
Photographers:
Sage Bernstein
Paige Conrad
Ava Disney
Maci Klaus
Sophia Klein
Samara Landy
Julia Mann
Ava Marsden
Beacan Mottl
Elena Piston
Molly Siwak
Wilson Stahl
Wendy Stephens
Leo Taghert
Andrew Thompson
Kendall Turner
Rachel Van Rhein
Esther Wang
Layne Wells
Addison Whitesell
Stella Whitney
Angela Withlin
Owen Wohl
Graham Zucker
National Awards 
Globe Newsmagazine:
Pacemaker Award Finalist, 2019
Pacemaker Award Finalist, 2018
Pacemaker Award, 2016
Columbia Scholastic Press Association Silver Crown Award, 2016
Pacemaker Award, 2015
Pacemaker Award, 2014
Columbia Scholastic Press Association Gold Crown Award, 2013
Gold Crown Award, 2012
Pacemaker Award, 2012
Pacemaker Award, 2011
Columbia Scholastic Press Association Silver Crown Award, 2006
Columbia Scholastic Press Association Silver Crown Award, 2003
Pacemaker Award, 2003
Pacemaker Award Finalist, 1997
Pacemaker Award Finalist, 1994
Globe Online:
Pacemaker Award, 2018
First Place, Gold Circle Award, 2014
Gold Medal Award, 2013
Pacemaker Finalist, 2013
Pacemaker Award, 2012
Contact Us
Interested in learning more about the Globe, speaking with a staff member, or submitting material (story ideas, letter to the editor, guest columns)? We would love to hear your opinions, see your work, and publish your voice in the Globe–we encourage you to let us know what is on your mind. Please fill out this form with your request and we'll get back to you as soon as possible!
Contact the Globe
Policy
Statement of Purpose:
The Globe is a student newspaper produced monthly by Clayton High School journalism students. The goals
of the publication are to inform and entertain the student body, interpret news and provide a public forum for
the exchange of ideas and opinions of students and faculty at CHS. In addition, this publication serves as a
laboratory for students interested in learning sound journalistic techniques.
Boundaries:
The Globe upholds the right of high school journalists to the free expression guaranteed under the First
Amendment. However, in accordance with district policy (see appendix), the Globe shall contain no material
that:
a. is actually disruptive to the maintenance of an orderly educational environment;
b. is defamatory, demeaning or injurious to the reputation and/or name of an individual, class of individuals
or entity ;-
c. advertises any service, product or activity that is not permitted to minors under law;
d. violates copyright provisions.
Online Comments
All online comments are reviewed by a member of the editorial staff before being approved. This site is intended to provide information and engage in open and respectful dialogue that is appropriate to the educational environment and fans of all ages.
Comments are welcome as a means of sharing experiences, suggesting improvements, responding to polls/questions or engaging in the conversation. Comments will be reviewed by a member for the editorial staff prior to being posted publicly. To ensure that exchanges are informative, respectful and lawful, we will NOT post comments that are:
– Off Topic
– Spam.
– Personal Attacks. If you disagree with a post, we'd like to hear from you. We ask that you refrain from personal attacks or being disrespectful of others.
– Illegal. Laws that govern use of copyright, trade secrets, student and staff confidentiality, etc. will be followed. No comments or suggestions that encourage illegal activity that violate school behavior guidelines will be posted.
– Language. Comments including but not limited to profane or provocative language, hateful, racially or ethically offensive or derogatory, threats, obscene or sexually explicit language will be excluded.
– Not factual.