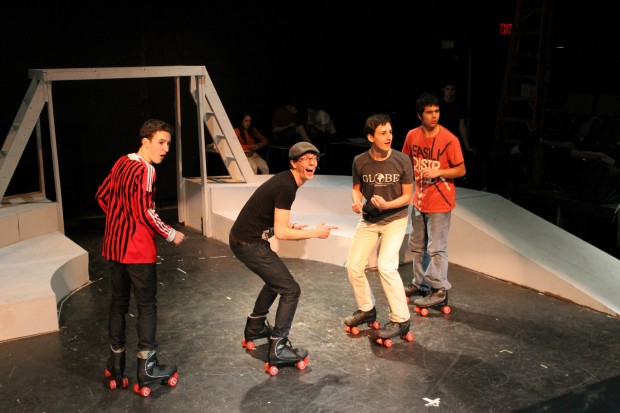 A young core of lead cast members did not stop the student run musical, "13," from wowing a packed black box audience.
Sophomore Peter Schmidt played the part of young Evan Goldman in the show, a native New Yorker whose life is uprooted when he moves to a remote town in Indiana after his parents' divorce.
Schmidt dealt with high notes in his songs well, and always seemed composed during the musical.
Freshman Sophie Argyres earned the female lead role of Patrice, Evan's first friend in Indiana. However, on the first day of school, Evan finds out that Patrice is the grade's outcast, a major flaw in his plan of being popular.
Argyres also performed well. Her vocals were spot on, and, along with Schmidt, she truly mastered acting as a lost middle school student.
The lovable cripple, Archie, was played by freshman Adam Treutelaar. Archie begs Evan to help him get a date with the most popular girl in the grade: Kendra, played by junior Claire Lisker. Unfortunately for Archie, the star football player, Brett (senior Jonathan Waldman), also has a huge crush on her.
Treutelaar, Lisker and Waldman were all funny. Their acting was strong, as was their singing. A highlight of the show is when Treutelaar and Waldman accidentally kiss as they both think they are kissing Lisker, who is pushed down by her "friend," Lucy, played by Sarah Lerwick or Becca Polinsky (depending on the showing), who likes Brett.
Strong performances were also delivered by juniors Aaron Argyres, Sophie's older brother who performed despite suffering a concussion, Ben Diamond, Sri Panth, Alyssa Fritz and senior James Kerr.
Though simple, the set was fitting for the show. It was able to work in multiple circumstances and made room for incredible dancing.
The directors of "13" have to be given credit for their work on the show. Seniors Robbie Love and Emily Gudmestad worked with junior Adam Zoll, who also played piano during the show. Gudmestad choreographed the show, which made the dancing the highlight of the performance.
The show did have a few jokes that could be considered inappropriate. I personally found them very funny, but cautious parents may not have approved.
In the end, the most impressive element of the show was the great performances by the young cast members. With a strong group of seniors graduating, the theatre department has no need to fear, the young stars will continue to make great impacts for years to come.