Short bursts of news that you may have missed over the summer.
Solar Panels
Twelve arrays of solar panels will be installed in the city of Clayton this summer. Ten of the solar panels will be on eight district buildings and two will be put on the Center of Clayton. Over the course of the panel's lifespan, the investment is expected to save the district $700,000. The Board of Education approved the Microgrid Scholar proposal of a 20-year lease this June.
Wally Lundt Diving Tank
Shaw Park Pool's diving tank was dedicated to longtime swim and water polo coach Wally Lundt, who passed away in December of 2011 at the age of 24. Jack Layden (class of 2013, swimming and water polo captain), was at the dedication. Layden discussed Lundt's legacy with the Globe in March. "He taught everyone on our team that, if you are selfless and kind that life is going to be good to you and it will pay off in the end."
Clayton TEAMS
Clayton was well represented in the 2013 TEAMS competition. Two teams were finalists in the national competition held in Florida. One Clayton team finished eighth in the 9/10 grade age group and another finished sixth in the 11/12 grade age group.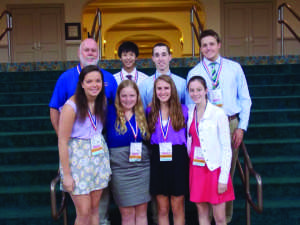 Student Transfer
The Missouri Supreme Court unanimously reversed the previous decision in the Breitenfeld v. Clayton case on student transfers. Now, students from unaccredited school districts are allowed to enroll in accredited districts, including Clayton. The St. Louis area has two unaccredited districts: Normandy and Riverview Gardens.
Wydown Construction
Wydown Middle School continued their construction over the summer. The final product features a new gym, theatre and parking lot. The 2013-2014 school year is set to be the first school year with the entirety of the new school.
New Coaches
Two Clayton fall sports teams will have new coaches for the 2013 seasons. Girls' volleyball will be coached by Jackie Jaques and girls' golf will be led by Kim Shelley. Both coaches were assistants last year for their respective teams.
Speech and Debate Nationals
Three recent Clayton graduates competed at the National Forensics League National Tournament in Birmingham, Alabama. Alex Meneses finished in the top 75 in Lincoln-Douglas Debate, and Noam Kantor and Ian Tarr barely missed breaking out of preliminaries in Public Forum Debate. Kantor and Tarr did have a winning record. All three students graduated with the class of 2013.