A Burger Back in Time
March 4, 2017
"It just came to me in a dream," said Sugarfire Smokehouse owner and Clayton parent Mike Johnson about the idea for the Hi-Pointe Drive-In, his newest restaurant on McCausland Avenue.  "No, I'm just kidding.  We really liked the location, and that's pretty much it."
After more than two years of planning and construction, the Hi-Pointe Drive-In opened on January 5, 2017, replacing the old Del Taco restaurant behind the Hi-Pointe Theatre.  Johnson and his team had originally planned to open a fried chicken restaurant at the location, but these plans quickly changed when other fried chicken places opened in the area.  In pursuit of original ideas to bring to the community, Johnson opted to open a burger and sandwich restaurant instead.  
Inspiration for the restaurant came from Johnson's past experiences learning from, working in, and owning several fancier restaurants.  As Johnson's friends from high school went on to earn their college degrees, Johnson was determined to create his own success.  "I was working in a restaurant and I thought it would be fun to be a chef," Johnson said.  Soon after, he travelled to France to learn the trade.  
"It's really high pressure in France.  Before you go to high school in France, you take a test and they send you to a technical school to be an accountant or an engineer or something.  And cooking is a really respected career there," Johnson said.  "Here, people probably think you're not [very smart], but over there, it's a high pressure career, and you can become famous and make a lot of money.  There's a lot of pressure and screaming, you know, because everything has to be perfect."
During his time in France, Johnson worked at many famous restaurants.  After a little more than a year, however, he was excited to return to the United States and pursue his own cooking aspirations.  "I used to do the really fancy stuff, but I learned after years of owning those restaurants that they're not the best for me, and I can make more money with higher volume, lower prices, and more people," Johnson said.  "And I just like it better.  It's more fun to give people a burger and make them happy instead of having them sit there for three hours and have a meal."
Although Johnson prefers burgers and barbeque over any of the fancy restaurants that he has owned, he has always made an effort to immerse himself in all different types of cooking.  Throughout his career, Johnson has opened more than twenty restaurants, several of which grew into franchises.  Johnson even owned a Chinese restaurant at one point, though he now looks back at the experience and admits that "I've had some good ideas and some bad ideas.  And that was a bad idea."
Johnson's success in the restaurant industry has drawn attention from multiple food television shows.  In February of 2016, Johnson cooked with host Michael Symon in the second season of Food Network's Burgers, Brew, and 'Que.  In that same month, the Sugarfire team travelled to Sydney, Australia and placed twelfth at the Meatstock Music and Barbeque Festival.  Three months later, Johnson competed in the Memphis in May World BBQ Championships.  Sugarfire Smokehouse then catered for Snoop Dogg in August before travelling to Paris to cook at The Beast, Paris's first authentic smokehouse.
Most recently, Johnson earned the opportunity to compete on Beat Bobby Flay, one of the most popular cooking shows on Food Network.  In order to compete against the famous chef Bobby Flay, Johnson successfully beat another chef on the show – the previous champion of Food Network's Chopped.  The victory then made it possible for Johnson to compete directly against Bobby Flay in the episode titled Country Boys in the Big City.  Although Johnson did not particularly like the implications of the episode's title and wasn't quite able to achieve a victory over Bobby Flay due to overcooked rice, he was grateful for the experience.
"It's really awesome," Johnson said.  They put you in a nice hotel and drive you around in a limo."  And Johnson has no hard feeling for Flay either.  "He's totally awesome."
Mike Johnson has undoubtedly made a name for himself in the restaurant industry, but this was not always the case.  When Johnson told his father that he planned to become a chef, his father's response was something along the lines of "'Oh my god, that kid's an idiot,'" Johnson said.  Remembering his shaky beginnings, Johnson admits that his parents certainly worried about him and questioned his choices.  But as Johnson's businesses began to succeed and spread, these worries vanished.  "My parents have always been proud of me, [and] now I do really well," Johnson said.  "We do more sales than anybody in town, for sure.  Not even close."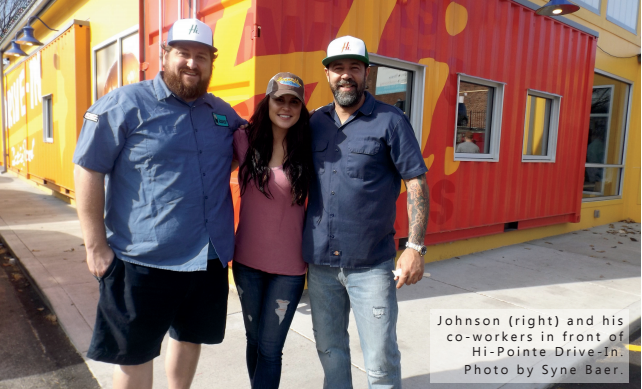 Johnson's claims are certainly not unsubstantiated.  The food industry is a very competitive industry, especially in St. Louis, but Johnson maintains close and constructive relationships with the restaurants that many would consider his competitors.  In fact, Johnson does not even view the food industry as a competition.  "We're not competitors," he said.  "We hang out all the time.  We share a lot of employees.  We're all friends."
As his restaurants continue to grow, Johnson looks forward to the opportunities that 2017 will bring.  For now, he plans to travel and learn.  "It's all about research and development and eating," Johnson said.