Grbić Restaurant and Events
This family business is St. Louis' go-to place for Bosnian cuisine.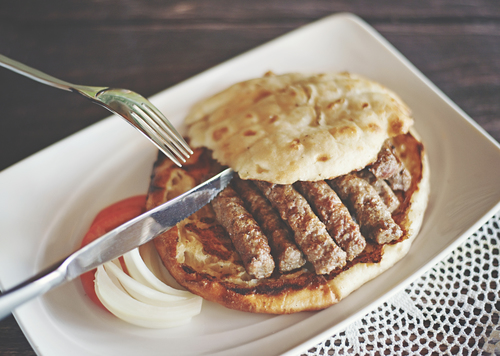 Located on Keokuk Avenue in South St. Louis, Grbić Restaurant and Events exhibits an atmosphere seldom found outside of Europe. A family business owned by the Grbić family (which also owns another Balkan restaurant, Lemmons) the restaurant is without a doubt St. Louis's go-to place for Bosnian cuisine.
The restaurant's small brick storefront hides a building of surprising size. Accommodated by a large parking lot, Grbić houses not only a spacious dining room, but a large venue that can host weddings and other private events. Its central room is an open area, with a wood-panelled ceiling buttressed by wide brick archways. Impressively, two sides of the rectangular space are adorned by hand-painted murals of Bosnian landmarks and other Balkan landscapes. (St. Louis has a large international dining scene. Other globe-crossing restaurants include Cate Zone Chinese Cafe and Garbanzo)
My family has a penchant for Balkan food; my mother is Croatian. So, on a chilly Saturday night, we took a trip to Grbić Restaurant. When we passed through the building's glass double doors, we could immediately feel the charm of the friendly restaurant.
To the right of the entrance was a café-type area, where patrons could sit on small, octagonal stools and sip Turkish coffee or 'šlivovica', a plum brandy found throughout the former Yugoslavia. To the left was the hostess' desk, and the brick arch leading to the rest of the restaurant.
After a brief wait in the unusually crowded restaurant, we were seated at a rectangular table near the center of the room. For an appetizer, I ordered the $8 'Grbić salad', which arrived after a short wait, slightly exacerbated by technical problems in the kitchen. Quite like a Greek salad, Grbić's dish was served in a wide conical bowl, and consisted of chopped tomato, cucumber, and feta cheese on a bed of lettuce, covered in a simple oil and vinegar dressing. After devouring my salad, I awaited the next course.
For a main course, I ordered a whole portion of 'Ćevapi', priced at $11. Ćevapi, a staple of Balkan cuisine, are small sausages, made of beef in this case, that come sandwiched between slices of 'Lepinja', a pita-like flatbread. My ćevapi were served with onions, sliced tomatoes, and a small bowl of some sort of tomato relish. While I enjoyed the ćevapi themselves, the slices of lepinja were the best part of the dish. Spongy and flavorful, they went well with the sausages, and were quite unlike the sliced bread often seen in the United States.

To finish the meal, I chose a traditional Bosnian coffee and a slice of baklava, a layered dessert found throughout the Balkans. After a few minutes, the coffee was delivered in a tapered copper pot with sugar cubes. Alongside was a large slice of baklava, its flaky layers stuffed with walnuts and covered in a sweet honey sauce. While the baklava itself was good, it was also obvious that someone had made an effort to arrange it artistically on the plate, next to a chocolate fleur-de-lis.
Our visit to Grbić was a wonderful experience. The staff were helpful and professional, and the restaurant's atmosphere was lovely. Most importantly, the food was reasonably priced and tasted excellent. For anyone in need of Balkan cuisine, Grbić Restaurant is the place to go. The restaurant is unrivaled in St. Louis, and definitely one I would be happy to visit again.
Your donation will support the student journalists of Clayton High School. Your contribution will allow us to purchase equipment and cover our annual website hosting costs.
About the Contributor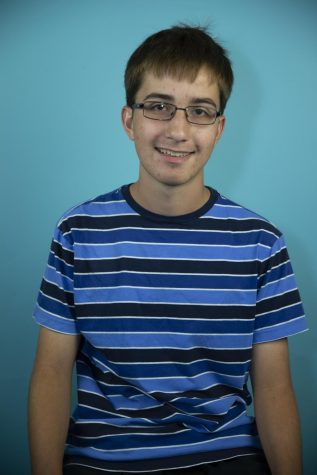 Luka Bassnett, Reporter
Luka Bassnett is a junior at CHS and is starting his second year as a reporter for the Globe. Luka joined the Globe in his sophomore year as a way to improve his writing skills...