Why We March?
On Saturday, Jan. 19, 2019, thousands of protesters marched through downtown St. Louis in the third annual Women's March
January 20, 2019
This Saturday morning, for the third year in a row, thousands of women countrywide joined to resist the Trump Administration. On January 21, 2017, the first "Women's March" was held the day after President Trump's inauguration.
In St. Louis alone, over 18,000 people have participated in these three marches. Over the three years, the mission of the marches and of the marchers has changed. While the event was first designed to validate women's struggles under the incoming administration, the Women's March is now known to represent equality and basic human rights for all humans.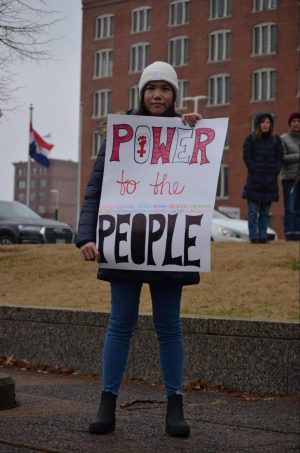 As Victoria, a St. Louis woman present at the 2019 St. Louis Women's March, said "I'm just here supporting the other ladies, everyone who's ever been wronged, not paid enough, treated like shit at work, sexually harassed, all the women of color and other minorities, trans women, everyone who identifies as 'underneath the foot."
This movement has also faced abundant criticism. In addition, the attendance has significantly dropped each year, from 10,000 in 2017 to around 3,000 in 2019. There are many possibilities leading to this decline in participation.
For example, the 2019 Women's March in Humboldt County, California was canceled in December because of the concern that the attendees would be "overwhelmingly white." Also, a few of the main organizers of the 2017 Women's March in Washington D.C. have been accused of being anti-Semitic, resulting in a huge controversy.
While the attendance has dwindled due to loss of interest or to the anti-Semitic dispute, the power of the women's rights movement has also lost power. St. Louis high school student Sylvia believed that the marches are dividing people rather than bringing together and celebrating women.
Sylvia said, "Well we all know that the women's movement is really getting divided, like some people who have been to the Women's Marches before no longer agree with the way [the movement] is being run. Also, the confidence of the marchers and enthusiasm for the movement could have been lost as a result of people losing faith in the movement and thinking that the marches do nothing. But this could also be because people attended the march only to look cool and trendy, and now that the march isn't as hyped up as it once was, the turnout is way down."
Marching because of her frustration regarding the Trump administration, St. Louis woman Debbie felt helpless. "Things are so out of hand, I can't stand it. I do whatever small things I can do," she said. "I work in town with a homeless shelter, and with a group that tries to help families of people who have been furloughed."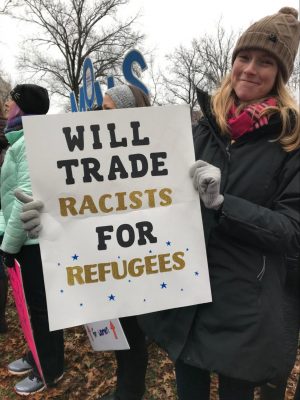 Like Debbie, many marchers present on Saturday were extremely angered by the current government shutdown. Holding a sign that says "We Will Not Be Shutdown," St. Louis parent Cory decided to march to show solidarity for women.
As she helped her child put on a scarf, Cory said "[I am here] just to make a difference and show my children that these [problems in today's world] are important issues to tackle." Cory helps her church participate in children's literacy projects in the St. Louis area.
Although not all marchers each share identical values, Kim, a GM auto worker from Wentzville, Missouri, believes that the overarching mission statement of the Women's March is to fuel the fight for "all aspects of Women's social rights."
Even though this aspect of the women's rights movement seems to fractionate the population rather than unify, the fight to gain equal social rights for all people continues.