Ratatouille the Tiktok Musical
What is it? How did it form? Was it good?
March 10, 2021
During the quarantine, we have all started new things. From baking, riding a unicycle to even writing an entire musical on an app. Though we aren't able to be together, we are connected through virtual communities. How have different platforms played a role in this connection? What was the process like for Ratatouille? What did it look like when it all came together?
Ratatouille the Tiktok musical was presented on January 1st, 2021.
Fans were able to buy tickets on todaytix.com and had access to a link for 3 days.
They raised over 2 million dollars for the actors' fund, and the cast included Broadway names like Andrew Barth Feldman, Kevin Chamberlain, Ashley Park, and Adam Lambert, a singer.
It was so successful that they even added an additional performance on Tiktok. The show was under an hour and featured songs that were fully written by users on Tiktok.
Emily Jacobson was the start of it all. She is a 26-year-old teacher from Hartsdale NY. She created a ballad for Remy in August. Jacobson was looking at the new upcoming rides at Disney and saw a Ratatouille ride. She started singing a song to herself about the movie Ratatouille and the main character Remy. It was just a little snippet that went like ¨remy- the Ratatouille the rat of all my dreams-". She then recorded a video of herself singing it. She didn't think much of it after she posted it. Little did she know what impact this would later have.
It was noticed by many, 2 months after recording and Tiktok users started singing along with the popular tune, and it became. The user @ratatouisicalmusical on Tiktok now has over 500k followers, and is verified. Teens from everywhere started putting in ideas and singing along to the popular ¨Remy, the Ratatouille, the Rat of All My Dreams". People started discovering the video and sharing it everywhere. Until almost everyone knew about the new idea ¨Ratatouille the Musical¨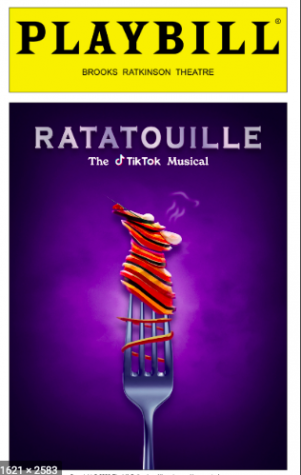 TikTok didn't just stick to one thing, they really produced a full-on musical. People were adding layers and different sounds to it. Ratatouille soon became a trend to put in a song, or idea for the musical. People created a set design, costume design, a really well-designed playbill, and so much more. It was a full production, almost like it was actually on broadway. Tiktok had all the elements someone needed to put it together.
Fast forward a few months, and Ratatouille the Musical was filmed in each actor's home—a completely virtual performance. It felt completely real, and I felt like I was at the theatre. Yes, there were some issues with the lag, but it's probably because of the number of people that were on, enjoying the marvelous show.
There were tap dance numbers, ballads, and everything in between. It was just what the theatre kids needed during this time or anyone at all. The songs were all written by Tiktok teens themselves on the app. These songs are phenomenal and it truly feels like they're all composers. A personal favorite from the musical is ¨The Rat's Way of Life¨.
Ratatouille the Tiktok musical was entertaining, funny, and just straight-up amazing. If we come together things like this can happen and they are so great. Who knows? Maybe the show will come back for another encore performance?
Tiktok plays a major role in uniting the community in a creative way. Ever since COVID-19 hit, the numbers of people who have Tiktok have increased immensely gaining more than 6 million downloads. COVID-19 forced people to find a new way of entertaining themselves, and Tiktok allowed that.
Tiktok gives the users a chance to be creative and draws people in with the sound and the interesting videos that could entertain you for hours. Ratatouille, the Tiktok musical, was one of the many ways that Tiktok has united the community in a creative way. Many users joined together to make a whole musical even when we were in the middle of a pandemic.
The way that Tiktok allows others to communicate freely over the app allows a unique experience that helps with the feeling of isolation during COVID. Tiktok plays a major role in the community since so many people have it.
"
"I think it's great that Tiktok is able to literally bring this whole thing together. it's crazy""
A survey was sent out to teens at Clayton High School. Based on the results, most teens have Tiktok. Some have heard about the musical, others haven't. One person said "I think it's great that Tiktok is able to literally bring this whole thing together. it's crazy"
Which further proves the point that anything can truly happen on the app.
During our 2020, multiple things have been rough, but in the pandemic, the main thing we have learned is how to navigate the internet in whole new ways. Ratatouille is in fact, not the only musical that has been started to develop on Tiktok. There is currently a musical based off on ¨Bridgeton¨ going around, and who knows maybe it will end up just like Ratatouille? When we have our own creative minds there is really a lot we can do even if we don't think we can.
If Ratatouille the musical ends up on Broadway one day (which we hope it will), we will all know why.