Honoring The Life of Jared Schmitz
When the news broke that sixty Afghan citizens and thirteen US service members were killed in a suicide bomb outside the Kabul airport after Afghan citizens were desperately fleeing their country. US citizens had a mix of emotions, from angry, sad, and heartbroken. For the town of Wentzville MO, just 40 miles from St. Louis, the news hit close to home. Marine Corps Lance Corporal Jared Schmitz, a Wentzville resident, was among the thirteen who were killed.
Wentzville citizens came together to honor this hometown hero by doing a car cruise. "Afterward we all met up at a local church. Everyone just consoled each other and embraced each other in sadness and sorrow over Jared's death. The support from the community has just been overwhelming," said Mayor Nick Guccione of Wentzville.
When Jared's body was brought home, a Marine ceremony was held at the airport. Guccione attended as well as other dignitaries and the family and friends of Jared Schmitz. "The ceremony the Marines held was very heartwarming. When they released Jared to his family, there was a lot of emotion, everyone that was there was emotional, I mean there wasn't a single dry eye on the tarmac. I was standing next to a few of the family members, it was hard trying to hold back tears". Once the family received Jared's body, people lined the streets and highways, paying their respects to Jared's service, "Every municipality in Missouri was represented, firefighters and police cars waved big flags over overpasses. I've seen nothing like it before, and I was honored to be a part of it," said Guccione.
"
I'm very proud of Wentzville, as the Mayor of the city, seeing the way the community came together, I'm just so proud. I hope we continue to honor our service members who continue to give the ultimate sacrifice to serve us. "
— Mayor Nick Guccione
Mayor Guccione is also working on ways to help honor Schmitz, "As the Mayor of the city, it is my duty and honor to make sure he is never forgotten, that's what my whole goal is. We are working on a memorial, it is called, Hero's Memorial Plaza and it will be incorporated with the new recreation center. It will not only honor Jared, but because his family wanted it to be all-inclusive, it will honor all service members who have given their lives and ultimate sacrifice in the war against terrorism to serve and protect our country. We are currently working on designs concepts and funding. We are trying to honor the family to make sure he is never forgotten."
Guccione reflected on what Jared Schmitz's service meant to him, "People will look at baseball players or movie stars and think of them as heroes. Maybe they are role models in some way, but the real heroes are our first-responders and military, the people who put on a uniform to serve this country and save lives. Those are the true heroes and we need to make sure we honor them and to let them know we appreciate their service to the county," said Guccione. Guccione plans on continuing to honor the life and legacy of Schmitz.
Your donation will support the student journalists of Clayton High School. Your contribution will allow us to purchase equipment and cover our annual website hosting costs.
About the Contributor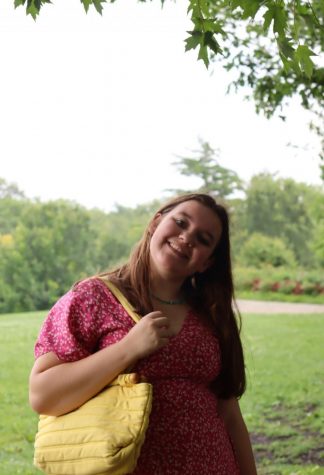 Lily Kleinhenz, Photo Editor
Lily Kleinhenz is a Junior at Clayton High School Missouri. She is a reporter and the Photo Editor for the Globe. Lily loves writing and reading, taking photos, shopping, and crocheting....