Adam Olsen
Saint Louis Cardinals Athletic Trainer
April 5, 2022
Adam Olsen grew up in Green Bay, WI, and several locations in Upper Michigan. Growing up in a sports-crazy town like Green Bay made him become very aware of the professional sports world and the various ways to get involved. "As a child, nothing seemed more magical than working inside the walls of a professional sports team." Said Olsen. Olsen shared his educational journey with us and gave us some detailed insight on how he got to where he is today. Having had enough of cold weather in the upper Midwest, Olsen sought out schools in warm climates. Olsen was fortunate enough to be accepted to Auburn University. He originally choose Aerospace Engineering as his major. Going into college his dream was to be an Astronaut and Auburn had developed several individuals in the Space Program.
After Olsen's first semester at Auburn University, his interests took him to Chemical Pre-Med Engineering, with the idea of curing disease. As he steered his way through his Junior year, he discovered a waning interest in spending all his time in the Chemistry Lab." I reassessed what I wanted to do for the remainder of my life and reflected on my interests in health and sports." said Olsen. Olsen had his original plan to switch to Pre-Physical Therapy but then was told that it was too competitive and that he should not expect to be accepted into the program. He then noticed there was an on-campus sports medicine Club and joined. The Club helped students get involved in the Sports Programs and student Athletic trainers. "At the time, I didn't understand what an athletic trainer was," said Olsen.  Olsen liked the idea of spending his time working with athletes. He then switched his major to Exercise Science and began accruing hours in the Athletic training room.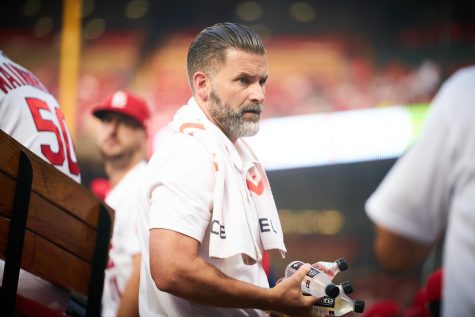 During the duration of Olsen's time going through the process, an athletic training student was required to accrue 1,500 hours of supervised time in the training room before sitting for the certification exam. Since he entered the program late, he, unfortunately, did not graduate with enough hours and went immediately to an Internship at Disney's Wide World of Sports in Orlando, FL. He worked 15-hour days, covering a large variety of sports, and his experience was accelerated. Following certification, Olsen began a job as the Athletic Trainer for Wildwood High School in Wildwood, FL. This afforded him the chance to understand how to be self-reliant and provide quality service with minimal resources. Although he was enjoying the experience, he recognized the need to think about the future and how to achieve his dream setting of a college or professional sports setting.
He researched the backgrounds of several Head Athletic Trainers in the NFL, NHL, and MLB. There appeared to be a trend of advanced degrees, and so he set his sighs on what kind of graduate education made sense." I applied to Physical Therapy School and was fortunate to be accepted to the University of Wisconsin – Madison." Said Olsen." It was truly a grueling experience. Olsen had worked as a Home Health Aide to another student who had been paralyzed as a teenager and required around-the-clock care. "The combined stress of the Physical Therapy coursework and the demanding work schedule pushed me to find grit I didn't know I possessed, and would later help him maintain perspective through hard times to come." shared Olsen. 
The UW PT Program Olsen was enrolled in ended with three 8-week clinical experiences. He knew exactly where he wanted his last Clinical experience to occur. While he was a student athletic trainer at Auburn, one of his duties was driving student-athletes to Birmingham to be examined by the World-renowned Orthopedic Surgeon, Dr. James Andrews. Olsen was very impressed by the atmosphere of his Rehabilitation Clinic and envisioned himself prospering there. Fortunately, he was able to work with my advisors to set up these experiences. "Birmingham allowed me to directly work on professional athletes and gain insight from many skilled clinicians," said Olsen. 
One clinician, in particular, impressed him the most. Olsen had investigated his background and discovered he had completed a Post-Graduate Fellowship at this same facility. Unfortunately, HealthSouth in Birmingham had discontinued the Fellowship. During his 8-week Clinical, He worked to make an impression and convinced the Fellowship Director to restart the American Sports Medicine Institute's Program. The difficulties of graduate school helped him to dig down once again and find the strength to endure long hours of research, instruction, and technique mentoring. Completing the Fellowship accelerated his overall experience and helped Olsen to become a viable candidate for the type of positions he had dreamed of only a few years prior.
During Olsen's Fellowship, one of his mentors was being recruited by Major League Baseball teams. He believe it was that moment that made it appear possible to him. It is a very competitive field and, at the time, only 60 people in the world could claim to hold these positions. In a typical year, about five of these positions may come open. These odds seemed daunting, but somehow, Olsen began to believe he was on the right track, through the steps he was taking, to be prepared when an opportunity became available.
Olsen shared with us how his parents are his largest role models. He grew up in a family grocery store and learned how much effort it required every day to keep a dream afloat. He still uses the lessons he learned as a child and teen about work ethic, integrity, and leadership. There is no "punching in and punching out", the work day's length is determined by the completion of that day's tasks. It's not what you can get away with, it's what you can accomplish in a day. Olsen continues day in and day out to always do the right thing when nobody's watching. Don't assume someone else will complete the task, be proactive. Listen carefully to others and recognize opportunity when it's in front of you.
Olsen enjoys what he does but there have been several times when the demanding schedule has cast doubts on whether he made the right decision. As great as some moments are, there is a lot of family sacrifice to make this work. "I miss a lot of birthdays, holidays, and special moments due to the job," said Olsen Oslen shared with us who his biggest supporter is. "My wife, Amy, is my biggest supporter. She carries the load of running a household, often wearing both parenting hats, making sure our two children don't miss out on any activities or experiences."Said Olsen. It doesn't work without a hard-working partner. Mrs. Olsen somehow finds a way to accomplish it all, while maintaining a great attitude and raising amazing little humans. "She is my rock and I am very lucky to share this life with her," said Olsen. 
After Olsen finished his Fellowship at ASMI in Birmingham, the Cardinals called his mentor to ask if he knew of any good candidates to fill a Rehabilitation Coordinator role based out of their Spring Training Complex in Jupiter, FL. He was fortunate to be ready when the right opportunity opened. "I remember flying to St. Louis and being interviewed inside the old Busch Stadium on a game day. The whole experience was very exciting and I couldn't imagine at the time that it was actually possible to work in a setting like that," said Olsen.
Olsen's favorite part of working in Baseball is that he has a very clear indicator if we succeed or fail that day. Not many careers have an actual scoreboard. He gets to celebrate the wins together celebrate and feel the losses, no matter if you are a player, coach, or trainer. As they work so hard together as a team, strong relationships are formed and maintained.
Mr. Olsen's job is very unique and offers many opportunities but I asked him what the hardest part of his dream job is.  "The competitive nature of working within professional sports is the most difficult part. Results matter and we are always striving to find a competitive advantage. It's not enough to be competent at your job. It's very important to keep an eye on innovation to consistently find ways to optimize the health of players." said Olsen.
I asked Olsen if there was anything he would do to go back and change. Olsen said that "Sometimes I wish I had allowed myself to have more fun along the way, but overall, I wouldn't change anything." Olsen aspires to retire at an age that allows time to travel and enjoy life with his wife, visiting vibrant locations that lead to inspiring moments and memories.  Today Olsen is wrapping up spring training and preparing for opening day Saturday, April 9, 2022, at Busch Stadium against the Pirates. 
Leave a Comment
About the Contributor
Riley Kerley, Editor
Riley is a junior at Clayton High School and an editor on the Globe.