Patty's Cheesecake At the St. Louis Foundry
Patty's Cheesecakes, founded by Pat Upchurch in 2018, is one of many local restaurants featured at the newly opened City Foundry. Patty's rotates its creative seasonal flavors throughout the year. Fall flavors include Apple Pie and Caramel Apple, and Summer features Root Beer Float and Peach Pie. The cheesecakes are available in two sizes, petite and traditional, as well as in "cheesecake creations" such as cheesecake pops, stuffed cookies, brownie sandwiches and more. Patty's delivers a pleasant and unique twist on familiar desserts.
Patty's was founded in honor of Upchurch's grandmother and father on the foundation of community and family. Her father's career as a chef familiarized Upchurch with the restaurant industry and after years of spending time baking together, Upchurch's grandmother shared her best cheesecake recipe with her. Since its opening, Patty's has been featured in publications such as the Riverfront Times, Feast Magazine, Alive Magazine, and more. In addition to the booth at the Foundry, Patty's Cheesecakes can be purchased at Schnucks and online through their website
Upon ordering from Patty's, we were immediately greeted with inviting and quick service. We were drawn in by the circular petite cheesecakes displayed in upper shelves and the traditional larger slices in the bottom row. The petites were priced at $3.50 each and were a perfect size for one or two while the traditional slices, priced at $8.00 each, were enough for a group. Currently, the petites are available in Original, Key Lime, Cookies & Cream, Chai Tea Latte, Chocolate, and Blueberry Honey. Original, Black Forest, Funfetti, and Turtle are offered in the traditional size.
First, we ordered the Original in petite. It was presented in an adorable container with a bubble lid and a golden bottom and the creamy firm cheesecake sat on top of a finely ground golden crust. Initial flavors were of vanilla with a hint of coconut from the crust. The cream was rich and sweet, almost melting when it reached your mouth. The crust, although very subtle, was also extremely tasty. Even in the small portion, it felt like more than enough and that we were definitely getting something worth the price.
Second, we tried the Cookies & Cream. It appeared inside of the same container and was extremely visually appealing. The crust, chocolate this time, went very well with the creamy, cookie filled cake that tasted similar to the Original, it was very flavorful.
To finish our review, we ordered the Chai Tea Latte. Unlike the others, its flavor was absolutely unique and the chai was evident immediately. Once again, the cake was wonderfully creamy and filling. Even someone who doesn't enjoy Chai Tea would love this cake.
Leave a Comment
About the Writers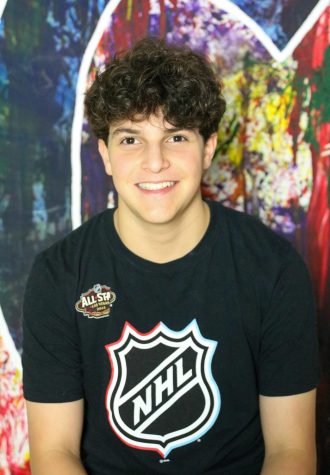 Micah Lotsoff, Reporter
Micah Lotsoff is a Freshman Reporter of the CHS Globe this year. This is Micah's first year writing for any newspaper, but he loves writing and sharing his opinion. Micah has always...