'ELVIS' Movie Review
See how Elvis Presley transforms from a young boy from Mississippi to a popular rock star in the 20th century.
October 19, 2022
Elvis Aaron Presley quickly rose to prominence as he was pursuing his music career as a rock legend born in a small town in Mississippi. Although he is best known for his career as a rock star, there are still some folks who haven't heard of who this man was, with little to no knowledge about his life. If this is you, stream the new 'Elvis' on Hulu, Vudu, or on YouTube.
The new film ''Elvis' begins at the point when Colonel Tom Parker, who is played by Tom Hanks as Presley's manager, is hospitalized in Las Vegas, wondering if he was to blame while questioning Elvis' death while looking back at his life when he quickly rose to fame. This scene is followed by a key point dating back to Elvis' his childhood, where he walks into a tent with a large group of African-American folks singing gospel, and ultimately he discovers what made him complete.
Tom Hanks narrates his tale beginning in the mid 1950's–the last twenty years of Presley's life–in approximately two and-a-half hours. Elvis, who is played by Austin Butler for the rest of the film, is on tour and he attracts females with his quirky, but inappropriate moves on stage. One day, he wanders on the streets of Memphis and finds a group of African-American folks singing in one of the buildings, including B.B. King. When they hang out, King tells Presley that he can disregard those who were trying to throw him in jail for how he performs, and do what he wants to do.
At one of his concerts, Elvis remembers King's message, but is ordered not to do anything more than wiggling a finger. As he performs "Trouble", he chooses to move his hips, and is immediately pulled off stage to be arrested.
It's fine for someone to accidentally make a mistake at the beginning of their career, but for Elvis, he didn't know better than to not be inappropriate on live TV. Over time, his concert performances have improved.
When "Suspicious Minds" was performed in the movie, I randomly thought about one of my Tomica cars that I collect, and imagined if they were a human being performing at a concert like Elvis had done. I really admire my Tomica cars, so anytime a song is performed in a movie I feel tempted to pretend that my favorite die-casts could perform.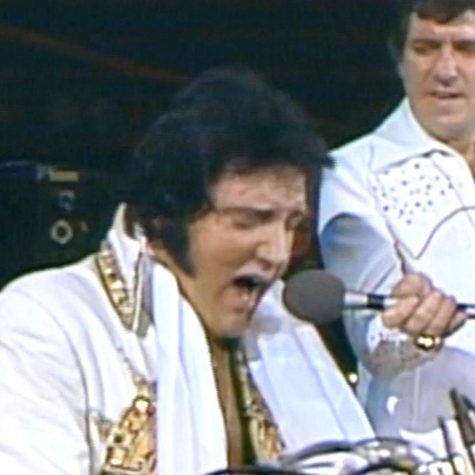 Something I didn't know until I watched this film is that Elvis was a twin. I'm a twin myself, and I'm close with my twin brother since we're both autistic, and share a bedroom together. But unlike me, where I have a twin who grew up with me, Elvis' twin, Jesse, was stillborn. When Elvis went to Germany to be a part of the US Army, Gladys, his mom, had fear of losing her second son, since Jesse died at birth. This caused her to drink alcohol nonstop, and eventually she passed away as a result of being diagnosed with hepatitis.
In Germany, Elvis met his love, Priscilla, who was played by Caileen Spaeney as the teenage daughter of one of the US Army officers. Unfortunately, she divorced Elvis in 1973 after he was heavily on drugs.
I said earlier that I didn't have any complaints about the movie, but my complaint now is that Elvis' rock star career did not last a whole lifetime. He died on August 16, 1977 at the age of 42. The end of the movie contained heartwarming footage of Elvis performing "Unchained Melody"; this was during his very last concert. Hanks narrated by saying that he couldn't stand or dance, but he had a soul and sang as he always did.
"
After the movie ended, I had no words, and that's how it should be after watching any great film."
— Charlie Miller
It was amazing to learn so much more about a legend who once lived and impacted how we see music today. After seeing this movie twice over the summer, it gave me a complete understanding. This film helped me learn more about an individual who influenced others' music careers. After the movie ended, I had no words, and that's how it should be after watching any great film.