Missouri's Banned Books
How Senate Bill 775 is affecting classrooms
The majority of Missouri Senate Bill 775 concerns the rights of sexual assault survivors, while one small portion, Section 573.550, concerns the "Offense of providing explicit sexual material to a student." This section says that if a public or private elementary or secondary teacher, knowing of the content and character of the material, provides explicit sexual material to a student, they could be charged with a Class A misdemeanor. A Class A misdemeanor is equivalent to a year in jail or a $2,000 fine. 
This bill only applies to visual content, so texts themselves are not affected. There are exceptions for works of art or anthropological significance, or a material used in a science class, like biology, anatomy, or sexual education class. This means that it does apply to things like graphic novels, or movies shown in class.
Teachers started to feel the effects over the summer when looking through their libraries and curriculums. In addition to preparing for the school year, they must make sure that they are in compliance with the law. 
"We haven't been able to really direct our focus on student needs at the beginning of the school year, and instead have been focused on looking at these individual panels of graphic novels and other titles," said Tom Bober, the district library coordinator. 
Katie Storms, the Clayton High School English Department Chair, said she spent around five hours going through graphic novels. 
The other district literacy coordinator Julie Paur echoed the time-intensive
nature of the task. "It's really just taking the time going through all of the materials," said Julie Paur, the district literacy coordinator. This is one of the unintentional side effects of this legislation. 
Missouri teachers already have enough things to worry about, like maintaining their classes and engaging students.
"
"All those things swirling around in your body start to weigh on you, then you want to come into a classroom and be the best for your students and create the best space for your students"
— Storms
"All those things swirling around in your body start to weigh on you, then you want to come into a classroom and be the best for your students and create the best space for your students," said Storms. "I think it's just it just feels like another layer of tension with all the decisions you make as a teacher"
The School District of Clayton is staying very literal to the letter of the law, to make sure that students can read what they would like, as long as it does not violate the law. 
"We're trying very carefully to not just be in compliance with the law and to not overly restrict our materials from students," said Bober. Districts within Missouri have taken different approaches to the law. 
"Some [districts] are saying, we're not going to have it on our shelves, others are saying we'll have it on our shelves," said Milena Garganigo, assistant superintendent of teaching and learning. This creates a problem, as titles may become overly restricted, even if they comply with the law. 
"The work that we do about making sure that all of our students feel valued and feel seen, that's something that influences our decision," said Garganigo. 
The bill is specifically aimed at restricting the voices of different minority groups. For example, in the Rockwood School District, 15 of 22 books on their publicly available list featured queer storylines and people of color. When discussing if the bill may target groups such as women, LGBTQ+, and African Americans, Storms said, "I worry that that's part of the hidden agenda here. Because of what I've noticed, on the lists that have been put out there… these [books that reflect the lives of LBGTQ+ and Blacks people] are the books that are in direct violation with this law."
Many of the novels being pulled discuss important social issues. The graphic novel headlining the ban in the School District of Clayton is, "The Handmaid's Tale". 
"[The Handmaid's Tale] resonates with so many social issues that are still important to talk about today, when it comes to the way society treats women. Then looking at the graphic novel version of the book, and how it seems to be something that the Senate Bill is asking us to not unpack with kids," Storms said."As an English teacher, I think the best thing to do is to read, write and have really meaningful conversations about life." 
By taking these graphic novels out of classrooms, the bill discards these important conversations out of a safe environment provided by schools. 
Josh Meyers, who teaches American Film in Society at Clayton said, "I think Clayton prides itself on treating kids like young adults … I fully understand there's a huge difference between elementary school kids in first grade and seniors in 12th grade, but the law doesn't differentiate, and that's part of the problem."
 Although these rules do apply a fair amount of restrictions for teachers and students, there is one thing that is on the bright side. 
"I was glad that it was only images as opposed to including text thus far," said Dr. Dan Gutchewsky, Clayton High School principal. 
While schools may have been taken aback by this senate bill, there is one thing Missouri residents can do. 
"Talking to your local representatives, talking to your local senators, as much as you can [so] they know really how this is going to impact the schools within their district," said Paur.
Gutchewsky echoed that sentiment. "Being an advocate for your side is really, really important."
Leave a Comment
Your donation will support the student journalists of Clayton High School. Your contribution will allow us to purchase equipment and cover our annual website hosting costs.
About the Contributors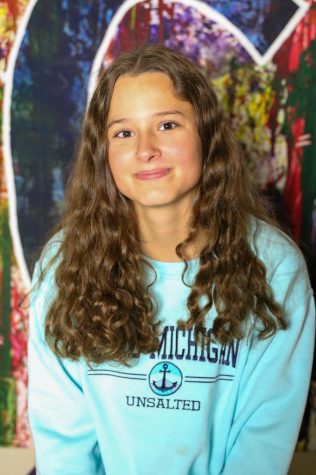 Caitlin Kuhlmann, Reporter
Caitlin Kuhlmann is a senior at Clayton High School. She joined The Globe sophomore year, and has enjoyed learning more about herself and her community. Outside of school, she...