BerryBox. The brainchild of an owner with a rich background in agriculture and a history of entrepreneurship, BerryBox is a testimony to how passion can turn into a thriving business. 
In Clayton, MO, where the restaurant scene is ever-evolving, a new spot has already made a considerable impact just months after its opening:
Dustin Cole's journey to BerryBox was far from linear. Having grown up on a farm in central Illinois, a move to the cosmopolitan environment of Clayton might seem like a leap. However, a connection to St. Louis since childhood and an adventurous agricultural career laid the groundwork for this ambitious venture. What began as a simple family enjoyment of açaí bowls during the COVID-19 pandemic soon blossomed into a business idea. The concept was fully realized after connecting with Joe Goldberg, owner of TruFusion, culminating in the opening of BerryBox in Clayton in April 2023. 
"We have always been entrepreneurs and love building businesses, teams and communities around those businesses," Cole said.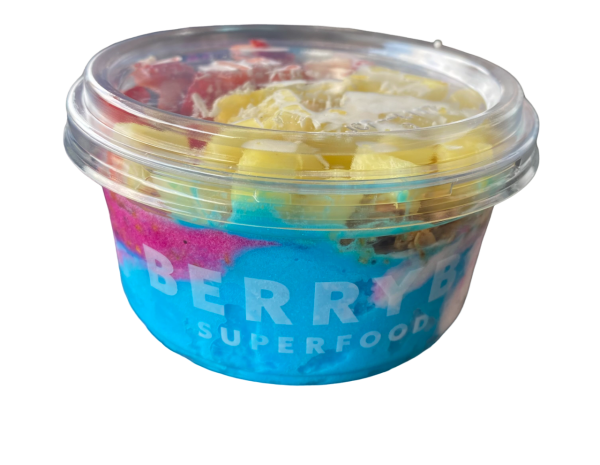 What sets BerryBox apart is the flexibility in its menu options. Here, the base price remains the same for each size, regardless of the number of toppings you choose. BerryBox offers an entirely gluten-free menu for those with specific dietary needs, and customers can make most dishes vegan by simple substitutions like using agave instead of honey.
Unlike many smoothie bowl places notorious for their slow service, BerryBox stands out for its efficiency. Customers can expect to get their orders relatively quickly without sacrificing quality or taste. Their unique "grab-n-go" feature can also contribute to this, with additional flavors coming soon.
"It's pretty cool to be a part of something so new with so much potential. But at the same time, we are still figuring out how to make things work the best within the company so it's fun to be able to help with those aspects as well," senior Stella Whitney said.
From the staff's upbeat environment to Cole's commitment to providing fresh and healthy options, BerryBox extends beyond being a mere business. 
 "Keeping a positive mindset is so important with anything in life," Cole said.  "When you can take an obstacle and look at [it] from a positive perspective, it allows you to continue to move forward and work towards the goal, regardless of what stands in the way or any delay.  Many times the delays and obstacles have allowed us to improve other areas of our business."
Choosing locations for BerryBox was not a random decision; it was a strategic move to integrate the business into communities that would value what it offers. The City Foundry, with its vibrant Food Hall, provided the ideal launch pad for spreading brand awareness. The Clayton location, situated next to TruFusion, was an opportunity too good to pass up, allowing BerryBox to serve a community that values health and wellness. 
The journey continues. Exciting new additions to the menu and even more locations are under consideration. As fall approaches, BerryBox is set to introduce seasonal favorites, including a pumpkin-based bowl and unique latte flavors. The owner's continual efforts to improve and innovate ensure that BerryBox will keep surprising and delighting its customers. 
BerryBox is not just another smoothie bowl shop; it's a passion project backed by an owner with a rich background and a clear vision. Its quick success and positive public reception indicate that this is more than a momentary trend. With an owner so deeply invested in the community and the quality of the products, BerryBox promises to be a staple in Clayton's culinary scene for years to come.