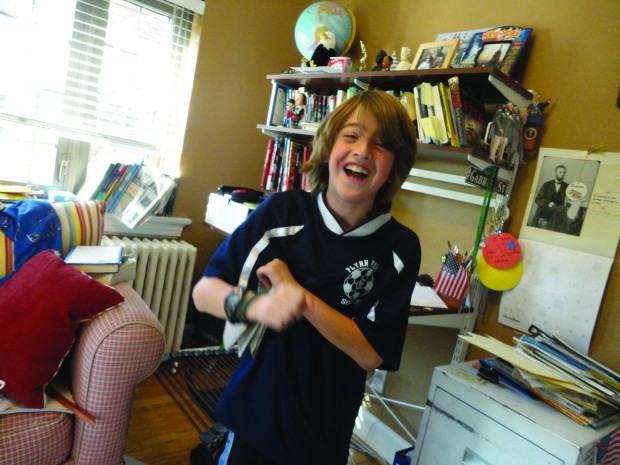 Gabe Fleisher wakes up at 6:00 a.m. every morning. Although most kids his age would think this to be absurd, he has his reasons. Fleisher likes having time to work before going to school. He uses this time to write a daily newspaper, "The Daily Rundown."  Impressive as it is for any student to do this, what is truly amazing is that Fleisher is only ten-years-old and a fourth grader at Flynn Park Elementary School in University City.
Fleisher's paper gives readers small bursts of political information, which he sends out to eighty people every weekday as an attachment via email.  His subscribers use his paper to to find out what's going on in the world.  But the Daily Rundown, or the DR as his readers call it, especially focuses on US politics.
One Daily Rundown subscriber, who relies on Gabe to keep her up to date, is Kaitlin Kremer.  "Instead of trying to read the newspaper or look at CNN, I could check the DR and it would condense all the important information for me," Kremer said.
Gabe's introduction into the world of journalism began with his mother, Amy Fleisher.  Gabe likes to wake up very early, and always wanted to tell his mom what was going on in politics.
"I would try very patiently to listen, but, as I like to get to work early, it was increasingly difficult. So I said, 'Why don't you send me an email at work and then we can correspond that way?'" Amy said. "So he started sending notes about what was happening and points of interest. Then it slowly expanded into the DR."
Gabe's efforts are grown out of a desire to help Americans become more knowledgeable about politics.
"I think it's important that the American people know their history, and their politics, and what's happening and who their leaders are and what there doing," he said. Gabe loves history, and wants to make sure people, young and old, stay informed.
Gabe's work has also garnered some national attention.
One of his subscribers, or Rundowners, is Ronnie Cho, an Associate Director to the White House Office of Public Engagement. On Nov. 6 Cho requested to speak with Gabe over the phone.
"He talked about how I think President Obama is doing, specifically outreaching to kids," Gabe said. Besides Cho, Gabe has two other White House aids as subscribers to his paper.
In his very young political career, Gabe has already attended an inauguration, talked to famous historians such as Doris Kearns Goodwin, and, most impressively, shaken hands with President Barack Obama. Meeting Obama was probably Gabe's most inspirational moment. "It just brought everything together for me," he said.
Kurtis Werner, CHS history teacher and sponsor of Politics Club, was blown away by Gabe's work.
"I've never seen anything like this," Werner said. "My most high ability students have gone and maybe wrote a blog, but I've never seen this."
Gabe, who used to dress up as Ben Franklin when going to pre-school, has always had a passion for history and politics. He wants to be a historian, and Kurtis Werner thinks he is well on his way.
"I could definitely see him taking up aspects of political science, local state or national government, history," Werner said. "Any of the themes of humanity really are running large through his paper."
Gabe's paper, impressive as it is, still needs some work. Both Gabe's mom and Kaitlin Kremer think Gabe should write more editorials. His editorials, such as his thoughts on the killing of terrorists, are always big hits, but are also more time consuming.
The most exciting thing about The Daily Rundown is what is left to come. Â Amy Fleisher agrees.
"I've slowly watched him evolve, and what he does with his interests. It will be interesting to see in a year or two years, where this will take him."