Rarely does a Monday go by without senior Tyler Walker's name being read on the morning sports announcements, which inform the school about the highlights of the weekend's sporting events. The student body is often told of Walker's dominating performances on both the offensive and defensive sides of the ball.
In 2011, Walker was the offensive player of the year as a running back and an All-State strong safety.
According to Doug Verby, the defensive coordinator, Walker brings a lot of different talents to the Clayton team.
"He is just extremely hard to tackle. He runs hard, he is very elusive, he has very good skills," Verby said. "And if you get the ball in his hands in the open field he will break long runs because he is just so hard to tackle."
Jack Hagan, a member of the special teams unit for varsity and a running back for the JV squad, also feels Walker has many qualities that make him an effective runner.
"Tyler's style of running is a little different," Hagan said. "He is really quick. He can change the play while it is going on."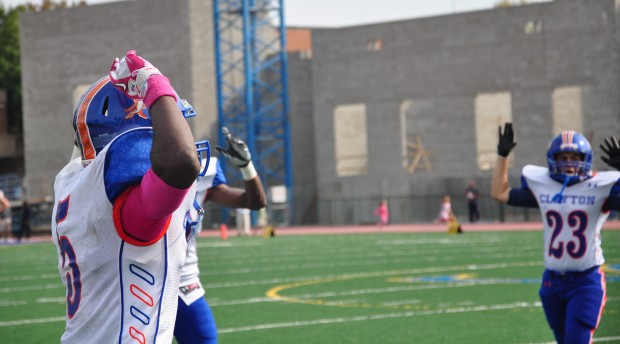 In terms of defense, Verby compares Walker to Brian Dawkins, a nine time Pro Bowler as a strong safety.
"He is just very vocal, very emotional, very positive guy on the field," Verby said. "An extremely hard hitting safety. I like that comparison because they're both two of my favorite players to watch."
An effective player on the field, Walker is also a leader to his team not only when the game is going on, but also on the sidelines and during practice. These leadership skills resulted in Walker being named a captain his sophomore year.
"He is not going to make everybody faster and stronger around him, but he sets the example for everybody to know their assignments and know what they are doing so (they) avoid the mistakes when you get to the game," Verby said.
One way Verby feels Walker is effective as a captain is by "coaching up" his teammates after mistakes are made. Hagan agreed.
"(I)f he makes a play in practice, he gets in his teammate's face and provokes them into playing better," he said.
Verby feels this style of leadership teaches Walker's teammates that they either have to, "step up or back down."
Walker also tries to influence those around him by working hard and trying his best.
"I always want to give it my all, no matter what I am doing," Walker said. "I've always got to pick my team up and make sure they are giving it their all and not taking plays off."
Hagan feels that Walker does this even when he is not playing.
After a miscommunication with a referee one game, Walker was forced to sit out the next game against Normandy.
Hagan cites Walker's pre-game speech before the Normandy game as helping to "motivate" the team. He also said that Walker gave advice to players throughout the course of the game, and made sure the Greyhounds knew about having a team mentality.
"After winning the game he told us that he was really proud of us and it's a whole team (effort) and not just led by one person," Hagan said.
With a good balance of physical skills and intangibles, Walker is planning to continue to play football. He does not yet know where he is going to college next year, but Walker does know that he will play football. Verby agreed.
"People in the conference, people at the all state meetings know about him and colleges are starting to look at his tape," Verby said. "We know he's got a really bright future as far as college football is concerned."