Danielle Sikora knows what it's like to be under pressure. As a state contender in swimming during both of her years at CHS, she is familiar with the strain of competition.
Sikora, a junior, holds two records for CHS swimming, in the 200-yard individual medley (IM) and 100-yard breaststroke. And she is working to get better, a scary thought for Clayton opponents. Aside from being the best swimmer on the CHS team, Sikora is a supportive force on the squad.
"She is a really nice person and she was good at helping with people who needed help with techniques or anything," Miranda Rubin, a sophomore swimmer said.
Katelyn Long, the girls' swim coach, agreed that she is good natured, remembering how Sikora brought the entire team trail mix, her pre-race snack, at the conference meet last year.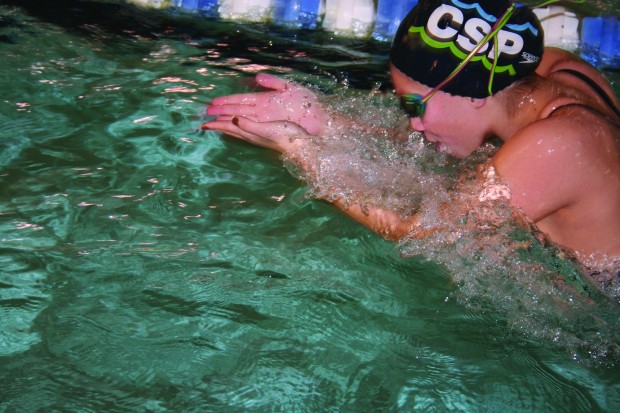 Though she clearly loves her team, Sikora was not always sure she was going to swim with CHS. Aside from swimming with Clayton, Sikora competes with the Clayton Shaw Park Swimming (CSP), a more competitive club team in the area, leading to schedule conflicts.
CSP offers a rigorous opportunity for developing swimmers. Sometimes, the transition between the harder practices and easier ones can result in less effective technique, a common reason many swimmers choose not to swim for their high school teams.
Sikora, however, accepted her situation and is happy swimming with both CHS and CSP.
"I have just gotten used to the fact, because I want to do high school, that I'll just go to these [CHS] practices," she said.
With CHS, Sikora has made her mark. Her freshman year, she qualified for the state competition in the 100-yard breaststroke, her best stroke, and the 100-yard freestyle. Her sophomore year, she qualified in the 100-yard breaststroke again, along with the 200-IM, where she excelled at the state meet.
"(W)hat was great about state last year was that she made it back [to the IM finals]," Long said. "She was in the top sixteen."
Sikora finished in 15th place in the 200-IM, earning points for the Clayton team.
This year, Sikora plans to qualify for state again.
"You can only swim in two [events at the state competition], I've only qualified in two events each year so it just worked out that way," Sikora said. "I guess a goal could be to make more than just two so I can decide [what events to swim]."
She also hopes to make it back to the state finals as she did last season.
Long feels that Sikora's versatility helps make her an effective swimmer.
"She is so versatile … she is good at breaststroke, she is great at IMs, she can do sprints freestyle. We can do a lot of different things with her," she said.
As a team, Long is also hopeful for what Sikora and her teammates can do.
"We have a lot of experienced swimmers that showed up this year. We probably have five or six swimmers that have been swimming all year," Long said. "I am really excited to see what they can do during the high school season."