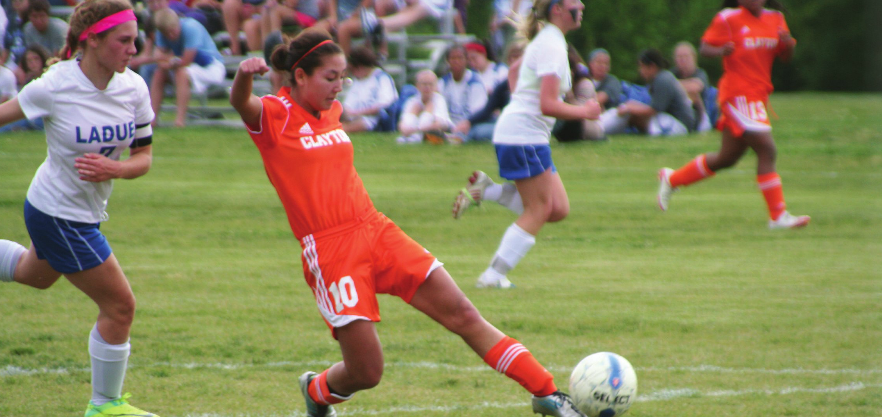 When sophomore Lindsey Anderson thinks of senior Meg Sutter, her teammate on the CHS varsity soccer team, she thinks of someone who will put in every last drop of effort. "She is able to get around anyone," Anderson said. "And, if she can't, she just keeps trying."Along with being a strong presence while she plays, Anderson also feels that Sutter has been instrumental in the team's chemistry off of the field."She is a real leader. She really tries to bring people together and make us have fun," Anderson said. "She is all about working hard, too."
Paul Hoelscher, Sutter's soccer coach at Clayton for three years, agrees, and feels that Sutter's humility makes her someone that her teammates can look up to.
"She's just a real quiet kid who doesn't attract a lot of attention to herself, and I think, for that reason, she is very likable," Hoelscher said.
Sutter's hard work and dedication has paid off. She has played on the varsity soccer team for all four of her years at CHS.
Initially, when Sutter made the varsity squad as a freshman, it was hard for her to adjust, but she feels her teammates made the transition smoother.
"I was just really shy and it was really hard adjusting, but the team made it pretty easy," she said.
Now, as one of the team's seniors, Sutter has embraced the responsibility the upperclassmen in her freshman year once had for her: being a team leader.
This season, Sutter looks forward to, "coming together as a team and seeing how we do and being a leader," she said.
A midfielder, Sutter is looked at as one of the top players in the area, earning first team All-Conference honors her junior year and helping lead the team to a first place finish in their conference.
Anderson is impressed by Sutter in many ways, one of which is the faith she feels when Sutter has the ball.
"On the field, I can just trust her," Anderson said. "If I pass it to her, I know it's going to get to the right place."
However good Sutter is at soccer, Hoelscher feels that she does not act like she is better than her teammates, a testament to her humble nature.
"I think most people who understand the game have known [that] she has been our most skilled player for a number of years, but she never plays in a way that makes other kids feel less about themselves," Hoelscher said.
Going into her last season of CHS soccer, Sutter has began looking at the option of playing in college. She has looked at competing at the division three level, which would give her the opportunity to enjoy the game of soccer while leaving enough time to focus on academics.
With her time at CHS coming to a close, Sutter's teammates have begun to realize how much the program will miss her.
"She is just all around a really great player and a really great person," Anderson said. "I'm going to miss her next year, I think everyone is."