A Part of History
The Visit
Though he only visited one time and though it was 59 years ago, Carl Erskine still remembers Clayton High School. Erskine visited CHS in mid September, 1953 with his Dodger teammate Jackie Robinson, who broke the baseball color barrier in 1947.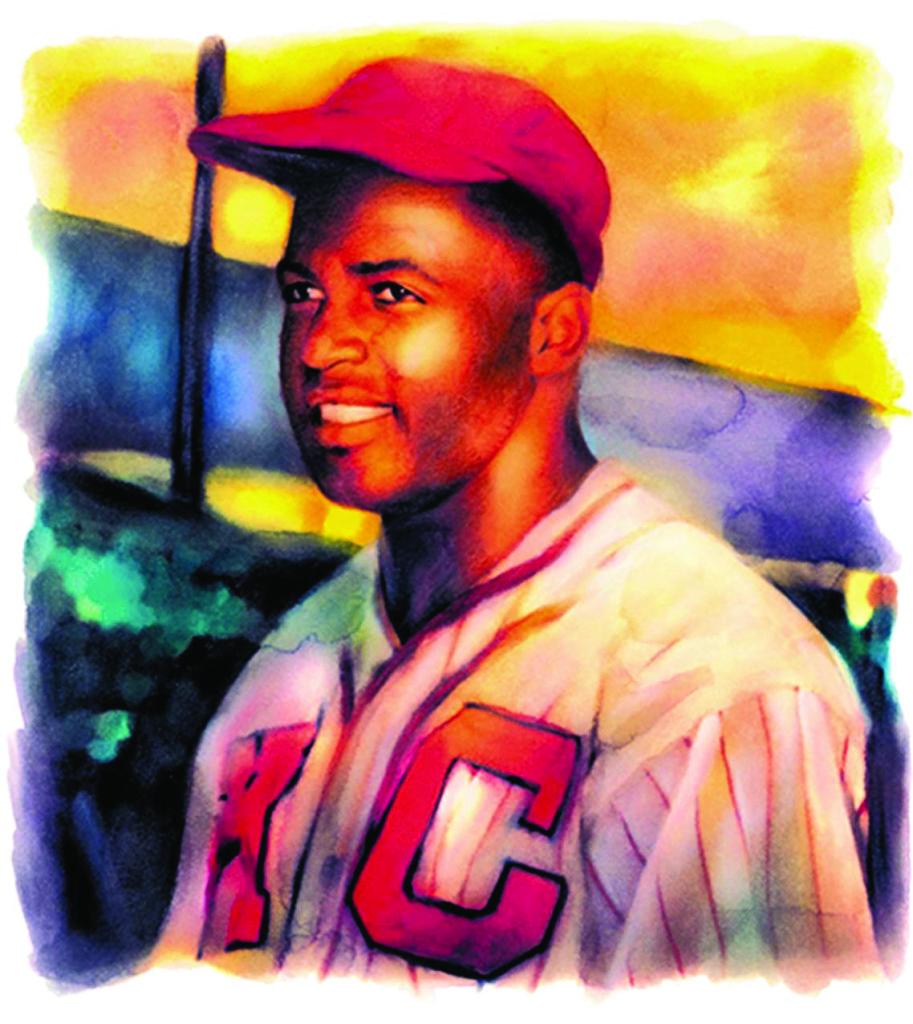 Erskine and Robinson presented for around 40 minutes to a CHS audience about various subjects, including race, the major social issue of the time. Following the presentation, the two Dodger stars mingled with the crowd of students for another half an hour.
"I do remember being around a lot of students and answering a lot of questions," Erskine said. "We were playing a night game that night with the Cardinals and so during the daytime we visited Clayton High School."
At the time of the Dodger's visit, St. Louis was still a segregated city. CHS would not become integrated until the summer of 1954, Forest Park still had separate drinking fountains for each race and black baseball players had to stay at different hotels than their white teammates.
Harriet Spilker, a CHS alumna from the graduating class of 1954, and two other CHS students were selected to moderate the panel that organized Robinson's visit. They also traveled to the African American hotel during the Dodger's road trip to introduce themselves to Robinson and ask him questions. Spilker remembers the main message that Robinson gave at both the hotel and the high school.
"I said, 'Why are you willing to come to Clayton High?' and he said, 'Well I want them to see that we are all alike,'" Spilker said. "And I thought that was interesting, and that was really what he stressed when he saw us."
In a 1953 article published in the St. Louis Argus, Robinson said he appreciated the three seniors coming to see him at the segregated hotel.
While in St. Louis, Robinson commented about Spilker and the two other students, saying, "You're the ones to take our places. You'll be the leaders tomorrow."
Spilker went on to coordinate the OASIS program, a tutoring system, and has chaired the Clayton Connections Committee – which connects elderly citizens and CHS students – up until this year. As Robinson predicted, she became a leader in the St. Louis area.
Spilker felt that visiting the hotel may have calmed some of the nerves Robinson could have felt before presenting to an all-white school.
"I think us going down and meeting him made him comfortable, and when we were with him, I had no reason down there [at the hotel] and at Clayton High to feel that he was not comfortable where he was," she said.
When he was at CHS, which was then located on Maryland Avenue, Robinson talked in depth about the segregation that he experienced throughout his life, continuing to pass on the message that he gave Spilker at the hotel.
Spilker remembers Robinson talking about the separation he felt.
"He did say how hurtful it was," Spilker said. "He thought it was harmful for the club as a whole, that he was so ostracized in some of these cities."
While at the school, Erskine remembers appreciating how nicely he and Robinson were welcomed.
"I was pleased that at the high school in Clayton we were warmly received and [it was] a fun time and exciting time to be there with the students," Erskine said.
Spilker agrees, and feels that the students were well prepared with their questions.
"The kids were very receptive, there was no animosity," she said. "He made an excellent presentation and the kids' questions, you know Clayton High, they were good."
The visit at CHS left a lasting impact on Spilker, and she feels it was one of many steps in the Civil Rights Movement.
"I thought that it was a step toward change, an important step, we wrote papers about it, we studied it, we talked about the injustice of him being separated," she said. "It was a part of history and I like to be involved in things like that."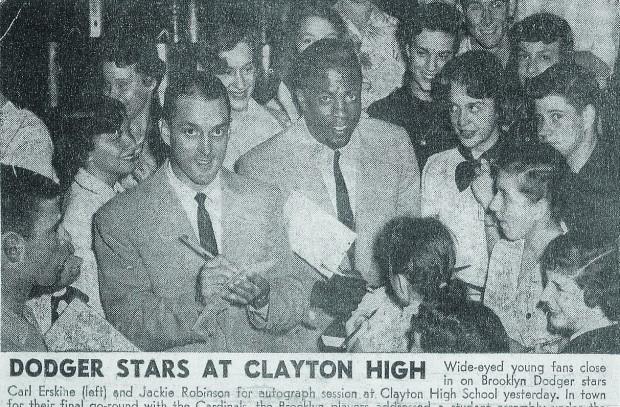 Important People
Because of the impact that Robinson left on her, Spilker still collects newspaper clippings and books about the Dodger Hall of Famer. She remembers both the lessons of acceptance he taught her and his warm personality from when she met with him at the hotel and at CHS.
"He would greet people and he would be very gracious, but he wasn't an in-your-face type of person, he was a real gentleman," Spilker said.
The visit was made possible by Margaret Dagen, a CHS history teacher and Human Relations Club director. Dagen, who passed away in 2002, was a civil rights activist and a friend of Branch Rickey, the Brooklyn Dodger's general manager. Dagen contacted Rickey to set up the event, and the two Dodgers players visited during a road trip against the St. Louis Cardinals.
AP World History teacher Donna Rogers-Beard feels that, along with Robinson and other influential African Americans, white civil rights activists should be recognized.
"It's so important to look at Branch Rickey and a Maggie Dagen – these are white people who saw their humanity," Rogers-Beard said."[T]hey didn't see themselves in terms of race, and they have got to be celebrated."
Robinson's Legacy
As an African American growing up during the Civil Rights Movement, Rogers-Beard remembers how Robinson was looked at as an exemplary person for her and her peers to emulate.
"[T]here was nothing that anyone could criticize about Jackie Robinson … at school, Jackie Robinson was the model for how we were to behave. At home, Jackie Robinson was a model of how we were to behave," Rogers-Beard said. "Jackie Robinson was a very important person."
Spilker agrees about his importance, and has passed on lessons he taught her to younger generations. She feels Robinson's calm demeanor and his ability to withhold from resorting to insults are examples that many young people can learn from.
"I have five grandchildren, and I talk to them about it frequently … it's not always easy to get where you want to, but you've got to persevere and you've got to work at it, you've got to be willing to follow the guidelines," she said.
Along with her grandchildren, Spilker has also talked to elementary school children about the lessons that can be learned from Robinson.
Erskine feels Robinson's breaking of the color barrier led the country to become a more accepting place. Erskine and his wife gave birth to a son, Jimmy, in 1960 who was diagnosed with Down Syndrome. Seeing his son grow up led Erskine to write the book "The Parallel" about Jimmy and Jackie Robinson. Erskine wrote the book to fundraise for the Indiana Special Olympics program, which Jimmy participates in.
"I believe in my heart, that when my son Jimmy gets a gold medal in Special Olympics for swimming or track and field, when he gets a medal, that Jackie, my teammate, had something to do with it because of the momentum he started in breaking the color barrier," Erskine said. "That caused people to become more sensitive, more inclusive, a whole society began to see people who are different in a different light."