Freshman Playing Varsity Sports
Setter Cameron Tate sprints towards the volleyball as it shoots near her. She dives onto the hardwood floor and digs the ball up as her teammates cheer her on. The ball is dug high and the hitter slams the ball onto the other court, the play ending in a point for Clayton.

At 5'8', Tate seems to blend in with the rest of the varsity volleyball players, height wise. But age wise, she is one of two freshman volleyball players who made the varsity team this year. Every year, only handful of freshmen are chosen to play on varsity.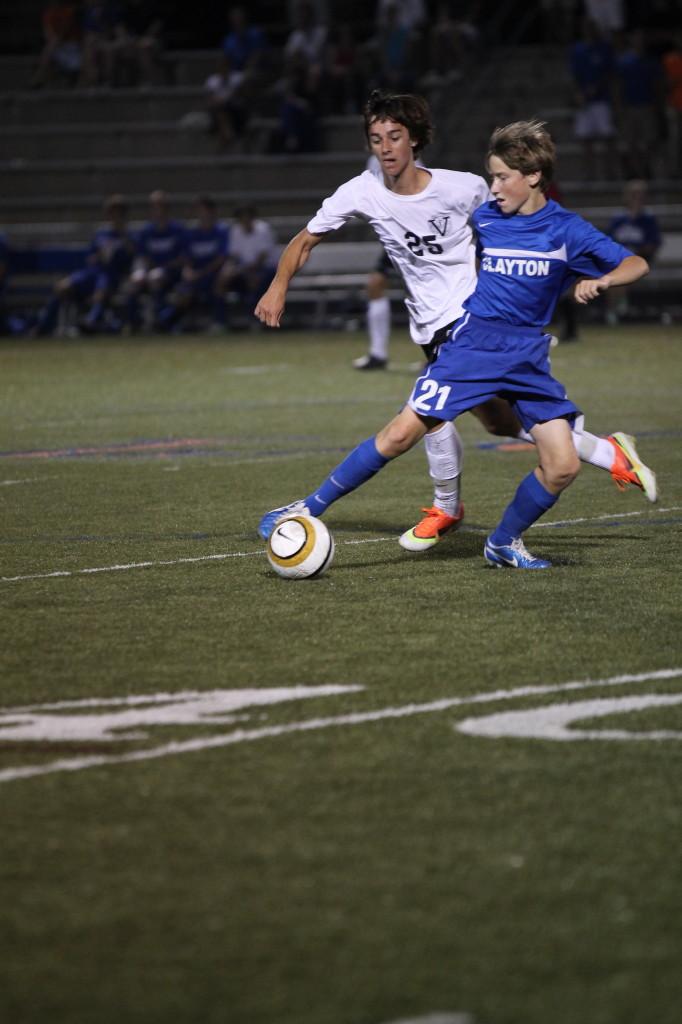 Tate has been playing volleyball since she was in third grade. She also played softball and basketball. However, when faced with a choice between the three sports, Tate chose volleyball. "My home is on the volleyball court," Tate said.
In sixth grade, Tate started playing club volleyball. Club volleyball has a year-round schedule, with tryouts starting immediately in November after the end of the high school season, and ending with the school year in June. Tate has played for the club team H2 for the past three seasons.
Being on the varsity team is a big transition from club volleyball, where Tate's teammates and opponents are all the same age as Tate.
Not only are Tate and Boeger playing alongside upperclassmen, they are also playing against upperclassmen from other schools.
"It can be kind of intimidating and but it also makes me work harder," Tate said. "Overall, I really like being on varsity because it is different than club, most of the people on my team are older than me and have a lot of experience."
Freshman varsity soccer player Andrew Boeger can relate. "I played up a year for club a couple years back and everyone is very big so it teaches you to play in a more physical way," Boeger said. "It is very fun and the competition level is high."
Despite the initial intimidation of the upperclassmen, there is a certain amount of pride involved with saying that you made the varsity team.
"It feels really good to represent your school at this level," Boeger said.
Boeger plays in the central midfield position. He is also on the St. Louis Scott Gallagher u15 Elite team.
Boeger credits his early start with playing soccer to his parents.
"My parents played as children and through college," Boeger said. "They got me on a team before I even knew what soccer was and I have played ever since."
Like Tate, Boeger favors soccer more than the other sports he has played.
"It is very active and the play does not stop as much as a lot of sports do, like football or baseball," Boeger said. "Also, I get to bond with the team and meet new people."
Boeger has had exciting experiences with playing soccer. Last spring break, he went to Europe for an international soccer trip with the CBC coaches from the CBC Dutch Touch Camp.
Boeger was part of a group of fifteen kids that flew to Holland. They competed against some of the local youth teams.
Playing with kids from a different country helped Boeger learn the different styles of soccer.
"What I liked the most was receiving training from the Dutch coaches," Boeger said. "The style of play is much different than what my club team had played. They move the ball very quickly and what was weird was that all of the teams we played had at least nine kids who were over six feet tall."
A varsity player has had more practice with playing the sport than most people. Being a freshman on varsity means proving to the coach that you have more maturity and that you are capable of playing at a high level.
Tate and Boeger have certainly done both of those things. They have earned their spot on varsity and are looking forward to a good season.