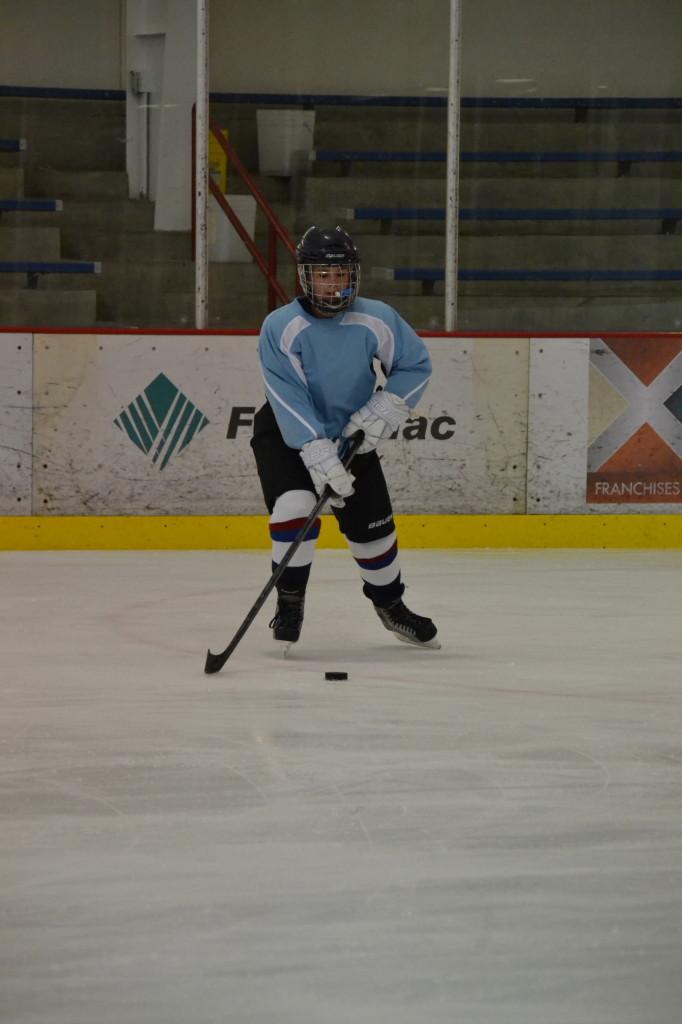 Jordyn McCarty, CHS freshman, laced up and hit the ice alongside fellow CHS hockey teammates. One thing that set Jordyn from the pack was a golden blonde ponytail peeking out of her helmet.
Jordyn is the only female member of the Greyhound squad.
Jordyn began playing boys' hockey when she was in the fifth grade, but has loved the sport for nearly all her life.
"I've had season tickets to the Blues since I was two and I wanted to start playing when I was four," Jordyn said. "My parents wouldn't let me because they thought it was just a phase. They finally let me because I kept bugging them about it. I just really liked it."
Since then Jordyn has played for four different boys' hockey teams.
In the past, Jordyn played one season of girls' hockey. She did not enjoy the experience because body contact was limited on the ice. However, she does play girls' golf and plans on playing girls' lacrosse in the spring for the Greyhounds. Hockey has not been her only experience on an all male team. Jordyn has also played boys' baseball, soccer and lacrosse. She joined the boys' teams in part because she feels that they were more competitive.
Although overall she has been happy with her decision to participate in boys' athletics, she has dealt with some adversity because of her decision.
"At my old school in 6th grade, the girls started making fun of me and calling me a bunch of names," Jordyn said.
The transition to CHS, however, has been a good one. This is Jordyn's first year in the District. Previously, she attended Wolf Branch Middle School in Swansea, Illinois and St. Teresa Catholic School in Belleville, Illinois. Jordyn has adjusted well and enjoys the school dynamic.
Jordyn's mom, Donna McCarty supports her daughter's choice to play boys' sports, but at first she was unsure about her participation.
"We were a little nervous at first, her dad and I did not want her to do it [play hockey] because she wanted to play with the boys," Donna said.  "She finally wore us down after about a year of begging and that's when we let her join the team for the first time. She's loved it ever since."
In the stands at many of Jordyn's games, Donna often hears people in the crowd questioning if Jordyn is actually a girl playing on the boys' teams.
"But we've never heard anyone say anything negative," she said. "It's all been positive feedback so far."
Similarly, Jordyn has never had to deal with any serious issues with the boys on the hockey teams she has played on.
"At first, on every team I join, they're shy and they won't go as hard on me and stuff," Jordyn said. "But after awhile they get used to it and just act like I'm one of them."
One of the CHS hockey coaches, Zach Han, aims to ensure that the hockey team does not treat Jordyn any differently because of her gender. Â So far Han has only seen positive interactions with Jordyn and her teammates.
"[They treat her] no differently," Han said. "I'd have a problem with it if it was different."
Senior Richard Hollocher also believes that Jordyn has been welcomed by the team.
"I treat her like any other player," Hollocher said. "She's willing to come out with the boys and skate and that is really admirable. I feel like she'd be embarrassed if we let up at all. So I go as hard as I can."
Off the ice, Hollocher also feels that Jordyn is adapting well, but there are a few complications.
"It's kind of hard because she can't be apart of the locker room bonding," Hollocher said. "But I think she mixes in pretty well, it's a lot of fun."
Jordyn now feels at home on the ice, but it wasn't always that way.
"My first year it was kind of weird being the only girl," she said. "I kind of got used to it. My old team, they were all like my brothers. I'm used to being the only girl now."
Jordyn McCarty Plays CHS Hockey from Clayton High School on Vimeo.
Video story by Gabriella Azimiaraghi