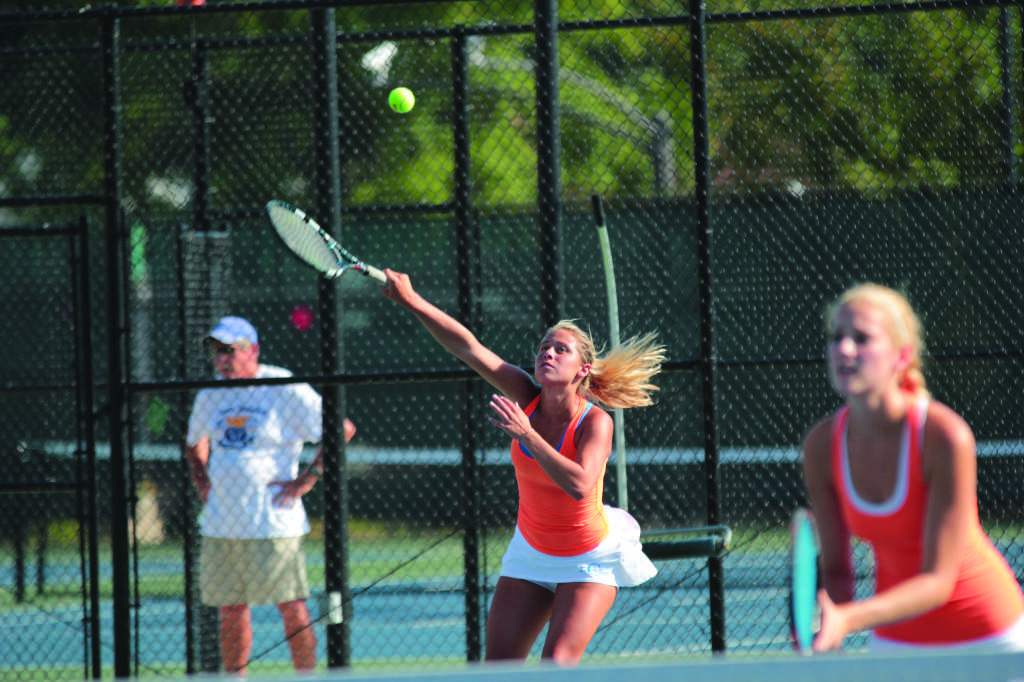 Junior Connor Cassity comes from a tennis family. Both of her older sisters, Courtney and Carly, were leaders on an MICDS team that won the state tournament, and Carly, who graduated last year, is now playing at the University of Arizona.
Cassity, the Greyhounds' number one tennis player, has learned from her sisters and has excelled in her three seasons on the CHS team.
"I just always try to have fun when I play, I don't try and take it like if I lose then it's the end of the world, but I hate losing so I always try my hardest," she said.
Junior Hadley Alter has been Cassity's teammate on the varsity tennis team for three seasons. She feels that Cassity is a team leader and sets a good example for her teammates.
"Connor is for sure a leader, just because she is the most experienced girl on the team, she's been playing the longest and … she really handles herself well and has a good attitude as well," Alter said.
Coach Susie Luten agrees with Alter, feeling that Cassity leads by example. Cassity's strong play allowed Luten to trust her with a hard decision: how to play in the district tournament.
"She is our number one player on the team, and, therefore, she sets the tone for the rest of the team," Luten said. "She really is so talented and, because of the makeup of the other districts and other competitors that she will be playing against, she really had her choice to play in singles or in doubles to compete for an individual state championship."
Cassity decided to play doubles with fellow junior Cameron Freeman.
"She's a very unselfish person and she's all about the team,'' Luten said. ''And she and Cameron have worked really hard together and they've gotten really good together, and I think she felt that, if she chose to play singles, she would be leaving her partner in the dust, so she decided to go with doubles."
Cassity's choice proved to be a good one. She and Freeman finished first in districts and qualified for the state tournament, where Luten feels they have a good chance to win. Cassity also led the team to the state tournament after beating Westminister in sectionals. At press time, the state championship had not been played.
Alter feels Cassity's hard work is paying off, especially when she has to play against challenging teams, both in doubles and singles.
"She's a really dedicated player and I feel that's reflected in how she plays and how she handles herself on the court," she said. "Connor always has a lot of difficult matches, and she's always really calm and collected."
In tennis, Cassity looks up to Serena Williams, a 17 time Grand Slam title champion.
"She takes control of the court, she hits the ball where she wants to hit them, she just does everything that a tennis player wants to do," Cassity said.
Throughout her tennis experiences, Cassity has cherished the opportunities she has had to bond with her teammates.
"The high school tennis season is my favorite part of the whole school year," she said. "Just because our team is really close and we get along really well and have a lot of fun together, and I think that's the most important part."
NOTE: Cassity went on to place second in doubles and led the team to a second place overall finish at state.