A Running Legacy
He set down his chair in his usual spot, with a heart full of pride and a focused presence. His applause for his granddaughter never lacks as she plays in her tennis matches for Clayton's varsity team.
Marion Freeman is the patriarch of a Clayton family whose athletic legacy will forever be remembered. Through the lives he touched and the people he has helped, Freeman has been a consistent member of the Clayton community for over five decades.
Growing Up
During the long, hot, Missouri days of his childhood, Freeman had two choices: stay in the fields or find his own way home.
"I grew up on a farm and I'd go out with my dad in the fields and I'd get bored, I'd run home," Freeman said.
Running home from the fields translated into a successful high school sports career. Freeman grew up in Northwest Missouri and participated in football, basketball and track in both high school and college.
During his high school years, World War II was raging in Europe. Many of his high school teachers were serving overseas, making class choices limited. The situation led to a unique opportunity for Freeman and and some of his classmates. He was able to take classes at a local university, allowing him to get ahead for college.
"By the time I got out of high school I had a few credit hours built up,"  Freeman said. "When I started a four year program, I already was midway through my freshman year."
For college, Freeman attended Northwest Missouri State. For track, Northwest was in the MIAA conference, which featured Cape Girardeau, Maryville and other Missouri schools.
When Freeman got to college, Cape Girardeau had won the conference for over 20 straight seasons. However, his junior year, tragedy struck and motivated the team to stop Cape Girardeau's streak.
"Our coach lost his five-year-old son in the fall of my junior year," he said. "The boy was run over by an automobile in a freak accident and that night we decided we better win the conference."
Freeman and the team succeeded, wanted a bright end to an extremely painful year for their coach.
Freeman was a middle distance runner. Some would expect his small stature to prevent him from having the chance to run with the sprinters, but Freeman was able to excel leading off many relay teams. He said it always shocked the coach that he was able to do so well.
"He couldn't figure out why I could beat his sprinters for 30 meters, but I could," Freeman said. "So I was the lead man on the mile relay team."
Freeman's junior track season turned out to be his last in a memorable career. He accepted a position in the Chillicothe School District, opening up the next chapter in his life: coaching.
Coaching Career
Freeman feels that the positive experiences he had during his high school and college playing days led to excitement about coaching.
"I was very fortunate to compete in football, basketball and track in both high school and college and came out with a lot of curiosity and a lot of interest and enthusiasm about coaching and it's carried over," he said.
Freeman remembers his success with track, especially at the state level.
"For the first ten years I was out of college, I had somebody in the state 880 yard dash final for ten consecutive years, so I was a little partial to middle distance running," Freeman said.
When he took the job at Clayton, Freeman coached cross country, basketball and track. He loves to talk about his former athletes and who they played against.
Freeman has memories of coaching against Bill Bradley, a future NBA Hall of Famer, when Bradley played against Clayton for Crystal City High School.
"First night we tried to triple team him and he got 35 [points], the next time we played him we fronted and backed him and he got 35, the next time we just played him, gave him his 35 and we tried to beat the rest of them  … unbelievable athlete, unbelievable scorer," Freeman said.
Overall, Freeman is proud of the impacts he made on his athlete's lives and the lessons he was able to teach.
"Competition is wonderful to observe," he said, "and so I've always thoroughly enjoyed that and I love to see kids improve."
A Running Icon 
Charlie Carr was one of the starting students during the racial integration of Clayton High School. He was an outstanding athlete and Freeman describes Carr as having a personality "just like a jewel."
Carr considered playing baseball instead of sticking with track in the spring, but Freeman's persuasive coaching convinced Carr to run for the first meet of the season prior to quitting.
Freeman placed Carr in an assortment of challenging events. After the meet, Freeman asked if Carr still planned on turning in his uniform to which Carr replied, "'After today, I thought it had to get better than this,'" Freeman said. Carr became the star of the track team and was one of the many runners that Freeman touched throughout his coaching career.
In the early 1960s, Freeman started the cross-country team through extreme recruiting of other athletes within the high school. The track team was lacking middle to long distance runners, and Freeman desired to have a better-rounded team with a variety of runners.
"I was recruiting, daily, every day, everywhere. No matter where it was or when, I was recruiting. And it paid off," Freeman said.
"I doubt I was the favorite coach in the school in those days," Freeman said. "If they had air under them that look like they could run, I had them with an arm."
His goal was to not only improve one sport, but to ultimately enhance the entire athletic body of CHS. "When I first got to the high school, there were about 18 or 20 boys out for track in the spring," Freeman said, "And to me, that was a terrible situation."
By Freeman's fourth year of coaching track, he had 75 boys try out for the track team. "The last year of my coaching of track, the Clayton team won the Clayton Invitational for the first time in the 81 year history that I know of," Freeman said.
His legacy lingers, as he continues to invite runners from across the state to participate in the Clayton Invitational track meet, which now bears his name, to break records. State champions return annually to run in this event.
Freeman's constant support continues to drive the Clayton cross-country and track teams to success with his inspirational advice. His athletic success is remembered on and off the track as his passion for victory lives on.
Freeman's coaching can influence all aspects of an individual's life, runner or not. The words he said to senior Parker Schultz before a cross country meet hold true to what he believes and passes on to those he helps: "When you go, go hard."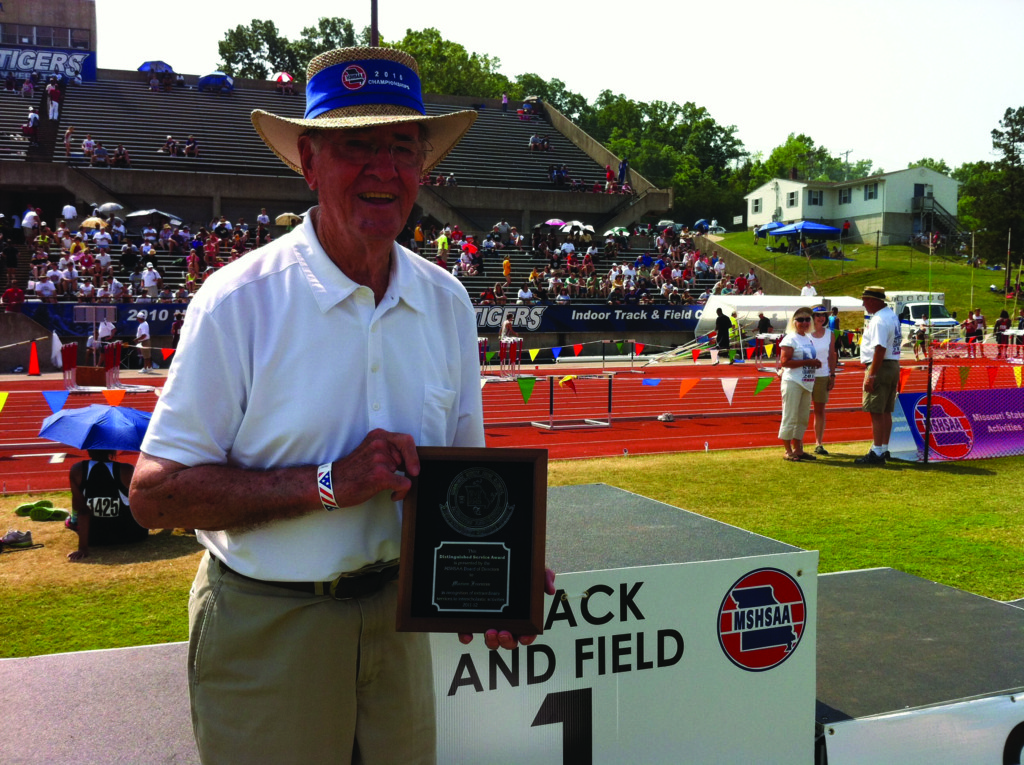 Leave a Comment