Off the Beaten Path
by JEFFREY FRIEDMAN
with reporting by PETER BAUGH and ABRAHAM BLUESTONE
Ah, the endorphins. The feeling that comes with exercise is an amazing one. No matter where or when the workout takes place, the sensation of both mental and physical release is always a welcome respite for the sweaty individual.
But if you're going to get fit, why not do it in a way that you love? While the majority of people are exercising on an indoor machine with their eyes fixated on the latest Dow Jones Industrial Average updates, Luis Martin is practicing his self-defense in case someone ever attacks him. Patrick Butler is proudly gazing over the tops of mountains after accomplishing one of his greatest climbing goals. Sophie Krehmeyer is tending to the needs of her horses before the sun rises, and Jacques Painter trains in preparation for his next race on the scenic pathways of Forest Park.
For this month's cover story, we sought out some of the most interesting and unique forms of physical exercise in which students at Clayton partake. If there is one thing to learn from this compilation, it's that there are countless ways to fulfill the imperative one hour of physical activity per day while at the same time enjoying some of the most rewarding aspects of life.
Sophie Krehmeyer: Horseback Riding
If sophomore Sophie Krehmeyer had to describe horseback riding in one word, that word would be "amazing."
"When I was little, I saw one of my mom's friends, and she was wearing what I now know is the horseback riding attire," Krehmeyer said. "She was wearing these 'funny pants' is what I called them. I asked her about it and she told me all about horses. I was really interested and so my mom got me a lesson for my fifth birthday, and I haven't stopped riding since."
Krehmeyer sees horseback riding as a sport, a lifestyle and a job.
Not only does she often find herself caring for the health and wellbeing of her larger companions, but she also has assumed an even greater responsibility very recently: for almost exactly a year, Krehmeyer has been the owner of a horse named Oliver.
"I'd been riding for 10 years when I got Oliver, and my parents just thought it was about time for me to have my own responsibility of owning a horse. I had leased horses prior to this, which is like renting or leasing a car, so it's not technically yours. But they just thought that it was about time to own one, and I was ready for that responsibility."
Krehmeyer heads out to her barn in Fenton six or seven days a week to devote time to her beloved horse. Each practice, Krehmeyer and her fellow horseback riders spend anywhere from 30 minutes to an hour engaged in exercises that help to condition both themselves and their horses for upcoming shows.
Krehmeyer has one private lesson per week. One other day a week, she takes a group lesson with two or three other girls. She can also "hack," which is riding without a trainer.  She hacks three or four days a week, and half of those days are spent riding with other girls.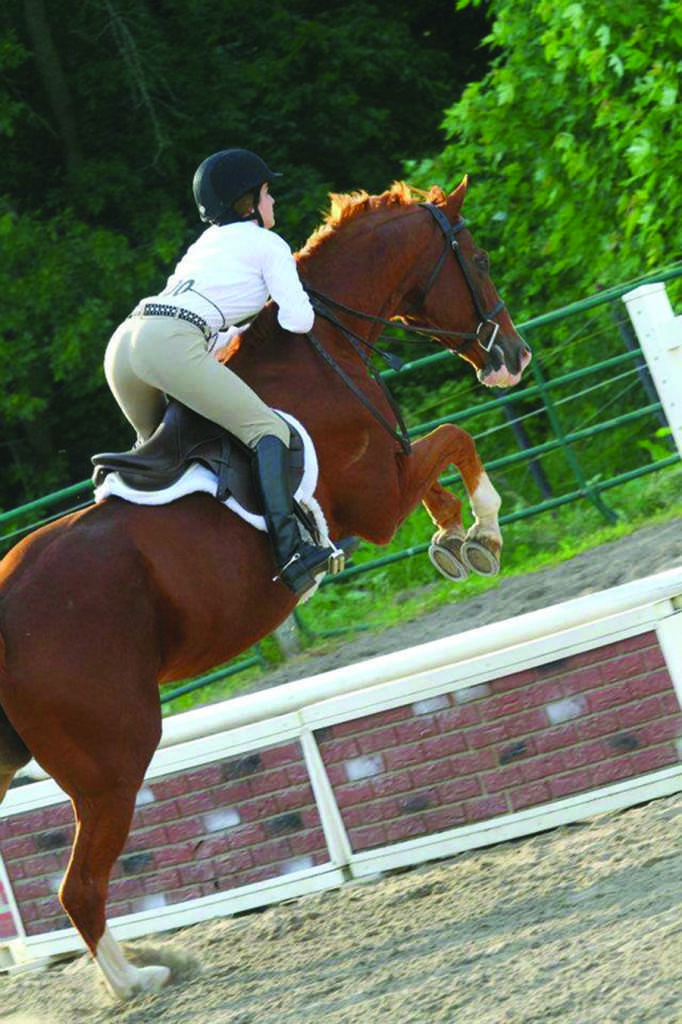 The time commitment to horseback riding is a significant one. Krehmeyer goes to the barn every day after school from about 4 to 7; in addition, she arrives at her barn at about 7:30 or 8 in the morning on weekend days to help with lessons for aspiring young riders.
However, her time spent dedicated to horses does not end there: a large part of the reason why Krehmeyer spends so much time practicing with Oliver is to prepare for the horse shows that take place at Lake St. Louis or at other facilities that are located in Illinois. These performances are far different from more traditional sporting events.
"We take care of our horses at the shows: people don't take care of them for us … I'm usually there at 5 or 6 in the morning, and we're feeding and cleaning stalls and grooming our horses to get prepared for the show, and then we go and learn our courses. Horse shows are really slow, and usually we have to wait around for a while," she said. "But when we know we're getting ready to go get in the arena and actually show, we warm up for about 30 minutes, and then we go into the arena to do our actual course that we're being judged on."
Krehmeyer said that in general, show participants are at the facility until 9 or 10 at night.
Although she said that it's hard to pin down exactly what it is that she loves so much about the sport, Krehmeyer said that she enjoys getting to know all of the horses and their personalities and quirks. She believes that they are like people, and that you really have to get to know them. A special bond seems to form between rider and horse that can't be found anywhere else.
But Krehmeyer would argue that these aren't the only benefits that come with being a horseback rider.
"All of my best friends are friends I've met through horseback riding, and I've met so many people through it that have made a huge impact on my life," she said. "And I've gotten so many opportunities to travel because of horseback riding."
For Krehmeyer, one riding memory sticks out above the others.
"After my horse Lukas passed away about four months before, I had just gotten the horse I was riding named Mister," she said. "I rode him two times, and then I went to the show. I was showing against 30 people in the derby, and I actually won champion. And so it was just a really cool moment after going through all of that with Lukas passing away to have my spirits lifted and to win the derby with Mister. It helped me to know that in the future, everything was going to be okay and that there is more to look forward to and to be happy about even though I had just lost him."
But like all things, riding can have its downsides.
"Sometimes it gets tiring waking up so early and going to the barn, but it's worth it because you have to take care of the horses. It's a responsibility. You can't give up on that. But sometimes it would be nice to sleep in."
In addition, Krehmeyer feels that at times it can be difficult to persevere through the hardships brought on by the nature of the sport.
"Your teammate [your horse] can't talk to you. They can show you their emotions sometimes through how they move. If they're in pain you can feel it, or if they're angry they'll pin their ears back," she said. "But the hardest part is not giving up when you really want to or when you want to have a chat with your teammate and want them to talk back to you and they obviously can't because they're a horse … you have to trust your horse, and it takes a lot of trust in the animal and trust in yourself that you can do it. It builds a lot of confidence."
Krehmeyer hopes to have the opportunity to join and to ride with an equestrian team in college. Although she does not know for sure at the moment, she hopes to pursue equine science and/or equine training. Eventually, she said she'd love to be a trainer one day and to own a barn.
In the end, Krehmeyer is passionate about horseback riding and has been for almost as long as she can remember.
"I love what I do. I don't mind working at the barn for eight hours. I don't mind being out there in the freezing cold. I don't mind being out there when it's really hot because I love what I'm doing."
Luis Martín: Tae Kwon Do
The exact definition of Tae Kwon Do as a whole is "the art of hand and foot fighting."
But according to senior Luis Martin, "there are three major sects of Tae Kwon Do … I do ITF, which is more focused on defense and being able to use not only your legs or only your hands but everything in unison."
Martín took interest in Tae Kwon Do after attending a kick boxing camp the summer after his 7th grade. Since he liked kick boxing so much, multiple people suggested that he take up Tae Kwon Do.  Sure enough, he ended up liking it much more than anything he'd ever done before.
Five or six times each week for about an hour at a time, Martín practices the techniques of his sport diligently.
"A typical practice consists mainly of going through the motions of forms (which are a series of movements), practicing kicks and then self defenses which simulate an attack sequence and a response. That is the most of my plate training, and I just go through the same movements repetitively and also through all of the stuff I've learned from the lower belts for instruction later."
One thing that makes Martín an especially unique student of martial arts is that he currently hopes to provide Tae Kwon Do pupils with instruction in the future, whether this takes place over the weekends, at summer camps or during his years of retirement.
"At one point I realized, 'I want to be able to give what I've gotten from all of this to someone else one day.'"
In terms of the individuality of the sport, Martín has found that in practicing Tae Kwon Do at most academies "you work as a team to obtain perfection, but what you earn is as an individual."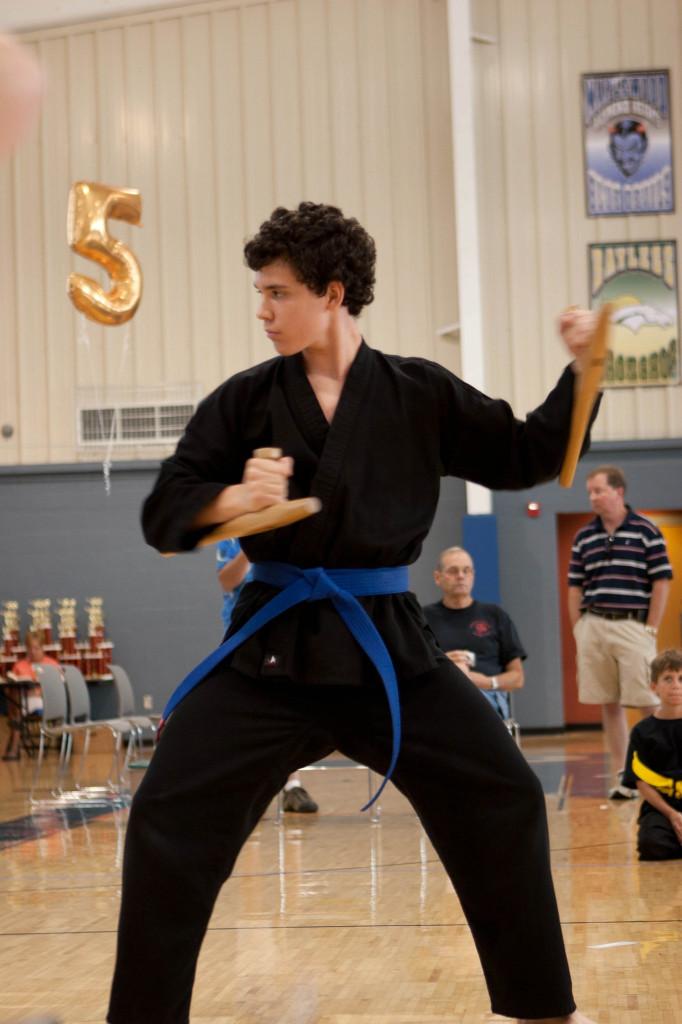 The Tae Kown Do competitions that Marín participates in are open to all types of martial arts. The contests are split up by belt level. Unfortunately, Martín feels as though the judges at the competitions award points mostly based on who they know the best.
"I do pay attention to what they say, but as to who wins or loses, I base that off of what my master tells me and what the other competitors tell me."
Martín noted that the sport of Tae Kwon Do is conducive to meaningful relationships. Not only does he equate his fellow trainees with members of his family, but he also feels connected to the people against whom he often competes: they enjoy shooting the breeze in between competitive matches.
Martín likes the fact that for someone to be good at Tae Kwon Do, it is not necessary to be the biggest and most athletic individual. He believes that the sport tests and helps to build a wide variety of talents which include flexibility, speed and character.
In fact, one of the most interesting aspects of Tae Kwon Do that Martín has experienced is that it favors strong character and maturity over the learning of new skills.
"If you don't have the necessary techniques for one testing it doesn't matter; you'll be tested later on when you're ready. But if you don't have the character for it, you're never going to be ready to be able to do well for the next tournament, or whenever."
In addition to feeling awake and ready to take on anything during and directly after he practices Tae Kwon Do, Martín has noticed clear changes in how he feels on a day-to-day basis as a result of his dedication to the sport.
"I would definitely say that I am more disciplined; I am actually able to make myself do things, where before I would just get distracted by virtually anything and go off on tangents. I would also say that I am not as shy or scared anymore. I always used to walk with my head down, and I'm now capable of keeping my head up and my shoulders straight. It changes your outlook on a lot of things."
Jacques Painter: Road Bicycle Racing
"Biking is just a healthy way of living," junior Jacques Painter said. "It's just something you can continue through the rest of your life, and you'll feel good about yourself hopping on a bike. It's something you'll never forget."
Although he's only been racing bicycles for the last three summers, Painter has been riding bikes for most of his life. He first started learning how to ride when he was six years old. "Bike racing has always been a dream of mine to do."
When Painter was about five or six years old, he watched the Tour de France and thought that it was hands down the coolest thing in the world. And then for Painter, it got even cooler: his parents started taking him to the local Gateway Cup races, where he watched with wide eyes.
"My dad helps me with my training a lot," Painter said. "He pushes me; he helps me get motivated for it. But usually I'm doing the riding by myself.  Forest Park is a good place to go just to do laps around the park, to get mileage in. But the racing itself takes place throughout St. Louis."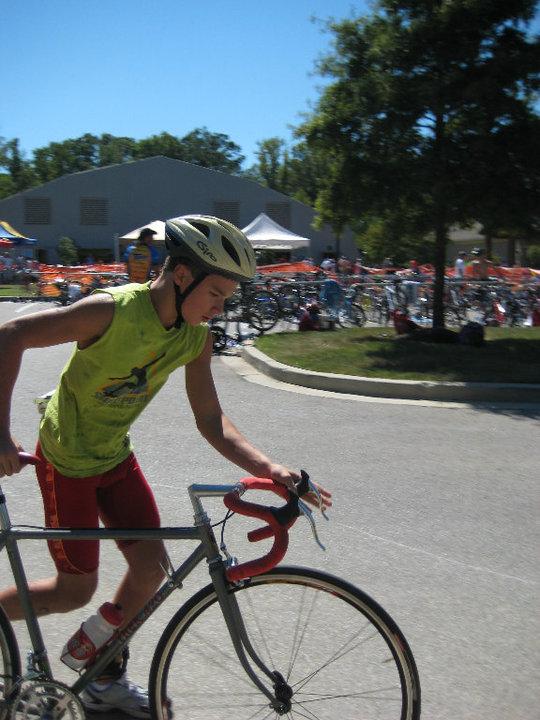 For road riders like Painter, circuit races take place quite frequently around the city. These races involve the cyclists' riding around a loop of a few blocks or so for a given amount of time. This part of the race is known as a criterium or a "crit" for short. After they have ridden for this set amount of time, the riders travel a few additional laps. The winners of these laps are the winners of the overall race.
Winter is Painter's offseason; it's a bit too chilly for him to get out much. However, during the summer, when he's on a tight schedule with his training, Painter tries to get in three hard workouts per week.
"I'll go to Forest Park, and there are some loops I do in the park there. I'll time myself, and measure out the distances like it's a race. And then the other times, I'll be doing mileage rides. It really varies, probably from 30 to 60 miles per day."
Not only does he travel along designated biking trails, but Painter also navigates through a few major roads and a wide variety of neighborhoods that are located a good distance from Clayton. In fact, he'll even trek as far as the Katy Trail in St. Charles to get in a good ride.
While Painter uses mileage rides to build himself a base and to get used to riding his bike at the beginning of the season, he gradually begins to incorporate speed rides into his agenda to imitate live races.
Although sometimes rides that last a few hours can get lonely for Painter, other times they are peaceful and restorative. "It's kind of like an escape for me."
Painter is fond of the convenience of owning and being capable of riding a bicycle.
"I can ride my bike wherever I want. I'll choose riding my bike over driving somewhere, because it's fun and it will get me places."
For Painter, the thrill and excitement that come with the competition of bicycle racing are unmatched. However, he can't deny that his sport can be "a little scary here and there," especially with the large number of riders that usually participate in a bike race. "It's scary when you hear someone fall."
Though he does not have a coach or teammates to make him enthusiastic about riding, Painter is able to maintain the energy that is required for training and riding in general. For him, the biggest challenge of biking "is definitely finding that motivation."
"When you're doing a sport on your own, you really have to dig deep and find that motivation yourself, set goals for yourself and tell yourself that you want to accomplish these goals."
Although he's modest, it's clear that Painter has been a natural from the start.
"I think my favorite moment is when I first learned how to ride. I remember my dad took me to Shaw Park, and he took the pedals off so I would just ride down a hill without pedals, and I would just balance down. And so I learned in like an hour. I put the pedals on and started riding around, and I thought it was just the coolest thing … I thought it was just like the most fun I've ever had."
When Painter rides, he reaches an intense state of focus. It's almost as if he's able to stop thinking: he has the ability to forget about the rest of the world.
"It just clears my mind," he said. "It's like a therapy for me … you feel this freedom when you're on a bike, and it's [it's] something you really can't feel anywhere else."
Sophie Argyres: Sculpt and Bikram Yoga
When someone places the word "hot" before "yoga" to refer to bikram yoga, it isn't just for giggles.
"It can get up to 105 to 110 degrees in the room," Argyres said. "Usually it's only like 105 degrees, but it's still pretty hot. You sweat a lot. It actually feels really good afterwards, though, because you feel really refreshed. It's just a really good workout."
Sophomore Sophie Argyres said that hot yoga is considered a better workout than regular yoga for the following two reasons: it loosens the muscles which allows for increased flexibility and it does an excellent job of toning the muscles.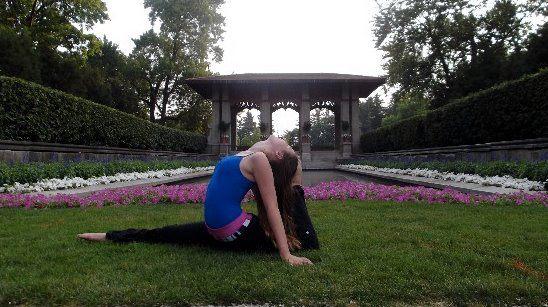 However, Argyres's physical endeavors do not stop at her immersion in rooms of ridiculously high temperatures. She is also a practitioner of the workout known as "sculpt."
Sculpt is a basic exercise class that works on both strength and cardiovascular conditioning. More specifically, sculpt can be described as a compilation of exercises which isolate the upper and lower body muscle groups and which use external weight as well as body weight to build power.
"We pretty much work on all of the muscles of the body for different parts of the hour. By the end you're pretty tired because you've worked out your whole body. It's cardio because it's really fast. You don't take that many breaks, so your heart is racing."
Although Argyres has attended these different classes for the most part by herself, she is trying to get some of her friends to participate because she thinks that they would enjoy them as much as she does.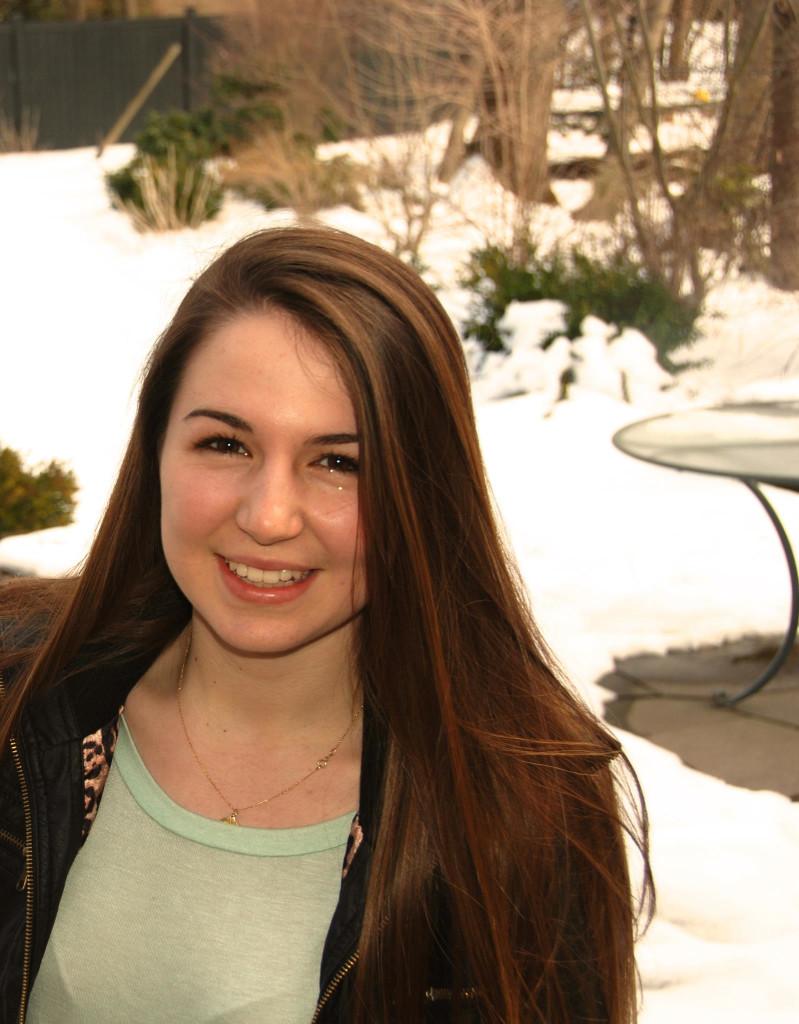 "I don't really have that much time to work out during the school week because I'm in lots of different extracurricular activities, so over the weekend I go do the class because it's a good hour workout that relieves stress, and you can get your workout in."
Argyres found out about sculpt at the beginning of the school year, and has been doing it once or twice a week ever since. "My mom recommended it to me and I tried it and I really liked it."
Argyres is able to sign up for whichever class she wants to take at the very last minute, so she can make the final decision once she's already arrived at Yoga Six, her exercise studio.
As an active member of the CHS Performing Arts Department, Argyres believes that these types of exercises help to improve her performance on stage.
"Hot yoga does a lot because it helps with flexibility and balance. During the musical, if there's a hard dance number, it's good to have flexibility for kicks and stuff and also balance definitely helps for that. Sculpt is good because it just keeps you in shape, really."
Argyres was attracted to classes like sculpt and hot yoga because she used to be a dancer, and these forms of exercise are much more in line with dancing than are the more common workouts that are used for conditioning for high school sports.
For Argyres, one of the best things about her classes is that an instructor is present and gives the group specific direction. In her opinion, having an outside source of motivation makes working out much easier than it is when she's alone at the gym.
However, these forms of exercise do have their downsides. Sometimes, since the classes she takes are so popular, the rooms can become crowded and very warm–as if the scalding temperatures for hot yoga were not high enough already.
Chandler Kropp: Rowing
"It's excruciating." Senior Chandler Kropp did not forget to make mention of the excessive pain that comes with rowing.
And as if she didn't ache as a result of the sport enough already, Kropp is currently injured. Although at the moment she has a compressed disc in her lower back, she rows six days per week for two hours each day when uninjured.
"Obviously the injury is kind of a negative aspect because there's a lot of repetitive motion, and I've been rowing for about three years so the repetitive motion has finally caught up to me."
Injury is one thing, but temporary pain is another.  Not only do rowers often have persistent injuries to deal with, but they also ache an unimaginable amount during practices as well as races when they are completely healthy.  This is indicative of the amount of grit required by the individuals who are up for the challenge
"It's like a good kind of pain. I hate [the period of time] before races and I don't particularly like during the races either, but after races you just feel really good especially if the race went really well."
But the pain of the sport is not left on the water.
"Basically, you're in a perpetual state of soreness … you know that you're getting stronger, so there's kind of a silver lining to the dark cloud."
This physical pain can be traced back to the intensity of rowing workouts.
"Every other day [the workouts] would kind of switch off. One day we would have long pieces which we call 'steady state'… we would do two or three 30 minute pieces where you've just got to sustain pressure. And then the other day we would have what we call 'hard pieces' where you go at what's called full pressure, meaning as hard as you can row for a shorter interval."
Races, referred to as "regattas" in the world of boating, involve different clubs' coming together for specific events. There are distinct fall and spring seasons in the sport of rowing, and usually three regattas take place during each individual season. In addition, there is a small summer season that consists of one regatta.
Kropp knows from experience that every rower has to stay on his or her toes when it comes time for competitive racing. "At each of those regattas you could potentially be racing two to four times," Kropp said.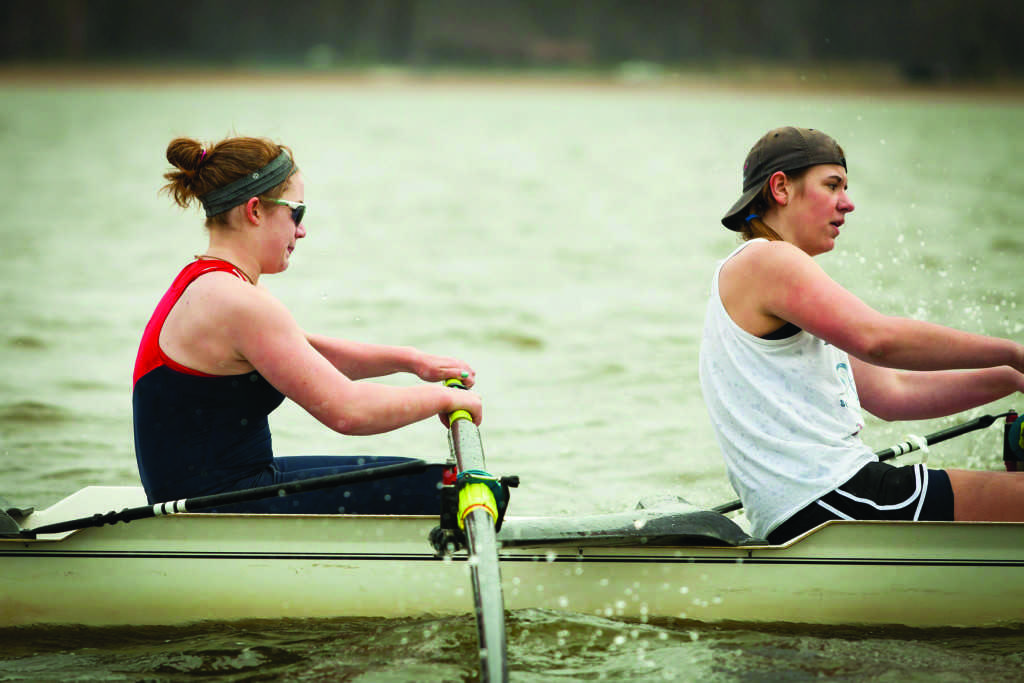 By far, Kropp's favorite aspect of rowing is the tight bond found within the team.
"We're a very close-knit group, and we all get along fairly well," she said. "There's a lot of trust, because when you're in a boat with people you have to trust that they're pushing as hard as they can to make the boat go as fast as possible. At the same time, you want to push yourself as hard as you can so that you don't let them down. It's a huge team dynamic."
Although her injury has stayed with her consistently over the past couple of years and therefore her recruiting process has been interrupted on more than one occasion, Kropp has given a fair amount of thought to the idea of rowing at the university level. During her junior and senior years in high school when she wasn't injured, Kropp was being recruited informally by a couple of schools. At this point, she is thinking about walking onto a team in college.
Surprisingly enough, although it'd be expected that the close group of teammates on the remote body of water would talk openly, not much communication goes on between rowers during the regattas.
"We can't really speak because we're in so much pain at the time during the race, but the coxswain is constantly saying motivational phrases … the chatter from the coxswain is constant … The coxswain is in charge of steering the boat and motivating the rowers."
In other words, Kropp said that the coxswain is essentially the brain of the boat whereas the rowers can be seen as the arms and the legs. Kropp also said that there are several different kinds of boats in rowing: they range from one-person boats to boats that hold eight rowers plus a coxswain.
Kropp believes that making the commitment to row ultimately proves to be beneficial. Not only is rowing a fun activity and an excellent form of exercise, but there are also a lot of potential college scholarships that come along with the sport.
"There are a lot of opportunities just to have fun and to make new friends and to push yourself. I've gotten extremely physically fit from it, and I would definitely recommend people giving it a try."
Patrick Butler: Rock Climbing
"As long as there's good climbing, I wouldn't care," junior Patrick Butler said on how far he'd be willing to drive for a good climb or two.
"I boulder and top rope, so I do roped climbing where you go up long distances and it's sustained difficulty. And then I also do bouldering, which is no ropes and it's shorter distances like 15 feet tall, or 12 feet.  It's harder because it's shorter."
Butler said that although the skills required to be successful at bouldering and top roping are similar, the two are different in a lot of ways as well.
"Bouldering is just more about power because it's shorter distances so all of the moves are a lot harder. It's kind of like comparing marathon running to sprinting.  Sprinting is fast, powerful and quick bursts of energy where for marathon running you have to pace yourself and just keep going. That's what top roping is, where it's not pushing you the whole climb, but by the end of it you're exhausted."
Butler is a member of a gym in downtown St. Louis called Upper Limits. There, he has the opportunity to improve himself at the types of climbing he enjoys. This can be somewhat of a challenge in a state like Missouri. In fact, as a climber, Butler would not put Missouri on the top of his list: not only is there very little rock in this state, but the rock that exists is not of high quality from a climber's perspective. Solid granite and limestone are abundant in the West, but Missouri, unfortunately, lacks much climbable rock.
However, Butler has gotten the opportunity to do some outdoor rock climbing more recently despite the fact that most outsiders picture his home state to be covered in farmland. And he looks forward to getting out a little bit more once the winter comes to an end.
"This past summer I went to Wyoming for three weeks and did a lot of rock climbing in the backcountry. Now that the weather is going to get warmer here soon, I'm going to start making more trips to Elephant Rocks and Jackson Falls which are two close climbing areas in Missouri and Illinois," Butler said. "Elephant Rocks is only bouldering, and that's about two hours away. No rope climbing is permitted. And then Jackson Falls has an area close to it that has good bouldering called the Holy Boulders."
On Butler's trip to Wyoming, he visited Wind River Range in Sublette County. Dome Peak is the most well-known peak in the area.
"We set out from a trailhead and hiked into the backcountry. We would hike maybe five miles a day, and we would have base camps for about five days at a time. All of the climbing was called traditional climbing, where you put your gear in as you go. There were no bolts or anything; it was all rock that barely ever gets climbed on. It was in the middle of nowhere in Wyoming."
Butler found out about rock climbing through CHS; his interest was peaked when he took the gym class that, every time it meets, allows students to climb on the Center of Clayton's wall. Butler enjoyed the fact that an instructor from Upper Limits came to the class regularly to give the students tips on climbing.
"He was just really cool. He got me motivated to do it. I started trying the routes where you follow the tape, and I found the challenge in it and thought it was fun. I started going to Upper Limits. I bought a membership, bought my own gear and love it. I've been going ever since, pretty much."
Butler has been climbing consistently for about a year, and although he enjoys climbing indoors with others, he also likes to go solo.
"Usually when I'm bouldering I'm by myself, just because you don't need anyone to belay you because there are no ropes. But whenever I'm top roping, I'm with friends."
But ultimately, Butler can be alone and improve greatly: all he needs is himself and a wall.
Since climbers spend a lot of time pulling themselves up walls, most of the exercises they use to strengthen their bodies outside of the climbing gym are different from those that are used in preparation for typical high school sports.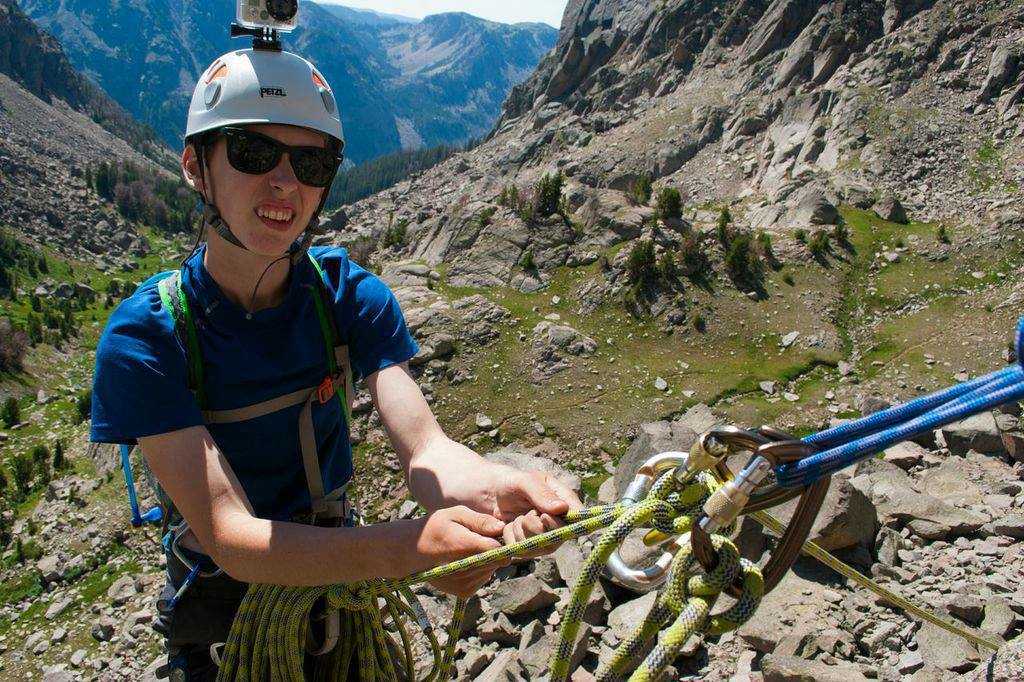 For example, most climbers don't train in weight rooms; instead, they practice opposition movements that are designed for the use of body weight only.  Push-ups and pull-ups are good examples of these types of exercises.
Many climbers, including Butler himself, also enjoy using a device called a hangboard which allows them to exercise the same muscles in their hands, fingers and arms that are used extensively in climbing in their very own homes. Strengthening the core is also important.
Butler commented on the beauty of the sport.  He loves that you can dedicate however much time you'd like to dedicate to rock climbing, and that you are generally rewarded fairly for the amount of effort you expend.
"It gives you the ability to push yourself and to set your own goals," Butler said. "So if you want to go all the time and you love it, you can have that ability, and if it's something you kind of like, you can go when you want to. But it really just lets you decide how much you want to push yourself and how much better you want to get, and it all comes out of how much time you put in, how much work you put in."
Once Butler reaches a new height on a certain route, he feels proud because he knows that he has become stronger since his last attempt.
"For me, it's about climbing harder," he said. "I'm not a grade chaser, which means you are just trying to climb the hardest [most highly rated] climb, but I do push myself to climb harder and more often just because it's something I like and I want to get better at it."
Leave a Comment