Hitting Close to Home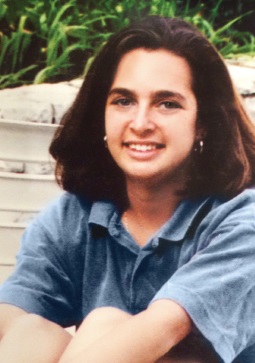 The Ladue Rams baseball team had Clayton's number on a night game in the spring of 1999. The Rams' pitching ace, future Arizona Diamondbacks draft pick Todd Stein, was shutting down Greyhound hitters and the Ladue offense had built a multi-run lead.
Clayton simply was not on their game. Then, suddenly, the familiar hum of electricity stopped. The field went dark as the lights went out.
Natalie
"Natalie loved Clayton High School and Clayton loved Natalie. And it was just obvious," Varsity Baseball Coach Craig Sucher said.
Natalie Gayle Mehlman was born on May 6, 1978. The first of five children, she graduated from CHS in the class of 1996.
In her time at Clayton, Mehlman played tennis and was an honors student. In addition, she managed the baseball team, which was one of her favorite activities at CHS.
When Mehlman was at Clayton, Sucher was the assistant to the varsity baseball coach.
"She loved to play sports as an athlete and was a very good athlete," Sucher said. "She was a very good student, not just because she was smart but because she made her learning a priority and she loved to serve too. She loved to help people and just embraced her role as a manager."
After graduating high school, Mehlman enrolled at Emory University in Atlanta. With a positive attitude and bright personality, she seemed to have her whole life in front of her.
Death
On March 2, 1999, Mehlman was in her junior year of college and appeared to be a healthy girl. No one had any inclination that her body was on the verge of shutting down.
In fact, Mehlman was suffering from mitral valve prolapse, the displacement of a thickened mitral heart valve leaflet. The disorder caused her to go into cardiac arrest. She died as soon as it happened.
"It was instant. Just a heart attack," Scott Mehlman, Natalie's brother, said.
Family
When Natalie passed away, Scott was a senior in high school finishing out his four year varsity baseball career. Their other siblings – Blair, Leigh and Chad Mehlman – were all in the Clayton District at the time of her death.
Scott Mehlman feels that, as difficult as Natalie's death was, she would want the family to persevere and continue on with their lives.
"It was hard for everybody in my family, but she wouldn't want us to not move past it," he said. "I'll never move over it, but I will move on with my life."
The Mehlman parents divorced when the children were younger, but Scott is thankful that both of his parents and his step-mother have been there for him throughout his life. He says that he is lucky to have grown up with three parents that care for him.
Scott does not consider his parents to be a normal separated couple.
He says that Natalie's death led to both of his parents accepting their differences and building a positive friendship.
"It's the exact opposite of how most divorces end," he said. "We're one family and she has everything to do with that."
Sucher sees the Mehlmans as an example of what a family should embody.
"Their parents, their step-parents are just a testament to what family is all about, their closeness is awesome," Sucher said. "I feel real lucky that I am able to have the relationship with the family that I do because of that. They're wonderful people."
Baseball
Being a team manager combined two of Natalie Mehlman's loves: baseball and helping others.
Bob Hebrank is currently the activities and athletics director at Pattonville High School. But when Mehlman was manager of the CHS baseball team, he was Clayton's head varsity coach.
"She was there everyday, she never missed, she was enthusiastic about being around the guys and it was a genuine passion for baseball," Hebrank said. "She was a part of the team and really enjoyed being around the team."
Scott Mehlman, who was a freshman when Natalie was a senior, agrees that she had a passion for the game.
"She took it seriously, she probably wishes she could have played baseball growing up and she just loved everything about Clayton High School and being a part of sports," he said.
Sucher also remembers how serious she was about the sport. Sometimes, he said, she took losses harder than the coaches themselves.
Naturally, when Mehlman passed away, it was hard for the team. Scott was a senior at the time, and many of the players had gotten to know Natalie when they were underclassmen.
Sucher has trouble putting the sadness of her death into words.
"I think anything I would say would … understate the impact, but I'll never forget it," he said.
Current CHS Assistant Athletic Director Lee Laskowski was a junior on the baseball team when Mehlman passed away and though he did not know Natalie particularly well, he grew close with Scott through high school and Natalie's death was very difficult for him.
"It was very traumatizing," he said. "When you lose somebody who was that close to the program, that near and dear and had given so much, it is hard to cope with."
Natalie Mehlman's impact on the baseball program was so strong, that Hebrank wanted to ensure that her legacy remained. When he left Clayton, he gave only one request to Sucher: keep Natalie's spirit alive in the baseball program.
"My goal was to keep her memory going as long as possible, and I am very happy that Clayton High School and the baseball program and the coaches have done that," Hebrank said. "It's just awesome that that legacy has lived on and I'm happy that I was a part of it and that I got to know her and her family, and it's just a neat situation that came out of a tragedy."
Keeping the Memory Alive
The Mehlman family, the baseball program and Clayton High School have worked to continue Natalie's legacy.
The Mehlmans wanted a symbol to represent who Natalie was as a person. They wanted something simple, something that could serve as a reminder without being a distraction.
"We didn't want something that just was an eye sore, but we wanted something to remember who she was and what she did," Scott Mehlman said.
And so, the 'Nat' logo was created. The logo is simply her nickname with a halo above it. It has been placed on the baseball field's scoreboard, which the Mehlmans helped donate, along with much of the Clayton baseball gear. This year, the Mehlmans donated warm up shirts to the baseball team with the symbol on the back of the shirt.
Hebrank felt that the logo also helped Scott get through the tragedy of his sister's death.
"I think that really helped Scott get through a lot because she was always there with us," Hebrank said. "Every day when he put the hat on with the 'Nat' symbol on it he could remember her."
Laskowski feels very strongly about the logo. He feels it is important for people to remember who Natalie was as a person and learn from her example.
"I want everybody associated with the baseball program, in the school and in the community to understand what her logo symbolizes. I want them to know what she did for the baseball program, who she was and how much she cared," he said, "because when you have people like that within your program, you're going to do nothing but succeed."
Additionally, the Natalie Mehlman Memorial Award is given every year at the CHS awards ceremony. The award is given to a female athlete and manager that embodies Mehlman's attitude and dedication to CHS. Scott Mehlman and Sucher present the award every year.
"We intentionally try to select individuals who keep her memory and her spirit alive because I think it's so vital to what we are," Sucher said.
In Hebrank's opinion, the family's involvement with the program helps them remember that her legacy still remains.
"I think everytime … they are able to help out the baseball program, that brings up happy memories about Natalie and how much she meant to the baseball program," he said. "Every time they go to a game or every time they see her symbol on your guys shirts or the hats that we had, I think that just hopefully puts a smile on their face that she's still a part of things."
Conclusion
The Clayton-Ladue baseball contest was continued a few weeks after light troubles caused the game to be suspended.
With a newfound sense of hope, the Greyhounds mounted a giant comeback. The climax of the game occurred in the seventh inning with Laskowski at the plate and a runner on first base.
Sucher remembers what happened next.
"He hit a ball forever into right center field," he said. "And when the ball came off the bat, I was coaching third base, I said 'there's no way that I'm even thinking about stopping this runner, he's going to be safe or out at the plate.'"
The runner was safe by a half step and the Greyhounds ended up winning the game. But what made the victory even more special was the fact that, on that very night, the drinking fountain by the varsity field was being dedicated in Natalie's memory.
A senior at the time, Scott Mehlman was just a few months removed from his sister's death. He cannot help but wonder if Natalie's spirit was watching over the Greyhounds as they took on Ladue. Perhaps she had something to do with the lights going off during the original game.
"The joke that we could make being serious is that my sister had something to do with the power outage. She didn't want that game to continue, she didn't like the way that we were playing in the field or at the plate that night," he said. "She turned off the lights."
Going forward, Scott Mehlman hopes that his sister stays part of Clayton High School. He is also grateful that he and his family members have been able to maintain such close ties with the baseball program.
"I think it's really important to continue this tradition and continue this legacy," he said. "I think that is the most important thing, and we are so thankful as a family to have this opportunity to continue to be a part of Clayton High School baseball."