Profiles in Leadership: Carolyn Blair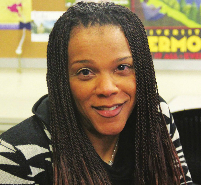 Carolyn Blair is the Director of Counseling at Clayton High School. She acts as the college counselor for half of the senior class.
What made you get into counseling?  I've known since high school I wanted to be a counselor.  I didn't realize it would be in a high school setting.  I actually completed my masters degree training to be a Licensed Professional Counselor but I worked in admission to pay for my tuition.  That led to my first counseling job at SLU High.
What are your leadership roles? My title is Counseling Services Director. As most folks in education,  I wear a lot of hats. I serve on the Administrative Team and Leadership Council.  I think our the biggest responsibility is to consistently be sure we're keeping our eye on the big picture of how things come together for students, teachers, parents and community. As a representative of CHS my leadership roles are many. They include serving on the admissions advisory boards at multiple universities.
Do you have any role models for leadership? Mary Crowder, she did my job many years ago when I was first hired here at CHS.  She was a great role model. Additionally, I have many colleagues around the country and in my office that inspire me daily.
What's the hardest part about being a leader among the faculty?  Counselors are generally the middle man. We listen to students, parents, teachers and administrators and try to assist in whatever the issue at hand happens to be.  Our job is to advocate for what is in the best interest of the students.
What's your vision for the CHS/Clayton community? My vision would be to uphold the educational standards and maintain the professional culture that has allowed us to nurture and assist students who go on to become leaders who represent us and come back to appreciate and assist us.
What do you think makes a good leader?A good leader is someone clearly committed to excellence and maintaining high standards who realizes that everyone has a role in accomplishing their vision.
What things have you been most proud of?I am most proud of the team of counselors we have at CHS.   It has been a pleasure to help build a team of folks who are passionate and selfless in ways that no one ever sees.  People think that they have "a" counselor here at CHS, but in fact, every student here actually has six.