The Breakfast Club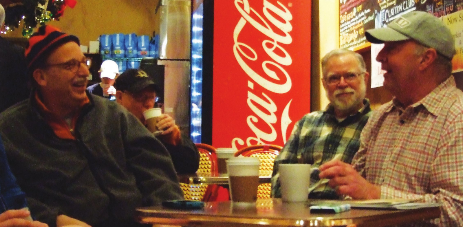 "What's the headline, Bake? What's the headline?" Alex Berger III shouted across the bustling City Coffeehouse & Creperie. His friend Larry Baker, a former CHS history teacher, had just walked in to get his breakfast.
For the store's employees and customers, this sight is not a rare one. Every day, a group of around seven men meet for breakfast and coffee at the Creperie, a tradition that has lasted for nearly a decade.
Initially, a group of lawyers met at Straubs for breakfast. When the restaurant in Straubs closed, the men were forced to relocate. Since then, the group has evolved and meets from 6:30 a.m. until mid morning.
"Some of us are actually here before the door is open," Berger, a Clayton Alderman, said.
Although the faces in the group are not the same every morning, the dynamic remains consistent.
"The group size varies by day of the week, but we've had generally about six or seven guys come regularly to talk about whatever, have a cup of coffee," Berger said. "Half of them still work and half of them are retired."
Groups discussions range from sports to heated political debates, with a variety of witty comments interspersed throughout. A few years into the morning tradition, the Democratic portion of the group convinced management to take Fox News off of the shop's television.
"We got that off the air," Baker said. "Best thing we ever did."
To Ann Gallardo, the co-owner of City Coffeehouse & Creperie, the men have become a part of her morning routine.
"It just kept growing and growing. Monday through Friday I can count on all of these guys," she said. "They'll be here, and that's a great feeling to know that, because it's like my extended family."
Among the men are Senior Olympians and retired teachers, all of whom have some connection to the Clayton community. Baker was recently inducted into the CHS Hall of Fame for his distinguished teaching career, and is infamous within the group for his daily breakfast of red onions and lox.
Baker, who arrives to the Coffeehouse at around 8:00 a.m., credits his teaching success to his unorthodox methods and class structure. On the first day of economics class each semester, Baker would tell his students to go into the quad and to look around for 10 minutes. When they returned, he would ask them what they had seen. After hearing their responses, he told each of them that they were wrong, saying that what they really saw was that money doesn't grow on trees.
"I was a legend," he said.
Alex Berger III is one of the two Clayton Aldermen of Ward III. His daily schedule consists of showing up at the Coffeehouse at 6:30 a.m. and staying until 8:00 a.m. He then heads to the Clayton Center with Lee Hanson, also a member of the group. Berger returns to the coffee house by 10:00 a.m. to conduct meetings and do other work.
Another friend is Sandy McClain, who recently won first place in his age group at the Senior Olympics preliminary round for the 1500 meter run in Miami, FL.
"But there were only three 80-year-olds running," he laughed.
Despite the group members' diverse political views, strong personalities and various occupations, the local City Coffeehouse & Creperie has become an integral part of each of their lives. The friends have found a sense of community through their daily meetings, and liven up the shop with their presence every morning.