Wash U Wash
Washington University students own and manage a laundry service on campus for use by students and community members.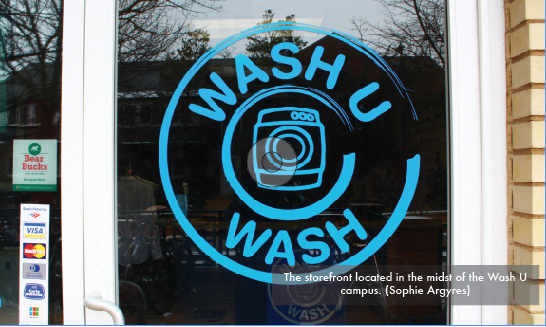 "I've tagged at least 500 shirts this year. The first three times I had no idea how to do it, but you learn," Caleb Diamond, co-owner of Wash U Wash, said.
Caleb Diamond is one of six owners of Wash U Wash, a laundry service on the campus of Washington University that is run by students, for students.
"We serve teachers and people in the surrounding area as well," Diamond said.
The main goal of Wash U Wash is to provide students with a convenient way to have their laundry done. Aside from that, the owners also get much needed work experience.
"It's forced me to really go outside of my comfort zone when dealing with customers," Diamond said.
Managing a business adds another layer of commitment onto the life of busy college students. However, Diamond and his partners are able to manage without getting overwhelmed.
"There are obviously times where we have exams the next day, and we have to really focus. But it teaches us really good time management skills, because you can't just take time off work," Diamond said.
Diamond believes this job is a valuable and meaningful opportunity.
"This is not a full time job. It's 15 hours a week, easily," Diamond said. "I think every Wash U student, even if it's not paid, should have some sort of working experience so that when they're thrown into real life, they're not overwhelmed."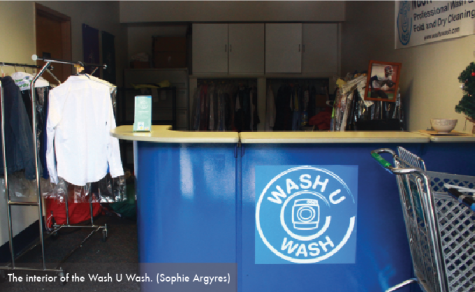 In addition to being one of the owners, Diamond is the Director of Human Resources at Wash U Wash.
"I handle a lot of our customer base. I'm in charge of contacting customers, inputting their information, getting them set up with the service," Diamond said. "I work a lot with the customers."
The other five owners are in charge of marketing, general operations, finance, sales and statistics.
In an attempt to increase sales, Wash U Wash partnered with various organizations around campus. Diamond is in charge of these partnerships. The biggest partnership that Wash U Wash has obtained is with the food service employees at Wash U. The Wash regularly cleans their chef coats. The Wash also offers discounts to some of their partnerships around campus.
"We have this deal where if a certain number of people in a fraternity have signed up, we offer [a] discount. It's actually our biggest discount," Diamond said. "Why we do that? It's really convenient because that's like 30 people living in a concentrated space. So for us it's really convenient to do their laundry. "
Diamond also partners with select social events around campus. Specifically, the party organizers.
"The reason we do that is because people's clothes get kind of messy at parties. We just wanted to raise awareness through them that, if your clothes get messy at a party, we can dry clean it," Diamond said.  "We offer a discount if they show proof that they went to the party."
Wash U Wash is one of the only laundry services nearby. Students at Wash U do not want to have to walk a mile to Clayton where the prices are usually higher. The company is also willing to pick up clothes from outside students' dorms or houses, for a higher price.
The main ambition that Wash U Wash currently has is to increase their customer base. According to Diamond, the Wash's biggest area for growth is drycleaning, which they hope will soon increase in sales.
"We are actually looking into hiring employees because we foresee an increase in dry cleaning which would require more people. More business would require more workers," Diamond said. "As of now, we have no issue doing it, us six. To minimize our costs we wouldn't hire somebody who just walked in."
To help reach their objective, Wash U Wash is looking into partnering with the business school at Washington University. For the business students at Wash U, suits are a necessity due to their constant interviews, and suits have to be dry cleaned.
"Basically right now, a lot of our dry cleaning is in the undergraduate population," Diamond said. "People in the graduate business school have to wear suits because they have interviews."
Customer Kevin Thomas believes that the Wash is incredibly helpful.  He also agrees that the prices are very affordable.
"Whenever I need something [washed] really quickly, when I don't have time to do my own washing, Wash U Wash has really been there,"  Thomas said.
Wash U Wash accepts Bear Bucks. This is an easy and convenient way to pay for the service without having to use your credit card.
"It's basically a debit card," Diamond said. "You get a slight discount."
Bear Bucks are a unique way for Wash U students to pay. The currency is only available to these students. Various businesses around the Loop and Clayton accept Bear Bucks.
Wash U  Wash isn't the only student run business on campus. There are many others nearby, such as SWAP, the only non-profit business on the Wash U campus. SWAP stands for Sharing With a Purpose.
"Our goal is to increase socioeconomic diversity on campus," Lily Schacht, one of the five owners of SWAP, said.
SWAP provides free resources to students. Students can come in whenever they want to pick up anything from out of season Christmas ornaments or a bike seat to a Washington University sweatshirt, all completely free.
"The only time we ever sell anything is in the beginning of the year," Schacht said. "That's our annual fundraiser. That pays for our rent and all of our expenses."
Unlike Wash U Wash, employees at SWAP do not receive any pay. However, they are rewarded with experience working in the field.
"I'm learning valuable business skills," Schacht said. "[These] are things I wouldn't necessarily learn in a classroom."
Many students use these conveniently located facilities, such as customer Daniel Podolsky. He said that one of the main reasons he uses Wash U Wash and SWAP is that he knows that people who run them, and connects with them on a more personal level. Diamond is aware of this fact.
"You can't underestimate the fact that because we're students, we have a better bond with customers," Diamond said.