Bursting the Bubble: The Grove
Five and a half miles away from Clayton, a fluorescent sign hangs above Manchester Avenue, marking the entrance to a strip of restaurants, coffee shops, bars and street art known as The Grove. On a Saturday afternoon, the block was almost empty, only to make way for a pulsation of life just a few hours later.
Known in St. Louis as a haven for the LGBT community, the colorful flags and rainbow painted crosswalks decorating the street only reaffirm this belief. Bars such as "Just John" and "Rehab" clearly cater to a younger and more liberal crowd, precisely the sort of people that the Grove attracts. Further down the street, a sign outside of RISE Coffee reads "Compassion is the radicalism of our time."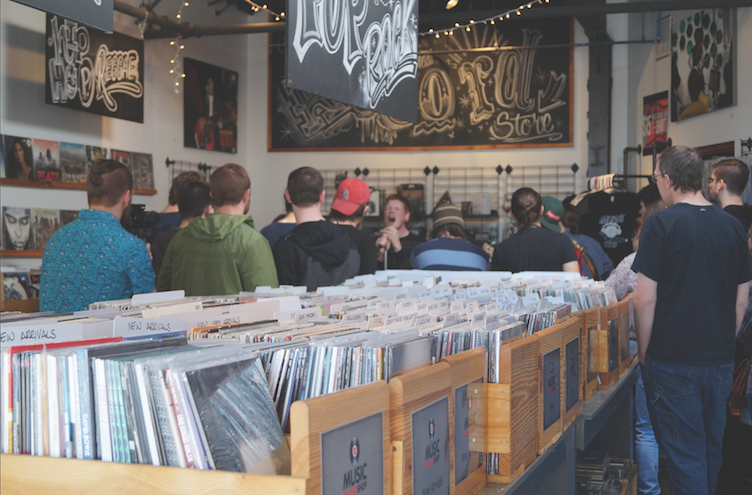 Behind the strip of commercialism lie parallel blocks of housing for the Grove community. One street is full of decrepit houses with their addresses spray-painted on the boards covering the long-missing windows, with porches sunken towards the ground and front steps nonexistent. Directly behind is another street filled with homes of affluence, similar to those that might be seen in the Clayton community, polar opposites of the houses just a street over. The disparity between the two lanes was staggering.
The distinct and artistic vibe of the Grove was especially prominent through the variety of street artwork. From graffiti on the abandoned and closed down businesses (a particularly clever one reads "Herban Legend") to presumably publicly commissioned pieces of art on the sides of buildings, color coated everything. A large black and white portrait of a girl covered the entirety of the face of a building, the side of a U.S. Bank was dotted with painted bikers and various designs featuring the word "Grove" could be found up and down this portion of Manchester. Given the types of businesses found in the same stretch of road, like yoga studios, clay sculpting galleries and vinyl record shops, it was clear that art is a very important aspect of the lifestyle in the Grove.
As we entered the Grove, we pulled over to eat lunch at Atomic Cowboy, a building which, like many of its neighboring structures, was decorated with street art; this building was sporting a painted feminine cowgirl riding into the air on a rocket. As we entered through the welcoming, propped-open door, we were stumped to find only a few of the many tables occupied. Nevertheless, the single bustling waiter/bartender/host/cashier assured us our meals would be hot and delicious, and Atomic Cowboy did not disappoint. From chili fries to enchiladas, the various and exciting dishes we encountered seemed to mirror the energy and spunk of the Grove itself. Leaving the somewhat vacant inside of the restaurant, we peeked through the back door to find the reason for the abandoned inside of the restaurant: outdoor seating. People (and their dogs) filled the outside tables, music and conversation dominating the atmosphere. This was the Grove.