Derrick Frost
NFL Punter to Financial Advisor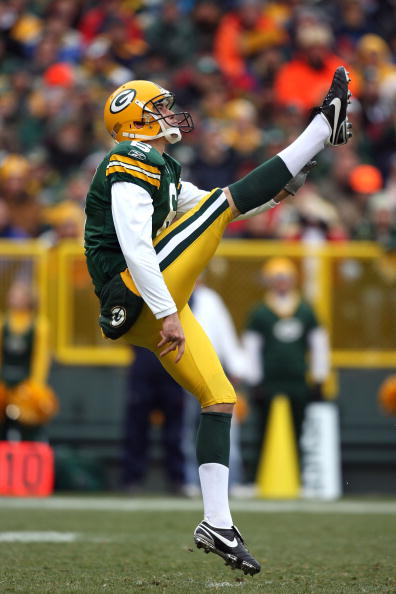 Hang on for a minute...we're trying to find some more stories you might like.
"When I played in Green Bay the first year, it was the first year that Aaron Rodgers played quarterback, [and] everyone kept mistaking me for Aaron Rodgers," Derrick Frost, Clayton High School alumni and football standout, said. "I look exactly like him."
Frost began his football career on the CHS team as a freshman in 1995 under the instruction of Larry Frost, his father.
On the football team, Frost viewed himself as one of the leaders for the squad. To him, there are certain things that made a player stand out as a leader on the team.
"You gotta get guys to work out and work hard," Frost said. "Guys gotta take pride in what they do, and you've got to make sure guys are doing that because not everyone works the same way."
In 1999, Frost's senior year in high school, Frost and the Greyhounds were only scored on twice during the regular season. However, they only made it to the first round of the playoffs before being eliminated.
"We were pretty good, then we just really screwed up in the playoffs," Frost said.
At Clayton, Frost was positioned as a quarterback, an outside linebacker, the kicker and the punter.
"I was the All-State kicker and punter in the state of Missouri," Frost said. "Not one single Division I school offered me a scholarship." Frost was hoping for a scholarship from Mizzou where he could follow in the steps of his father who went on to play briefly for the St. Louis Cardinals, an NFL team based out of St. Louis from 1960-1987. Frost was not too optimistic about getting the chance to play college football.
"I was an unknown player," Frost said. "My dad acted as my agent. I didn't have any agents call me." Frost never saw himself playing football past high school. Luckily, he was met with opportunities from the Air Force Academy and Northern Iowa.
"I went to Northern Iowa, a school that I'd never heard of," Frost said. "I wasn't overly excited." Although Frost did not have the best career at Northern Iowa, he had a good experience. At Northern Iowa, Frost was Second Team All-Conference, the highest accolade he had yet received. There, Frost was not only a punter and kicker, but also a standout pitcher on their baseball team.
"It actually looked like I might get drafted to play major league baseball," Frost said.
Frost was also a pitcher during his time at Clayton, however, he was on and off the mound due to an elbow injury.
"In high school I liked football more [than baseball]," Frost said. "In college I actually really enjoyed playing baseball more." However, his hopes of playing in the MLB were shattered after his previous elbow injury resurfaced.
"[Playing baseball] was something I wanted to do. It just seemed like it was not going my way," Frost said. "The people that keep moving are the ones that usually find something they are very successful at."
At Northern Iowa, Frost would show up to workout for the pro teams that came to watch certain players. Although no teams ever came to watch Frost play, he ended up receiving nine offers from different teams. In 2003, Frost was signed by the Philadelphia Eagles as a rookie free agent, something he could not have predicted while at Northern Iowa.
"I didn't think I'd make it [to the NFL] when I was in college," Frost said.
During his professional career, Frost was signed with the Philadelphia Eagles, the Baltimore Ravens, the Cleveland Browns, the Washington Redskins, the Green Bay Packers and the California Redwoods.
"Every year [in the NFL] was a struggle to stay alive, it's a tough deal," Frost said. "It's a screwed up business. They make a lot of weird, stupid decisions. They get rid of guys they shouldn't and they keep guys they shouldn't."
Frost holds multiple accomplishments through his football career. During his rookie year in the NFL, Frost led the AFC in net punting for half a year.
"My claim to fame is that I've never been scored on," Frost said. "Not in high school, not in the pros and not in college."
Over time, Frost got tired of the NFL and decided it was time to move on from playing professional football.
"I retired in 2009. The world was a disaster then. The stock market was down 40 percent," Frost said. "I was offered a job though a guy I met in the financial space. My salary was about $0."
Frost had the task of bringing in clients and investing money for them. He worked this job for about two or three years. His first paycheck was only about $380.
"[I] just really wanted to help some of the guys I played with in the NFL keep their money," Frost said. "I saw how guys got their money stolen or [they] blow it."
Frost was an economics major in college and credits his interests and success in economics to Larry Baker, a former CHS teacher who recently passed away.
Frost co-founded ProFusion Financial, an investment advisory firm located in Missouri, Texas and Virginia.
"I've always been a person that tries to do things the right way and have integrity," Frost said. "I think that's why I'm successful at what I do. People trust me and they should."
Frost believes that the trust he shares with his clientele had to be earned over a long period of time.
Although Frost has only been working with ProFusion Financial for three years, it has already proven to be very prosperous. At the age of 35, Frost has confidence in the future years of the business.
"Right now I'm working on running a private fund for my clients to get people exposure to private real estate and other private investments outside of stocks and bonds," Frost said. "It's pretty difficult to start, that's what I've been working on for the last six months."
Through this job, Frost was elected to the NFL Players Association (NFLPA). Frost is only one of nine former NFL players elected to the board.
"Their goal is to protect players and bargain for benefits, wages and rights in the NFL," Frost said. According to Frost, the organization also focuses on the former players personal health as many of the veterans have suffered injuries that will last them a lifetime.
"I ran in a nationwide election and won," Frost said. "It's a high honor."
For the volunteer position, he has already served two terms as a board member and is set to step down in one and a half years.
Frost has faith that giving up football to start a new journey was the right decision.
"Some guys try to play forever because they think that's all they got going for them. I was never that kind of person," Frost said. "I never thought I'd go that far so when I got that many years in it was easy to move on. I felt like every year was kind of just a bonus."
About the Contributors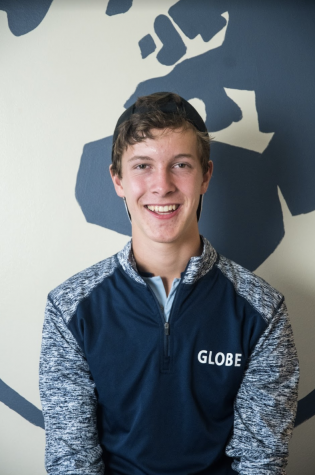 Michael Bernard, Editor-in-Chief
Michael Bernard is a senior at CHS. This is Bernard's fourth year on the Globe staff.  He is currently serving as the Editor-in-Chief, and in the past has served as Senior Managing...