Bubble Guppies: Hutton Murdoch
Hang on for a minute...we're trying to find some more stories you might like.
"Hutton has been swimming year round since he was nine. That is not an easy task, going to practice everyday [and] swimming several thousand yards is tough," Doug Murdoch, father of CHS swimmer Hutton Murdoch said. "Waking up early each day during the summer and swimming in an ice cold Clayton Shaw Park pool is miserable. It takes determination and commitment."
When Hutton, a freshman at CHS, first felt the chilly water of the pool as a competitive swimmer in fourth grade, he knew he found a second home.
"I started [swimming] because my friend started and I thought it would be a cool bonding experience," Hutton said "I decided to stick with [swimming] and I've really grown since then."
Hutton has been swimming for Clayton Shaw Park (CSP) since the beginning of his career when he was only nine years old. Up until CHS, CSP was the only swim club that Hutton competed for. These long and exhausting practices can be incredibly difficult. Hutton's swimming career does not just affect just him, but his whole family.
"It's really been a family commitment. Any athlete or parent who has a child that has been a part of CSP or another club swim team understands the time commitment and financial commitment it takes to be successful," Doug said. "It's not easy or always fun. You need to love the sport. Hutton loves the sport and is determined to succeed."
However, there was a period in Hutton's life where he wanted to hang up the speedo.
"After seventh grade I kind of hit a wall where I wasn't dropping any time," Hutton said. "I was seriously considering not swimming anymore." Luckily, Hutton heard that Michael Phelps, one of Hutton's greatest inspirations, would be coming out of retirement to compete in the 2016 Rio Olympics.
The news encouraged Hutton to stay in the pool because since Phelps had not given up yet after so many years, then he felt he should not either. Once Phelps helped Hutton get his confidence back and jump into the pool again, he noticed his times slowly start to drop.
Since high school swimming has started, Doug has noticed several character developments in Hutton.
"We have seen a substantial change in Hutton over the years. His determination and commitment in the pool has transferred to the classroom," Doug said. "Successes are celebrated, but he is not satisfied, failur
es have become learning experiences and are not seen as the end of the world. We could not be more proud of him as a student, an athlete or a young man."
In and out of the pool, Hutton acts as a leader around his peers.
"I inspire the other freshman," Hutton said. "Some of the swimmers who are just starting [swimming] look up to Koji [Barrette, CHS freshman,] and me." Hutton believes that he and Koji standout as some of the more experienced swimmers on the team.
CHS swim coach David Kohmetscher acknowledges the dedication that Hutton has for the team.
"[Hutton] works hard and leads by example. There are upperclassman who look up to him as a swimmer. I respect the level of achievement he has achieved at such a young age," Kohmetscher said. "There's a lot of potential for him to do well in the years to come."
Kohmetscher expects Hutton to reach state multiple times throughout his career, possibly even freshman year. Hutton's father also notices this particular trait of leadership in his son.
"Hutton is a great teammate, friend and leader. Being part of this team is very important to [him]," Doug said. "This is probably most evident in the way he inspires, supports and encourages his teammates and friends. Whether it's cheering for friends, counting laps for a teammate during the 500 free or swimming the anchor leg in a relay he loves supporting the team."
On top of swimming for the CHS Greyhounds, Hutton plays for Project Missouri and 3D lacrosse; both are highly competitive lacrosse clubs. 3D Lacrosse is one of the best lacrosse clubs in the nation According to Hutton, it is often very difficult to balance the two sports and school for Hutton.
Although Hutton is eager to compete in either sport, he does enjoy the team aspect of lacrosse compared to swimming which is more individual. Hutton is not fond of this facet of swimming as there is added pressure on him solely, not the whole team. However, Hutton acknowledges that compared to previous competitive swim clubs, the CHS swim team acts more as a team than he has experienced with swimming before.
Doug believes that swimming and lacrosse both benefit each other.
"His conditioning from swimming has greatly benefited him in strength and conditioning for lacrosse," Doug said.
Hutton's main goal for the season is to make it to state, and he has just about achieved that dream. Hutton is only one second away from making state in the 50 free and 1.07 seconds away from going to state in the 100 free.
"[Koji and I] are both really close on state cuts," Hutton said. "Will we [make it], we don't know, we're going to try our hardest, we're going to put in the work and whatever happens happens. As of now our goals are just to be the best swimmers that we can be."
About the Contributors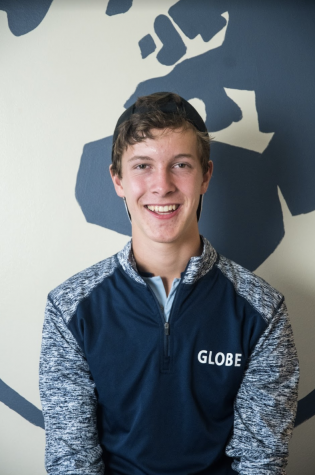 Michael Bernard, Editor-in-Chief
Michael Bernard is a senior at CHS. This is Bernard's fourth year on the Globe staff.  He is currently serving as the Editor-in-Chief, and in the past has served as Senior Managing...