Charlie's TV Debut
Charlie Owens understands the power of a firm handshake.
"To make friends, I shake hands and ask for their name.  Then I tell tell them mine and ask to be friends," explained Charlie Owens, a sixth grader at Wydown Middle School who was diagnosed with Autism at the age of two.
Although he has faced constant battles, Charlie has not only adapted to and excelled in his community, but has also strived to help children across the country learn how to understand and befriend a child with Autism.  
In a celebration of his differences, Charlie assumed the identity of Trooper Charlie in the PBS and Netflix series Mack and Moxy, a children's education show that focuses on the importance of charity and compassion.
Each episode features a unique nonprofit organization and the cause for which it stands. A guest child then embodies the work of each nonprofit through a chain of songs, cartoons, and adventures.  
In Charlie's episode, A Spectrum of Possibilities, Trooper Charlie spreads the message of Easterseals, a nonprofit organization that helps people with disabilities achieve their full potential.
Throughout the episode, Charlie helps Mack and Moxy learn to be friends with Little Bird, a character in the show with Autism like Charlie. As Trooper Charlie journeys through HelpeeLand with Mack and Moxy, he teaches viewers how to understand the communication and behaviors of Autistic children so that communities can learn to appreciate people with disabilities not despite of, but because of their differences.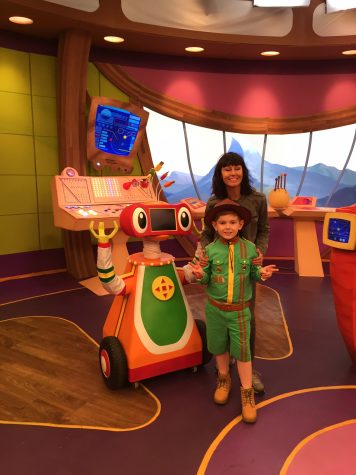 For weeks prior to the filming of the show, the producers of Mack and Moxy helped Charlie memorize his lines and prepare for filming through several FaceTime calls. By the time he and his family arrived in Hollywood, Charlie remembers feeling like a "real movie actor," and his diligent preparation did not go unnoticed.  As the crew of Mack and Moxy wrapped up the episode's filming, they glanced uneasily at one another and exchanged whispered words.
"They finished at the end of the day and were all being weird, [so] I asked what was going on," Craig Owens, Charlie's father, said. "They said they had never filmed an episode this quickly.  It [had] never gone so smoothly."
Throughout the day, the Mack and Moxy crew sped the process along by ensuring Charlie felt comfortable and confident.
"It's just remarkable how many people are involved in this and how huge of an industry Hollywood is," Craig said. When Charlie asked for cinnamon toast crunch, for example, Craig remembers a production assistant shout into an earpiece, "'Roger that! I'm headed to get cinnamon toast crunch.'"
"You can see how these child actors get spoiled so quickly," Craig said.
Throughout the filming, Charlie took advantage of the opportunity to explore the intricacies of what appeared to be a nondescript warehouse from the outside but truly boasted an elaborate stage setup on the inside.  
"I loved taking a look in the camera," Charlie said.  "And I liked the TV room a lot.  I [also] liked looking at the makeup room."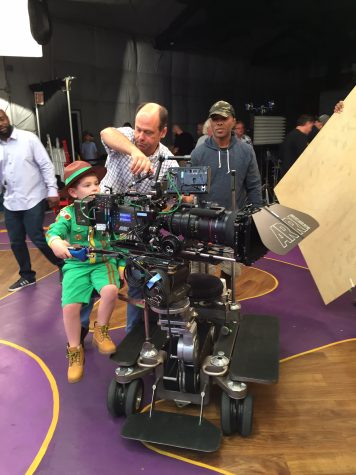 After a successful filming and years of work with Easterseals, Charlie has almost become the "poster child" of the nonprofit.  
"Elizabeth and I were asked to attend the national conference for Easterseals that lobbies for legislation and funding. We spoke a lot about our Mack and Moxy experience and about our family experience, too," Craig said.
The Mack and Moxy experience only reinforced the celebration of Autism that has always occurred within the Owens household.  Because both Charlie and his twin brother Max were diagnosed with Autism at a young age, the Owens family has known nothing but life with Autism.  "As a parent, you never know what's around the corner for any kid, so for us, Autism is just part of who we are," said Charlie's father Craig Owens.  "Every day is a new adventure, and the [Mack and Moxy] experience with Charlie was really huge for us.  It was a wonderful opportunity."
Charlie, too, recognizes the impact he has had on children across the country.  "I was able to teach people how to be friends with somebody [with Autism]," Charlie said.
"All of us are different in one way or another," said Craig.  "It is important that we, as a community, support one another and celebrate the differences that we have.  The Clayton community has always emphasized that everyone is welcome here and that everyone has a place and an opportunity.  [Clayton] emphasizes that we are all part of the same community, which has been really touching."
Looking to the future, Charlie is already envisioning a life as a director for himself.  In the meantime, he hopes to become involved in Clayton productions and employ the skills he has gained from his Mack and Moxy experience.
"The show will give you imagination," Charlie said.