Lisa's Legacy
"In 5th or 6th grade, I came home from school and asked [my dad]: 'I'm the only girl in my honors math class. Do you think that there's something genetically different between girls and boys, and boys are better at math and science?' He was like 'I can't believe they tricked you, my own daughter," said Lisa Einstein, CHS graduate of 2009 and Peace Corps volunteer.
"[My dad] was really aware of the subtle forces that could undermine my confidence and make me not pursue the things I was really interested in pursuing," Einstein said. "His support of me within science and his broader commitment to making the world a better place [have] absolutely influenced my path. [He] really inspires me."
However, during her senior year at CHS, Einstein's dad suddenly passed away, a huge blow to the lives of both her and her sisterTracy.
"They really had a tough time going through their senior year because of the tragedy in their life. I think this drew me closer to them. I had gotten to know both of them pretty well," CHS physics teacher Rex Rice said after getting to know Einstein through her involvement with the club Tests of Engineering Aptitude, Mathematics and Science (TEAMS). Rice was also her AP Physics teacher her senior year.
"Lisa was a very good physics student, but one of the hallmarks of [her] life is that she is just a creative person. When she was in AP Biology and also AP Physics, she would write songs employing the science concepts she was learning at the time," Rice said. "[The songs] were very creative, on the verge of being professional."
After CHS, Einstein attended Princeton University, where she pursued a degree in physics. At Princeton, Einstein wrote the thesis, "Innovate How We Educate: Understanding the Photoelectric Effect Through Physics, Education and Dance." This thesis has fueled her dedication in her career with the Let Girls Learn initiative.
During her time there, she often went to talks at the Woodrow Wilson school, a school famous for public service.
"In the talks at the Woodrow Wilson school, girls education stood out to me as an issue that could change the world," Einstein said. "I started reading more about it and could now give you about a million statistics on it."
Through the speeches and lectures she participated in at the school, Einstein became committed to giving back.
"I wanted to contribute by getting my hands dirty and not just thinking about it," Einstein said.
Einstein decided that the best way to fulfill this dream would be to head right where this help was needed most.
Einstein arrived in Africa in July 2016 as a part of the first Peace Corps group back after the Peace Corps had evacuated all volunteers during the Ebola outbreak. For the first three months of the 27-month commitment, the volunteers trained in Guinean culture and language before deploying to their assigned outposts.
Einstein had to learn both French and Pular, the local language. She teaches classes in French but is still mastering Pular.
"I took French at CHS but barely spoke it in college," Einstein said. "I had to re-warm-up the neurons and undergo a lot of training. I learned a lot of physics vocabulary."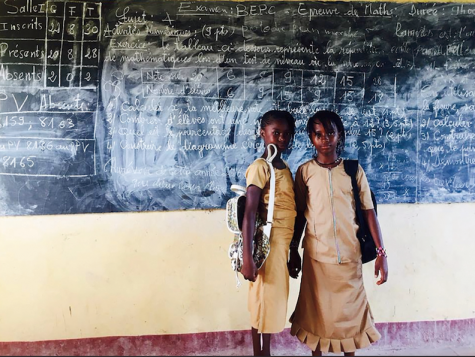 Before Einstein traveled to her assigned village, she stayed with a host brother in Guinea. There, Einstein quickly learned that the culture in Guinea is much different than what she is used to.
"My host brother Hustler said, 'Girls can't do math and science. They're not good at it.' I was taken aback," Einstein said. "We talked it over for two hours. He seemed persuaded, but I wanted to be sure I had reached him."
To Einstein, writing poetry is much easier than writing an essay. She took advantage of this fact at CHS, writing poems that enhanced her learning. In order to fully convince her host brother that girls can learn math and science, she decided to write a rap about the issue.
"Somebody challenges [Einstein] on whether girls can do science or not. She knows enough about the physics to stand her ground on that," Rice said. "She has the creative ability to turn it into something that can appeal to an awful lot of people."
When Einstein shared the rap with Hustler, he was not only persuaded, but also encouraging of Einstein to develop the rap into a song.
"We started working together on it. I had been taking drum lessons in the village with [a] guy. We were really good friends, and I thought it would be my dream for him to play on it," Einstein said. "I asked him, and he really liked the song. He is a music student in the village, and he connected me with a recording studio in Guinea."
In the tenth poorest country in the world, the recording situation was not perfect.
"While we were recording, the power went out twice," Einstein said. "[It was] one day, totally hot, horrible recording studio, but we had fun."
Once Einstein finished the song, she and her host brother performed the song at a Peace Corps talent show.
Then, after about a month, Einstein traveled to the village in which she was assigned to work as a physics educator. Out of 820 seventh to tenth grade students in the village, only 198 of them are girls.
Using iMovie, Einstein was then able to incorporate footage of villagers at her initial training doing everyday things: writing, washing clothes and even playing drums. Einstein used this footage as the basis of her music video. Einstein recorded the song in the beginning of September. In October, Einstein released the music video on the International Day of the Girl.
"[I got] super positive feedback from diplomat type people who have worked in international development for years. [They] were like, 'Wow, changing minds is really hard. You've really found a powerful way of doing it,'" Einstein said. "I got an email from someone who showed it to kids they nanny to teach them about equality. That was really touching."
Rice received an email from Einstein on the International Day of the Girl with a link to the video and became very emotional after watching the moving video several times.
"What makes her stand out is who she is," Rice said. "Her personality, her willingness to integrate all the different parts of her life together." .