Frankly The Best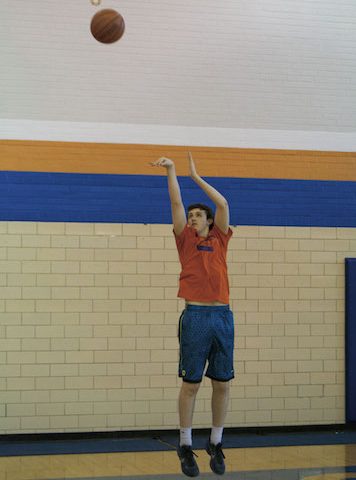 Daniel Cohen, Sports Section Editor/Business Manager
January 25, 2017
"Sam Frank would play basketball all day and night while skipping meals if he could," said Ty Cochran, head coach of the Clayton High School boy's varsity basketball team.
Ever since Frank, a senior at CHS, can remember having a basketball hoop in his driveway, he has played the sport. While growing up, Frank played on basketball teams at the St. Louis Jewish Community center, among playing other sports such as baseball.
However, it was not until the middle of elementary school that Frank began to play on a competitive basketball team and soon after, decided to quit all other sports.
As Frank entered his freshman year at Ladue Horton Watkins High School, he had an eye opening experience. "Before high school, I was bigger than everybody and everything seemed easy to me, so that's when I realized I really need to put work in and work harder than I was," Frank said.
After playing on the freshman basketball team at Ladue and averaging a couple of points per game, Frank transferred to CHS. During his sophomore year, he played on the JV team with hopes of making improvement so he would be ready to play varsity ball the next two years.
These past two years, Frank has been a part of the varsity team and has seen his role on the team evolve. Last year, while a junior, he assumed the role of a shooter and rebounder.
Now, with a new head coach this year, who has a more defensive lineup than the coach last year, Frank no longer starts as much as last year. However, when he comes into the game, Frank fulfills the primary role of a shooter rather than a rebounder.
Although Frank has played this sport for nearly his entire life, just like any athlete, he is not perfect. From shooting and dribbling to athleticism and sportsmanship, there is always something for every basketball player to improve on. "If you're not making 100% of your shots, there's always something to get better at," Frank said.
By knowing that there is always something to improve on, Frank has developed a strong work ethic. In the offseason, he will go to the gym and shot 500-700 shots depending on the workout. Then later in the day, he returns to the gym and lifts weights for over an hour. After lifting, Frank will do another skill workout, which consists of shooting about another 300-400 shots. During the season, his class schedule allows for him to arrive to the gym and shoot for about an hour before practice and then stay for another 30 minutes after practice.
In addition to knowing that he can always improve on his game, part of Frank's unique work ethic has been created through inspiration. While growing up, his biggest role model has been his older brother. Frank regularly saw his brother working hard and improving on the court and wanted to be just like him.
Fortunately, Frank's work ethic does not go unnoticed. Cochran said, "his work ethic is up there with some of the best as far as players I've been around."
As Frank is a senior and has been enjoying his last year in the Clayton basketball program, he has developed a leadership role.
Whether on or off the court, he values leading by example.
One way Frank does this is when he is working out in the gym, he does not just work on improving his own skills, but will help and teach younger players in the Clayton basketball program.
"A lot of older players don't really talk to the younger basketball players but he will actually go out of his way to help everyone," said Jayanth Palamand, a sophomore basketball player at CHS.
Since Frank is a senior and his high school career will end after this season, he has hopes of continuing his basketball career.
Currently, he is receiving offers and interests from a couple colleges and universities such as William Woods University in Fulton, Missouri and Central College in Iowa. "Basketball is the best sport, ball is life," Frank said.