Clayton's Castro Connection
Fidel Castro and his soldiers spent their time in the US hanging out with former CHS students.
The Clayton class of 1960 had an experience like no other. During their junior trip to Washington D.C., they got to meet Fidel Castro just after his successful revolution.
"I had always wanted to see Washington D.C.," said Ellen Adelstein, the Clayton alumna who coordinated the entire trip.
The junior trips had previously been canceled for inappropriate student behavior, but Adelstein and many others were still interested in going.
"There was a group of us that really wanted to see the government sites and do Washington right," Adelstein said.
After gathering students, recruiting chaperones, and planning the trip, Adelstein approached the principal about bringing the junior trip back. When he rejected the proposal, she moved up the line to the superintendent and convinced him to override the principal's decision on one condition: money had to be raised to pay for any students interested in going who could not afford the trip
As CHS students still continue to do, Adelstein and the others spent a long time before the trip selling food (specifically, candy) during lunch periods to raise money.
Once the preparations were complete, the students boarded the train for D.C.
When they learned that their hotel was directly across the street from the Cuban embassy, the students were excited. When they learned that Fidel Castro and his soldiers, who had just won a successful revolution against Batista, were staying there at the same time, they got even more excited.
The CHS students' natural reaction upon hearing this was, of course, to invite Castro to their party. Castro was busy, but his soldiers were eager to meet young American girls, and they came over to listen to music and drink Cokes with them.
After many failed attempts at meeting Castro, the students tried one last time to see him. He was supposed to remain in the embassy that day but surprised everyone by going out to take a walk. The Clayton students standing outside his door followed him through the park, and their enthusiasm interested Castro.
Wandering around D.C., the students and Fidel Castro conversed about politics, economics, revolutions, communism and cooking. At one point during their discussion, in which high school students questioned the leader of a Cuba about the future of his country, he said to the girls, "When you are married, you have got to know how to cook, not just how to be a doctor or a lawyer" according to a Post-Dispatch article from 1959.
As Castro became friendlier with the students, who still supported him more than Batista, he invited them to come to Cuba over the summer. He also told them to send two dollars to him, and he would send one back with a signature.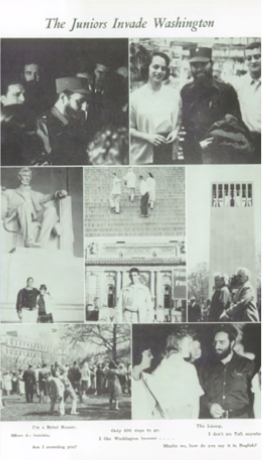 Towards the end of their two-hour walk, one of the students, Sheldon Shapiro, grabbed a 12 inch cigar from the hotel store and offered it to Castro. Although he likely would not smoke it since he only smoked the iconic Cuban cigars, Castro accepted the offer politely.
The students met Castro before relations between the US and Cuba began to deteriorate. They had only good things to say about the new leader.
"I thought he was impressive. Even though this was a spur-of-the moment encounter, I felt he knew exactly what he was doing. He was out there pressing the flesh like a good politician does," said Shapiro in a 2014 interview with The Guardian.
"He was very, very charismatic. Extremely charismatic," said Adelstein, reflecting back on her experience with him. She told the Post-Dispatch that, "if he turns out to be a good leader for his people, he will do wonderful things because he is so charismatic that I could see how people would follow him to the ends of the Earth. But, if he turns out not to do good things for his people, then Cuba has some bad years ahead."
In another part of their trip, the students also visited the Soviet Union's embassy. Castro asked the students if they knew much about Russia.
As Adelstein said, "this was the Cold War. It's not like today, where Putin and Trump are having a little duet. I mean, this is the Cold War, where if you heard a loud noise, you ducked under your desk because you thought it might be an atom bomb."
Expecting the students not to know much about the Soviet Union, Castro suggested that they read one of the propaganda magazines, only to be surprised in learning that the CHS library had copies of the magazine. "It was their propaganda piece, but if you needed to know about it at Clayton High, you learned about it," said Adelstein as she continued to praise her experience in the District. "Every five years when we have our class reunions, we will gather and drink a toast to the wonderful teachers we had at Clayton high," Adelstein said, expanding on her praise for the district. "So many of us thought of our really good, fundamental start at the Clayton School District."