Graceful Goals
Grace Monshausen is the type of person who knows exactly what she wants.
And what she wants, she will pursue.
Since the age of five, Monshausen has been sprinting down fields as fast as she can with a ball at her feet, striving to succeed in her sport.
As Monshausen remembers, her days as a forceful soccer player have existed since she was a member of a kindergarten recreation league soccer team.
"I used to tear people apart and kick the ball as hard as I could because I was a really aggressive child," Monshausen, CHS senior and girls' varsity soccer captain, said.
Twelve years later, she still holds this determination on the field.
According to Monshausen, every soccer game she plays serves as an opportunity for her to push herself both mentally and physically as an athlete.
"[Soccer games are] 90 minutes of the most exhausting thing, both physically and mentally," she said. "So when you come back from a soccer game, you feel like you've accomplished something really big."
And in these games, Monshausen often plays the position of center midfielder, which gives her the ability to lead her team on the field.
"Being a center midfielder, you control the pace of the game," Monshausen said. "I shift everyone with me."
In the eyes of CHS girls' head soccer coach Tom Redmond, Monshausen has a commanding presence on the field.
"She is the type of player that can dominate the game," Redmond said.
Monshausen's passion for soccer has come from the lessons the select soccer coach she has played for since third grade has taught her.
"My coach has instilled in me that soccer is the most beautiful game that exists," she said. "It is mentally so challenging. You have to be really good to stand out, and be an exceptional athlete to keep going. I think it's the whole package."
In addition to being a four-year member of the girls' varsity soccer team at CHS, Monshausen has also played field hockey for the Greyhounds, and swam her freshmen year on the girls' varsity swim team.
For Monshausen being a standout athlete is something she consistently desires to be.
"Personal fulfillment is my biggest motivator [as an athlete]," she said. "I always want something to work towards something and always want to compete with other people."
For her teammate, CHS sophomore and girls' varsity soccer player Eliza Coplevitz, Monshausen's commitment to the sport makes her a positive contributor to the Greyhounds team.
"Grace's drive and humor make her a good teammate," Coplivitz said. "She is dedicated to improving her personal fitness and soccer skills as well as her other teammates'."
On the girls' soccer squad, Monshausen is going into her second year as a captain of the team. For Redmond, Monshausen's leadership is clear.
"She is an extension of the coaching staff on the field," Redmond said. "She's one of those players we look to to take charge of the game in the ways she plays and also being vocal and leading her teammates."
As a leader, Monshausen gains the most fulfilment from mentoring other, often younger, players.
"It's really rewarding when I feel like I help other players on my team," she said.
On the Greyhounds soccer team, Monshausen has been awarded Second Team All-Conference for both her junior and sophomore year seasons.
"Grace is an amazing soccer player, she knows how to move the ball on the field and is aware of the different angles and passing opportunities while under pressure," Coplevitz said.
In December, Monshausen committed to play DIII Women's Soccer at Lake Forest College in Lake Forest, Illinois, where she will attend after graduating from CHS in June.
"I cannot imagine not [playing soccer in college], I don't know what I would in college if I weren't playing soccer," she said.
Monshausen believes the love she holds for the game of soccer is what fuels her desire to keep going, to keep playing in college, and to keep working at her skills.
"If you are going to do something without passion then why are you doing it?" Monshausen said.
Leave a Comment
Your donation will support the student journalists of Clayton High School. Your contribution will allow us to purchase equipment and cover our annual website hosting costs.
About the Contributor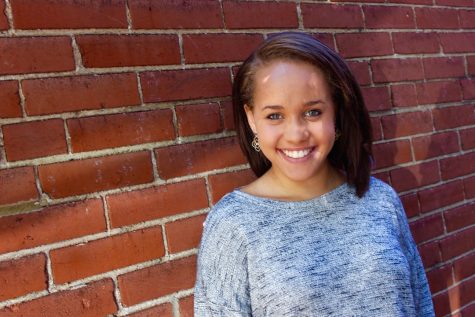 Camille Respess, Editor-in-Chief
Camille is a senior at Clayton High School and has spent her time at CHS calling the Globe office her second home. She has a deep passion for journalism and enjoys the challenge...