Boyd's Loyalty
March 1, 2017
Before the sun comes up on the small blue hut on the corner of South Brentwood and Clayton, Betty Boyd is already at work serving her customers at the local IHOP, or as she calls them: family. Boyd has been a part of this family since 1965. For 51 years she has been taking orders and serving pancakes.
Boyd has been a part of this family since 1965. For 51 years she has been taking orders and serving pancakes.
"A friend of mine said that IHOP was looking for servers. I said, 'could you tell me if I am going to make as much as I am making at the truck stop?'"
To Boyd, getting as much money from her job as she could was a necessity as she had to support her one-year-old son by herself at the age of 17. At the time, Boyd had been married for one year.
"We were too young," Boyd said. "I thought I would live happily ever after, but of course it didn't turn out that way." That same year, the pair filed for divorce.
"[My parents] hated [the father of my son]," Boyd said. "He was a wild child. They knew it was going to be a big mistake. They tried to tell me but I didn't listen." Boyd and her husband did keep in touch until he recently passed away.
"If I wouldn't've had a son, I would've gone on to college," Boyd said. "I had him to take care of. It did affect my career, but I wouldn't trade it for anything."
Boyd made more than double at IHOP than the truck stop and was able to provide for her son.
During Boyd's first 25 years at IHOP, she worked at the now-closed Chippewa location.
Considering the Chippewa location achieved a full star less on Yelp than the Clayton location, Boyd made the right call switching locations.
Additionally, Boyd recalls the Chippewa location had poor management and service.
"This store is more caring [than Chippewa].The people [in Clayton] are like family," Boyd said. "I've seen little babies grow up. Then they have babies and they come in. It's just a happy family."
When a customer passes away, Boyd always makes sure to attend their funeral to pay her respects.
Throughout her time at IHOP, Boyd has had the chance to come across all sorts of customers. Boyd does not hesitate to treat each and everyone of them like family.
"This one girl, she was going to Wash-U. She was studying to become a doctor. When you're going to school you don't have a lot of money," Boyd said. "She was over on the bench and she was counting her change. I said, 'What are you doing?' She goes, 'Betty, I'm trying to see if I got enough money to get the bus back to Wash-U and give you a tip.' I said, 'Don't worry about it. I'm buying your breakfast today.' She was so overwhelmed. When she graduated from Wash-U, she came in with a card and it had $1000 in it. She said, 'This is for you, because I'll never forget the day you told me I got your breakfast.'"
As Boyd has worked at IHOP for several decades, she has been given opportunities to improve her job status and become manager.
However, she has not wanted to take those opportunities. Instead, she has kept the role of a waitress and has accepted the role of a crew chief, which includes training new employees.
Demetrius Sims has worked at IHOP as a waiter for only three months and already feels he has a unique connection with Boyd, even though they only share a shift for 30 minutes a day.
According to Sims, Boyd is a very honest and open worker; somebody that he and others look up to for advice.
"I like working overnights to see Betty in the morning. I'll be ready to go to sleep but when she comes in, I'll be so excited," Sims said. "[I intend to stay] as long as Betty: 50 years."
Sims believes that without the guidance of Boyd, he would just be an average IHOP worker serving average flapjacks.
However, her presence has allowed him to grow immensely.
"At first I used to half-do [my work]. But one time in the morning she wouldn't let me leave until I did [my work] correctly. I stayed almost two hours over trying to correct my work," Sims said. "As long as you do your stuff right, she is fine."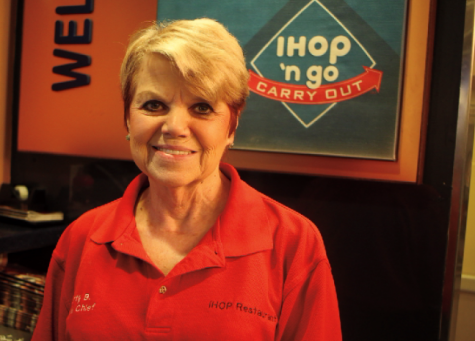 Even though Boyd's level of experience often allows her to make sure every worker is doing their job exactly right, her 51 years of experience has taught her to hang loose every once in awhile.
"She's like everybody's crazy grandmother," Sims said. "She has her days when she wants to kick it up a notch and be very funny and playful with us."
Not only does the staff feel a strong connection to the customers at IHOP, but the staff itself acts as a family.
"My son got cancer back in 2000," Boyd said. "I had so many people rally around me and help me, take collections for me to help. [They're] great friendships." Her son, who grew up in St. Louis with Boyd, now works at the Athletic Boys Club.
Additionally, Boyd considers her boss as a close friend. Whether she is having a problem at work or financial issue at home, Boyd always knows that her boss will be willing to help her with any situation.
"[For] my 50th anniversary, she had [the restaurant] decorated to the hill," Boyd said. "She had balloons and signs, and she gave me a card with money in it. She was really appreciative."
Every morning, Boyd wakes up at two in the morning and drives an hour from Wentzville in order to get to her morning shift on time.
"I had so many people say 'don't quit' when I moved out [to Wentzville] three years ago," Boyd said. "It's not that far. At first it did seem like a little way, but I got used to it."
There is an IHOP in Wentzville, but Boyd could not dare to abandon her family.
"I like my people," Boyd said. "I'm gonna work here until I can't do it anymore."
At 4 a.m., Boyd is already energetic and ready to work, and it would seem that she had been up for hours.
"Everyday you thank God that you're able to do your job. Thank God for the nice people that come in," Boyd said." [I'm] thankful for being able to work everyday and pay my bills. I appreciate things more now."