Ballerina Brooke
March 6, 2017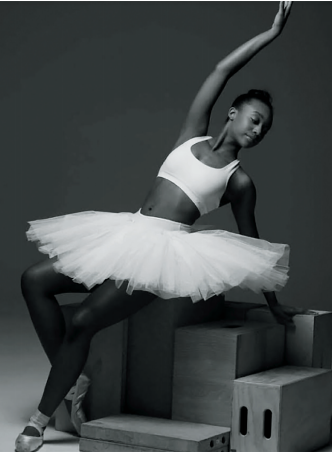 There is nothing stopping Brooke Terry from leaping and twirling for the stars.
Junior Brooke Terry, an avid dancer, recently made the switch from CHS to [colab], a school that offers a learning pathway with a lighter workload and online classes that students like Terry opt for in order to focus on other areas of interest. In this case, Terry has decided to focus the bulk of her time on dance. At the Center of Creative Arts (COCA), Terry spends hours upon hours each day in classes besides the core technique classes; she has had Conditioning classes, Tap, Hip-hop, West African, and Musical Theatre classes.
Terry's passion for dance stems from early childhood,"my mom's best friend put her daughter into dance. She grew up dancing and my mom would always take me to watch," Terry said. "As soon as I was finally old enough, my mom put me in classes. I was two years old, and haven't stopped dancing since."
Kelly Ging, the Pre-Professional Division Manager and Dance Program Manager at COCA, who has been working with Brooke for six years, seems to know Terry better than many. "Brooke is committed," Ging says, "it is hard to give up a social life and high school events, but Brooke is always in class and rehearsal, never complaining because she knows the work it takes to become a professional dancer."
Although it was a big decision, Terry is confident that the switch will be beneficial to her future. "It's definitely gotten much better this semester because I can choose how much I do each night." Terry said. "Last semester, and sophomore and freshman year, the stress of school and dance combined could be a lot at times, especially during shows or heavy rehearsal times. It almost seemed like during heavy times at dance, I'd almost always have lots of tests and quizzes as well."
Already, Terry has accomplished a great deal without the restraints of a rigorous course load. "I performed the lead role in Divining, a piece choreographed by Judith Jamison," Terry said, reflecting on one of her favorite moments as a dancer. "To get to the final product was a really hard, and rough road for me. But, when I finally performed the piece, it was such an amazing feeling to have my body completely take over and do everything it was supposed to do."
Terry's intense passion for dance has given her the inspiration to pursue fine arts in the future. "I want to attend a conservatory for dance and earn my BFA in dance," Terry said. "Then, hopefully I find a great job with a professional dance company. But, I may also have the opportunity to get a job with a company as a trainee before I even go to college. I'm not sure which I'll end up doing, I'm just trying to keep my options open."
On the other hand, Ging is confident that she sees a fortuitous career in Brooke's future. "Brooke has such a diverse range of skill and ability, she could easily be cast in a company that performs cross disciplinary work," Ging said, "however, I foresee her performing professionally with a modern or contemporary company.  Brooke loves to share her passion and give back, so on her days off of performing or after rehearsals you'll see Brooke teaching and guiding the shy student in the back of the room."
It's clear that Terry has not only arisen as an experienced dancer, but she has also arisen as a leader. Between assisting children ages three to six to develop fundamental classroom practices and child development, to pushing hard on her own tasks when given a lead role, Terry seems to have a found a place that fosters creative and intelligent thinkers like her.
"Brooke is a student that you will always remember," Ging says, "I love seeing her progression of talent and drive, her understanding of the art world, her dedication to helping the younger students. I look forward to the day when I get to say, "I knew her when…"