Jo Firestone
March 13, 2017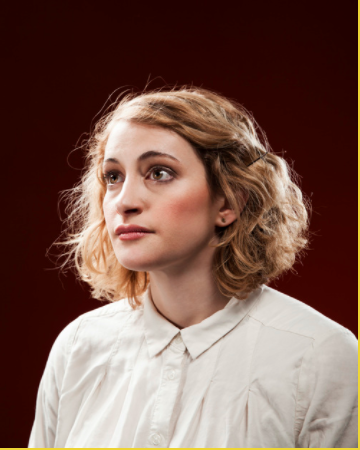 It all started in the halls of Clayton High School. More specifically, though, for CHS graduate and current comedian Jo Firestone, it started in the CHS theater. This was when she realized her calling.
"[Kelley Weber] let me direct the student run musical. She let me pick out the show and direct it," Firestone said. "That was really fun and it gave me a sense of what I liked and what I wanted to bring out of people. I think that was definitely a big learning moment."
The unique opportunities Clayton High School's theater department presented to Firestone opened doors that would ultimately lead her to where she is now.
"I feel like just in terms of the arts there, there is a lot of emphasis on the arts relative to a lot of other high schools," she said. "There's a chance to explore [the arts] and I took full advantage of that. I realized how much I liked doing the plays and from there it got me hooked."
Weber, Firestone's theater teacher throughout her four years at CHS, took notice to her willingness to get involved which, according to Weber, was a byproduct or her daring personality.
"
Jo was up for anything. She was in all the shows. There was not a drop of diva in Jo. She is fearless."
— Kelley Weber
Looking back on the impact participating in theater at CHS had on her life, Firestone encourages current students in a similar situation to hers to be active and to embrace the opportunities that lie in front of them.
"If you like or are curious about the arts, take a class or two. Try out for the plays if you like that kind of thing. It's fun whether you're the main part or in the chorus. It's fun to hang out and do bits backstage and be around other people who like the arts and be inspired by what they like about it and figure out what you want to do in that world," Firestone said.
From Clayton High School, the lifetime St. Louisan left for Wesleyan University in Connecticut, where she would continue her study and practice of theater. With her Clayton High School theater days as fuel, Firestone continued to broaden her horizons while in college.
"I started doing comedy [in college] and then I made a show with a friend and we started going on tour with it," Firestone said. "We did our own little DIY tour. We even went back to Wydown Middle School and did the show there. "
The DIY tour – which would become a show called "Ridgefield Middle School Talent Nite" – while not necessarily a household name, has received praise in the New York Times and The Washington Post and has been performed to sold-out crowds in New York City, Washington DC, St. Louis, and across New England.
The transition from theater to comedy, however, proved an awkward one for Firestone.
"When you do a part on TV, you mostly just stand around and each a bunch of snacks, and then they're like 'You have to be on set now,' and you run there and do your lines like 16 times in a row, and you're done for the day. You would never do that for a play; that'd be a crazy play," she said. "I haven't done a play in so long… Sometimes I have nightmares about being in plays and not knowing any of the lines."
Although it took some getting used to, Firestone found that comedy was the profession her personality was most compatible with.
"Being a comedian, it's a little bit looser; you can work when you want to work. You can sort of organize your schedule a little bit. I'm not great at focusing all the time, so it's a better job for me in that way," she said.
  Seven years ago, Firestone relocated to the comedy capital of America: New York City. After stints with the Chris Gethard Show among others, Firestone landed what, to many, would represent a dream job: she now writes for the Tonight Show with Jimmy Fallon.
Although she recognizes the tangible benefits of her new gig, Firestone is just as appreciate of the life-applicable skills she gains from writing on such a platform.
"You have to write so much. Most of it is probably going to be really bad but at least you're getting it out of your system," she said. "There's something there where it's nice to use your brain like that and understand the news in a way that doesn't necessarily frighten you, and to learn how to interpret it in a way that could be funny. I think that's an important tool in times like these."
While it may appear as a dream job, comedy, in general, – and the comedian's lifestyle, is something that takes getting used to.
"There's not a lot of consistency in your work. There's not a lot of stability. You could get a job and it could pay you for a little bit and you pay your rent and have food to eat. And then that job ends and you've got to get another job. Most jobs don't last more than 6 months and the jobs that last for a while last like 5 years. It's just a different [lifestyle]," Firestone said.
In addition to the unorthodox lifestyle, being a comedian requires much more – it often requires extreme persistence and a willingness to fail. In spite of the adversity, Firestone keeps going.
"It's a very discouraging field. There's so much rejection. One night will feel so terrible if you bomb on stage," she said. "Ever since high school, it's been a gradual 'Oh, that play was fun. Let me do it again,' or 'I like being around these people. Let me do it again,' or 'This sketch went well. I'll try another one.' It's a gradual small amounts of fuel that keep you going."'
Being in the industry for several years now, Firestone has noticed that comedy often reflects the overall tone of American society and can serve to heal a divided society. To Firestone, this is the power of comedy.
"I feel like it's a really divided country and people are really scared on both sides. Comedy right now serves to satirize what people are afraid of or as more of an escape, depending on what you're more into," she said. "When I started, comedy was used more as an escape, more like 'Let's just distress from the day and go see a comedy show.' Now it's hard to escape the stress so it's like 'Why don't we dig into this stress and why it's stressful.'"
 From her years of teaching Firestone, Weber came to appreciate Firestone's unique personality and outlook on life.
"Jo doesn't take herself too seriously. She's a bit self deprecating and even a little shy. She's also the nicest person you'd want to know – she cares about other people," Weber said. "When studying comedy or clowning in acting class one thing they say about successful comics is that they 'live close to their clown.' Jo lives close to her clown."