Cemetery Vandalized
Cemetery desecration shakes St. Louis community.
April 10, 2017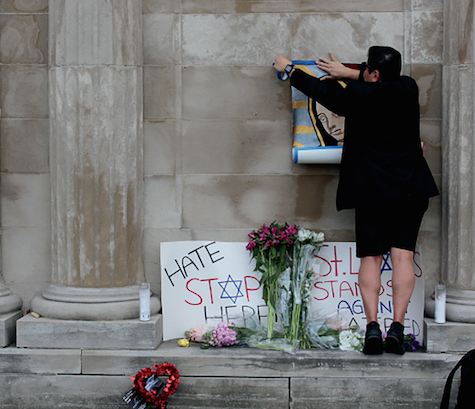 Synthia Baer
On Feb. 17 and 18, rows and rows of final resting places were knocked over and vandalized. The next morning, thousands woke to find their holy place disturbed.
The recent vandalism at Chesed Shel Emeth, a Jewish cemetery in University City, has led to heightened attention on acts of hate crimes in the region.
Although unclear whether or not the vandals targeted Chesed Shel Emth because it is a Jewish cemetery, the desecration of the cemetery has affected St. Louis' Jewish community.
CHS freshman Sarah Baker felt deeply affected by the incident.
"I felt disturbed that someone would desecrate a holy space," Baker said. "For Jews, cemeteries are really holy spaces."
This shock is echoed in other students.
"I just can't understand why someone would do that," Leeor Michelson, CHS sophomore, said, "It's just unbelievable to me."
Clayton and the surrounding area is generally regarded as a safe and accepting space.
"It's just hard to see it happen five minutes away," CHS junior Matthew Bloom, who has multiple relatives buried in Chesed Shel Emeth, said.
Michelson recounted his experience revisiting the cemetery after the attack.
"When I went to the cemetery to check on what happened there, I was really worried because I wanted to make sure my family's tombstones weren't knocked over. But then after I found that mine weren't, I looked around and there were a few tombstones that you could very clearly tell that they had been knocked down and it's just sad to see," Michelson said.
Bloom's anguish was magnified after he visited the cemetery to help repair the vandalism.
"I actually have relatives in that cemetery, so I felt really upset when I heard what was happening," Bloom said.
This crime was also a time for reflection on family history.
CHS teacher Carroll Lehnhoff-Bell explained that the desecration filled her with a surge of deep sadness as she recounted her family's journey to America.
"My family immigrated from Russia, fleeing the Bolsheviks and that's where all of that family is buried. My great uncle Joe was buried there. He was the first to come over, so without Uncle Joe, we're not here," Lehnhoff-Bell said. "Even just thinking about it evokes this sadness because you know what your family went through to get here, and this was their final resting place. And with being Jewish, part of the tradition that is so beautiful to me is the final mitzvah. When you lay the dirt on the coffin, it's sacred, and whoever did [the desecration] disturbed that."
For Lehnhoff-Bell, the recent cemetery vandalism serves as yet another example of the anti-Semitism she believes exists in society.
"I'd love to think that [anti-Semitism] is recent, that it wasn't always there before this, but the bottom line is you and I know it's always been there," Lehnhoff-Bell said.
Anita Feigenbaum, executive director of Chesed Shel Emeth, is reluctant to declare the desecration an anti-Semitic act.
"Not initially, or now do I think it was an act of anti-Semitism, at least not yet. I like to deal in the facts, not to jump to conclusions," she said. "When it's anti-Semitism, you want to declare it as anti-Semitism because that way people will care. But when everyone gets angry at someone, they go, 'Oh, she's such a Nazi!' And then what happens is, [the title] loses its meaning and the importance of what it is. I won't say, I cannot say that is what it is because there is not that show of motivation yet. We just don't know."
Rabbi Susan Talve of the Central Reform Congregation noted that discrimination often occurs when people feel threatened by change.
"For people who are of afraid change, for people who want to keep the world the way it is and keep their privilege, we are a tremendous threat," Talve said. "There are times that anti-Semitism is going to grow when you see movements for change."
Many understood and sympathized with those affected by the cemetery vandalism.
"The story of the desecration of the cemetery here, in many ways is found in its name. Chesed Shel Emeth [means] the mercy of truth," Talve said. "It calls us to tell the truth and one of the truths is, first of all, that people of all faiths were touched by the destruction of the cemetery, because it hurts when the memories of the people that we love are disturbed."
Many diverse groups were prompt in their efforts to help with the recovery of the cemetery.
Although the act was in an all Jewish cemetery, over 2,500 people, not all necessarily Jewish, came to the grounds to support those affected.
"People came to help clean up, to show support and to say 'no' to hate in Saint Louis," Talve said.
Talve emphasized that the coming together of all different groups of people in this time of distress was an important step toward progress and ultimately hope.
"The Muslim leaders in the country who put up that GoFundMe page and raised over $12,000 for here and for other desecrated cemeteries and Jewish sites were very inspiring. When I asked why they did it, they said because it's the right thing to do," Talve said. "There are probably many places where we disagree with each other but that didn't stop them and that gives me hope."
This hope is echoed by other Jews in CHS, who feel that, amid all these threats to their identity, they can stand strong in the face of anti-semitic opposition.
Bloom, who went to help restore and clean Chesed Shel Emeth, also noted the diversity of those helping.
"I saw so many people there: Christians, Muslims, every different race as well. It was really nice to see all this diversity and so many people who cared and who were willing to come out and help clean up," Bloom said.
Even across many different personal philosophies and creeds, Talve believes that the idea of a sacred place for loved ones is universal. The multi-cultural support of the Jewish community in response to the recent event gives Talve a sense optimism in the future of the increasingly-diverse world.
"We create these coalitions, as we gain trust between these people who are at risk: Jews, Muslims, the black lives matter movement, Hispanic community, all kinds. When we start to work together, we will take back the country," Talve said.
Michelson stressed the importance of responding to tragedy in a bold, unintimidated fashion.
"We need to show that it hasn't affected us negatively, that we aren't afraid, and I don't know how but we need to stand together and show that we are not scared of what happened," he said.
Bloom believes that although there is no easy solution, moving forward in the right direction will require the spreading of awareness.
"Something as simple as a Facebook post can really make a difference. The smallest things make a big difference, so even if you know someone, giving them a call, making sure they're alright or just building your awareness, giving your support to people and recognizing that things happened," Bloom said. "If everyone raises awareness, and we all come together and support each other, then things can be a lot better."