Senior Athlete Profiles
May 13, 2017
The Globe talks to the coaches of several senior athletes who have demonstrated positive leadership skills throughout their athletic experiences at CHS.
---
Ben Litteken
Boys' Basketball – Coach Ty Cochran
Ben is an incredibly hard worker. From my first day as the Head Coach this summer, I saw Ben working hard in the gym. He was at almost every single off-season workout and even during the season, he would get to school early and work on his game. Like our team, he did not have big expectations from the outside world heading into this season….but like our team, worked hard, bought into what the coaches were preaching, and had a very successful season. He was our leader on and off the floor. Ben was named 2nd Team All Conference for his efforts this season, which were a direct result of his hard work leading up to this year.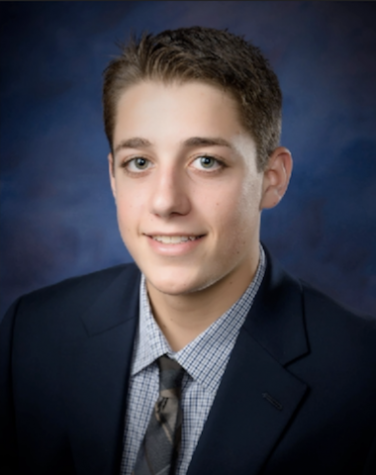 ---
Pierce Sams
Girls' Basketball – Coach Steve McFall
Pierce is a quiet leader who leads by example. She lead us in scoring, rebounds and steals. She is an outstanding player and an even more outstanding young woman. I am very proud of her.
---
Olivia Reuter
Girls' Golf – Coach Kim Shelley
Anyone's golf game can change on a daily basis, and Olivia had a tough start this year.  She worked through this issue and started making some great scores, helping us win some games by being the gold metal player in some of our matches.  
---
Drew Phelan
Football – Coach Gene Gladstone
Drew Phelan has demonstrated a rare combination of leadership, dedication, and talent.  As a result of Drew's work ethic and dedication, he was selected as a captain by his teammates.  As a two-year, two-way starter, he earned his way into Clayton's record book with outstanding performances on both offense and defense. Drew's work on and off the field made him a critical element of our team over the past two years.
---
Ricky Kuehn
Water Polo – Coach Jud Brooks
This year Ricky has exemplified leadership both during practices and by being a verbal encouragement and leading by example during games. His work ethic and commitment to the success of others has paid off as we're having the most successful season we've had in many years.
---
Tyler Mitchell
Boys' Golf – Coach Chris Moody
Tyler has been a leader by example and enthusiasm. He is dedicated to the process of practice generating improvement and wants to use these times as a chance to get better in every facet of the game. He understands that work is necessary to improve, skill will not just appear. Throughout his time with the team he has exuded an optimism that he and everyone can get better and their best golf is ahead of them.
---
Lucy Cohen
Field Hockey – Coach Annie Kinney
Lucy Cohen is a strong choice for this recognition. Lucy went above and beyond in her leadership role this season and displayed dedication, maturity and strong leadership on the field. She was a servant leader and valued coaching and feedback. We will miss her greatly next season!
---
Bryant Thompson
Boys' Soccer – Coach Tom Redmond
He is an outstanding student and athlete. As a two year starter on our Varsity Soccer team, he was especially outstanding his senior year. He led the team in scoring and was named First Team All Conference. His teammates also voted him, offensive player of the year and Team MVP. Bryant was also nominated to the Soccer All State ALl Academic Team. It is a pleasure to note that Bryant will attend Case Western Reserve University, where he is considering biochemistry for study and will play baseball as well. We congratulate him on an outstanding four years at CHS.
---
Emma Marquis-Kelly
Girls' Soccer – Coach Tom Redmond
Emma is both an outstanding student and athlete at Clayton High School. She is one of our quad captains this year, and she has demonstrated great leadership, passion, and heart throughout this season. She is a four year Varsity Soccer Player and it is a pleasure to note that she will continue her soccer playing career as she heads to Denison University after graduating from CHS, where she will study Biology. Emma is also an outstanding young lady who is very respected by her teammates, coaches, and teachers. We congratulate her on an outstanding four years at CHS.
---
Michael Painter
Boys' Cross Country – Coach James Crowe
Michael Painter – one of our captains. Michael leads by example, he demonstrates hard work and dedication to the sport.  Michael is always willing to give his time to assist the younger athletes to become better runners.
---
Mary Kate Gelzer
Girls' Cross Country – Coach James Crowe
Mary Kate Gelzer is one of our captains.  Mary Kate is almost like having another coach.  She is an enthusiastic supporter of all of the cross country runners and she is great at organizing bonding activities for the team.
Girls' Track and Field – Coach Barry Ford
Gelzer is a leader by example. She is always willing to work hard and help others when needed. She runs the mile and a leg on the 4×800 relay team.
---
Lucas Hoffman
Boys' Track and Field – Coach James Crowe
Lucas Hoffman – team captain cross country and track. Lucas has a great work ethic which carries over to his teammates. He is passionate about the sport and in his support of the track team.
---
Matt Straetker
Boys' Tennis – Coach Susie Luten
Matt Straetker is my choice for the senior male athlete in tennis. Matt has been on the team all four years and in spite of his involvement in many other things at CHS, has been a co-captain of the Junior Varsity team this season. His leadership skills and strong work ethic have been a key reason our JV team has been so successful. We can always count on Matt to communicate effectively with his peers and handle situations with the utmost integrity.
---
Arianna Blatt
Girls' Tennis – Coach Susie Luten
Arianna Blatt is my choice for my senior female athlete in tennis. She played on the tennis team for 4 years, working her way to Varsity the last several years. She continued to be dedicated to working on her game Year round. Arianna was co-captain of the team this past season. She set a high bar for hard work and fair play.
---
Sarah Shepard
Softball – Coach Morgan Shipley
One senior that represents our team as a leader is Sarah Shepard. Her dedication to the team was noticed everyday! She is a leader on and off the field and will continue to lead in college.
---
Claire Sizemore and Madeline Droege
Volleyball – Coach Lauren Weber
The two would be the team's co-captains, Claire Sizemore and Madeline Droege. I would hate to pick between them because they were both passionate players who played crucial roles on the team (as libero and setter, respectively). As the team's captains, they both overcame obstacles as they helped lead their teammates on and off the court.
---
Riley McDermott
Boys' Lacrosse – Coach Jack Carroll
One person that exemplifies leadership and outstanding character on the Clayton lacrosse team is Riley McDermott. He has carried our team on his shoulders all year long. His work ethic has been paramount in our success this year. He earned All-state honors last year and he has the best save percentage out of any goalie in Missouri this year. He also takes his academics seriously and he plans on continuing his education at Columbia College in the fall.
---
Maddy Vaughn
Girls' Lacrosse – Coach Lauren Weber
Maddy Vaughn shows all the traits of an outstanding CHS senior athlete. She has shown leadership this past year as not only a captain on the field but a captain to her teammates off the field. Her dedication is undeniable, she is always willing to go the extra mile to better herself as a skilled lacrosse goalie. Her talent has shined at Clayton and amongst select teams throughout Missouri throughout her high school career. Her talent, dedication and leadership will only shine brighter as she continues her lacrosse career in College.
---
Max Hunter, Bryant Thompson, and Drew Phelan
Baseball – Coach Craig Sucher
Max Hunter, Bryant Thompson, and Drew Phelan became Varsity starters as underclassmen. They each prefer to lead by example and has grown into a role that perhaps they would not have chosen. They have elevated their teammates by playing the game the right way.