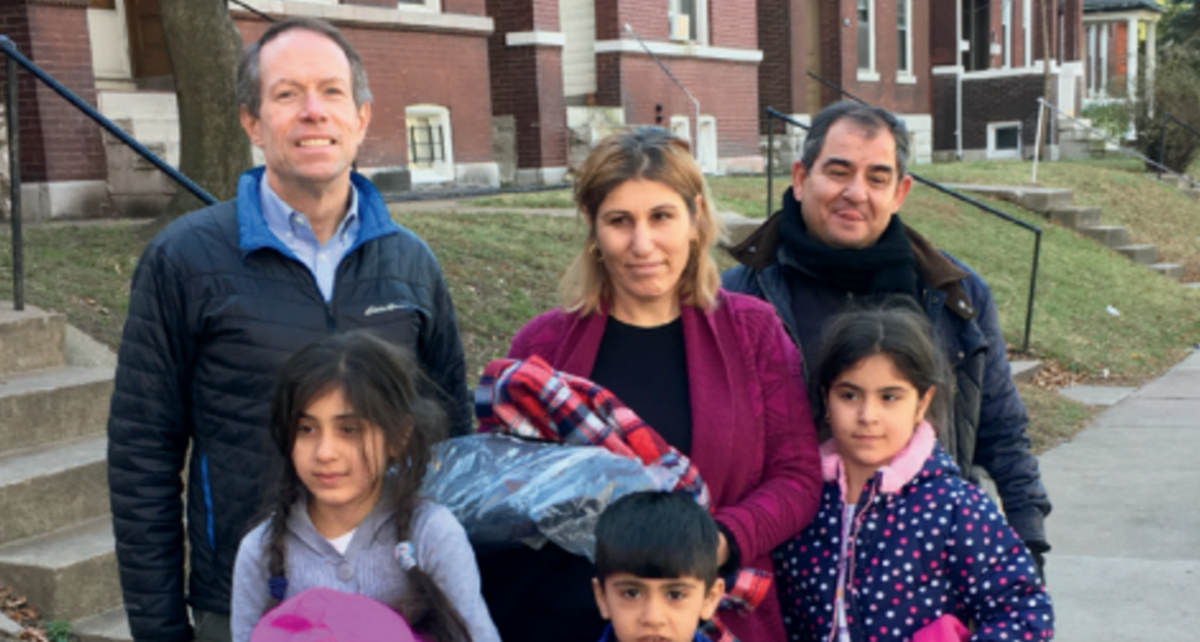 Profile: Charlie Brennan
Charlie Brennan's outlook on the refugee crisis was significantly transformed in October of 2016.
"I was watching 60 Minutes, and I saw a segment chronicling the experiences of Syrian refugees in North Carolina — and it was pretty good," Brennan said. "So I wondered, how are they faring here in St. Louis? So, I went to Hodiamont and I met some of these refugees to see how they're doing. And they told me that they weren't having a good experience."
After beginning his interactions with some of the Syrian refugees, the KMOX talk show host and a CHS parent, began to sympathize in regards to their situation. "I think we can all empathize with their plight. They don't know the language, they're starting at the bottom rung of the economic ladder, and they've seen some horrific atrocities. If I was in that position, I'd want someone to help me," Brennan said.
While Brennan is not affiliated with specific organizations that are fighting for better conditions for refugees, he still has a deep conviction to help them out in any way possible. "I tried a little bit to help some people with their rent. Just small little gestures. And really, just trying to make them feel a little more welcome in this country," Brennan said.
Furthermore, he has helped his children initiate different acts of kindness.
"Last year around the holidays, [my son] Charlie and my daughter Lynly held a winter coat drives at [their schools]. They collected, between the two of them, over 500 winter coats for the refugees who came [to St. Louis] with nothing," Brennan said. "[Also, my son] set up a GoFundMe. Since, when the refugees come here, they have to reimburse the US government for their plane fare. And it comes out to about $1500 an individual. And if you have a few kids, that's like $9000. So if you're making $9-$15 an hour with above minimum wage jobs, it takes a while to pay that off."
Brennan's commitment to helping these people stems from his belief that refugees and immigrants would augment and stimulate the Clayton and St. Louis community. "They bring vitality and new ways of looking at things," Brennan said. "Historically, immigrants have been great to this town: the founder of the Botanical Garden, the founder of Anheuser Busch, the former CEO of Express Scripts, the CEO of Monsanto, […] the founder of the Post Dispatch and the founder of HOK. They're all immigrants."
In spite of his own quest to try and alleviate some of the issues that the refugees face, Brennan has some advice on ways that Clayton residents could help out as well.
"People in Clayton can always help the refugees with monetary donations to defray the costs of transportation as well as rental assistance. And, Clayton residents might be helpful in providing those informal interactions that help newcomers to this country learn more about the United States. The immigrant doesn't know what a country club is, what Kumon is, what the St. Louis Cardinals is. With these interactions, [Clayton residents] can help them become more familiar with this country and the language.
And if the spirit moves them, Clayton residents could help provide for their rent," Brennan said.
Now, Brennan understands that for some, helping with monetary donations isn't plausible for families who are already dealing with full plates. However, he thinks that simple interactions and forming relationships can be just as, or even more, valuable.
In spite of all this, Brennan remains optimistic about the future of the refugee crisis and the refugee's time here in St. Louis.
"I'm really confident that the Syrian refugees will have a good experience in the United states and that they'll become productive members of our country. Someday we'll be really grateful that they came here," Brennan said