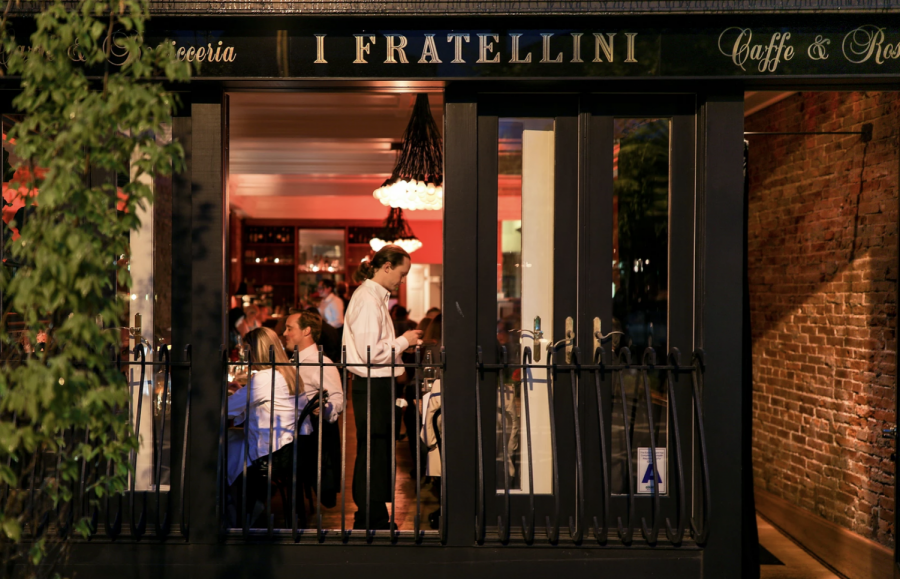 Zoë Robinson: I Fratellini, Bar Les Freres, Billie Jean
"It's more than just feeding people."
This is how Zoë Robinson, proprietor of numerous restaurants in the St. Louis area, would describe her business.
"I have worked in restaurants since I was 18-years-old. It's just something that clicked for me," Robinson said. "You know when you feel it. I'm passionate about this, this is what I love doing."
Robinson started as a server, and quickly worked her way up the restaurant hierarchy. She soon realized that the restaurant business was her calling.
"I was attending school, but I quickly learned I was making a whole lot of money in restaurants and I thought, 'Why in the world am I going to school? This is what I like doing.' It worked out for me," Robinson said. "And it suits me."
By the time she was only 23-years-old, Robinson had already opened her first restaurant – Cafe Zoë (now sold) in Lafayette Square.
"If you're good at what you do, you get recognized. And you do get moved up," Robinson said. "I think you have to be vocal about it. If you want that leadership role, let them know that you want it. Strive to get it."
Robinson recently opened her seventh restaurant: Billie Jean. This restaurant neighbors two of her other locations on Wydown, I Fratellini and Bar Les Freres. According to Robinson, owning restaurants right next to each other is advantageous from a management perspective.
"We can share an ice machine. If I run out of mushrooms at Billie Jean, I can run up to I Fratellini to get the mushrooms I need. It just makes perfect sense," Robinson said.
According to Robinson, a specific goal was kept in mind when introducing each of these three restaurants.
I Fratellini, the first of the three Wydown restaurants, was designed to mirror an intimate Italian meal.
"The food is very simple, just like it is in Italy. It's romantic. When you walk in the doors of I Fratellini, especially at night, it's candle-lit, it's tiny [the restaurant has only 12 tables]," Robinson said. "You can hear the food being cooked, you can smell the food being cooked, it just kind of envelops you when you walk in the door."
Bar Les Freres, her second restaurant on the Wydown stretch, initially was created to give people a place to sit and wait for a table at I Fratellini. However, it soon grew in popularity and is now a popular destination on its own.
"It's romantic, but it's also very festive," Robinson said. "People are a little more boisterous here, it's a fun place. We also have a big patio here, very European. We set up the chairs like in Paris where they face out, not one another, so that you can people-watch, and that's what we do here."
Her most recent acquisition was Billie-Jean, which takes the spot of the now out-of-business frozen yogurt shop, FroYo. Billie-Jean, named after both of her parents, was fashioned to resemble an intimate New York dining experience: filled to the brim with culture.
"The food has an Asian accent," Robinson said. "It's Mediterranean and Asian on the same menu. It is brand new. We are still finding our way there." The restaurant, which opened in December of 2017, will feature classics from the original menu of Café Zoë.
According to Robinson, it is no accident that three of her restaurants ended up in Clayton. However, when looking at different restaurant scenes in the area, Robinson believes that one should look at St. Louis as a whole.
"Clayton is a wonderful area, but it isn't the only place to eat," Robinson said. "I mean don't get me wrong, I love Clayton, but I don't think you should look at Clayton as the only place for restaurants. Because [the restaurant scene] in St. Louis is booming right now and it's certainly not condensed all into one neighborhood."
Even though Robinson has had much success in the industry, she continues to push herself further.
"I don't like to just rest on my laurels," Robinson said. "I always have some kind of creative project going. Each one of my restaurants, especially right now, I feel is like a little art project. Something that I've really been able to decorate, design a menu for, hire a staff for, and have them execute my vision."
Robinson hopes that others can come to see the restaurant industry like she does: more of an art form than a dining service.
"I know that people think the service industry doesn't have as much cachet as being a lawyer, or being a physician. But really you have to be pretty smart, and you have to be pretty well organized. That's a message I'd like to give young people, that working in the service industry [is] hard, it can be very rewarding and it's a very valid career."