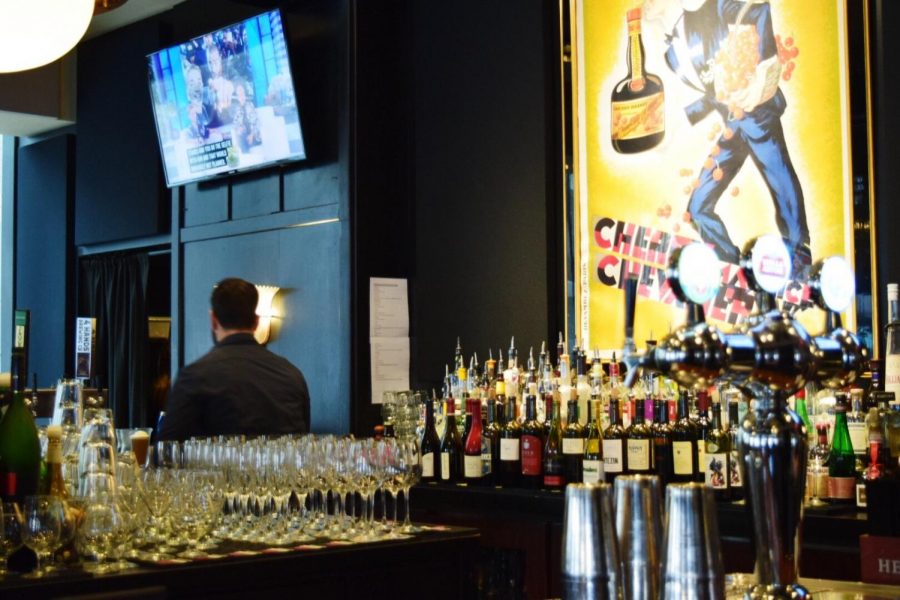 Aaron Teitelbaum: Herbie's
"I've worked in the business since I was 13-years-old. It's all I know. I went to culinary school for it, then I went to business school for it. It's my passion. I worked for lead chefs in Manhattan for years to learn it."
These unique experiences of Herbie's Owner Aaron Teitelbaum help him to run one of the most popular restaurants in Clayton. However, it wasn't always so famous.
Originally called "Ballaband's" and located in the Central West End, Teitelbaum had grown up going to the restaurant. A period of bankruptcy, however, had damaged the reputation of that name and led Teitelbaum to change it when he started his ownership 10 years ago.
"We named it Herbie's after Herbie Carpe Ballaband," Teitelbaum said. "Still kind of an homage to the family, but we thought we should change the name to reflect that we were changing it since we were taking a new position."
Despite the early name change, Herbie's remained in its previous location in the Central West End until November 2016 when Teitelbaum brought the restaurant to downtown Clayton.
The Clayton facility proved to be an upgrade from the Central West End, offering a hundred-seat outdoor patio which the previous location lacked.
The move to Clayton also suited Herbie's clientele better.
"More of our clientele is moving out West," Teitelbaum said. "Less people were traveling to the Central West End to visit us, so we felt like we were moving a little bit closer to our current clientele. So that was a big piece of it – the location and being closer to the people."
The increased business which Teitelbaum was hoping for came successfully with the move.
"We doubled our sales overnight," he said.
The move also marked a significant change in the career of Teitelbaum himself; he gave up cooking. Previously a chef at Herbie's with his experience from culinary school and his earlier restaurant work, Teitelbaum left the kitchen when the restaurant came to Clayton.
His mixed-experience – cooking and business – has influenced his ownership throughout the years.
"I have a more diverse training than most restaurateurs because I've worked front of the house, back of the house – I've worked every position there is," he said. "It does give me a better position when it comes to owning a business."
Part of that better position is successfully combining the goals of both aspects of the restaurant – food and profit.
"In [the restaurant] world, it's not run to be a profitable, good work environment, long lasting piece of the community. I wanted to make sure that we were able to do that. We believe in empowering our employees and treating our guests like family. That is kind of why I wanted to be the owner, so I could make sure that kept going," Teitelbaum said.
Now that Herbie's is in Clayton, Teitelbaum and his staff have gotten involved in the community.
"Since we've been here, we took an active role with the Art Fair last year. We were a lead sponsor. Same thing with Party in the Parks: we're a lead sponsor. We have talked with everybody that we have been involved with that we want to be involved as much as we can because I believe being part of the community is a responsibility of every business owner."
Along with sponsorship of events, Herbie's participated in Clayton Restaurant Week but extended their another week beyond the rest of the restaurants, donating 10 perfect of the proceeds to Operation Food Search.
While Teitelbaum does own another restaurant in St. Louis – Kingside Diner in the Central West End chess campus – he is not seeking expansion of Herbie's.
"I don't always think more is better. I think a lot of times you dilute your brand and you dilute your business," he said. "Herbie's is a beast of its own. This takes a lot of personal touches and it's not something you can replicate. It's great because of my staff and my team and the building and the artwork and all of those things. It's not something I could take up and make another one of."