Susan Murray
Q: How long have you been teaching?
A: This will be my twenty second year teaching high school science. Since 2001, when I moved here, I taught at De Smet Jesuit . Before that, I was at a coed public school in Mcalester, Oklahoma for 4 years where I grew up. Most of my teaching experience was with the private sector.
Q: What is your impression of Clayton?
A: I did not know much about the school district, since I am not native here. Clayton seems like a "big small town". Seems like everyone knows someone somehow. Until I applied, I did not know a lot about the school, so I have been learning more and more.
Q: What do you enjoy about Biology?
A: Science in general, biology especially, life sciences, I just always have been fascinated by, and felt connected to in some way. I have always been intrigued by discovery, growth, life span and how things work. Especially getting down to the biochemical level. When you look at biochemistry, it is really a combination of chemistry and physics, everything comes down to simple machine, shape determines function, or the chemical attractions between molecules. Applying that knowledge to how the whole system works and how the parts work together is just really amazing to me. As a teacher, I get passionate about sharing the excitement with the students.
Q: Are you going to coach any sports?
A: I am going to be the assistant girls basketball coach this year. In june, I met with coach Knight and some of the girls since they had summer practice times. That was excited, because in De Smet, it was an all boys school, so I'm looking forward to having girls in the classroom again, and to coaching again since I have not coached in a while. To be coaching girls sports again would be a lot of fun for me. Meeting them started to bring the energy that I was looking forward to.
Q: Do you have any kids or pets?
A: I have two kids. I have no pets, my dog died this summer.
Q: Do you have a favorite teaching story?
A: One day I brought a pancake griddle to school and decided I was going to make pancakes for a class. Then it became really popular, so we decided to sell them and raise money for charity. Then it became "Ms. Murray's Pancakes". They walk into the building and can smell it, because I have a special recipe. Kids will come back before or after school and ask for pancakes. It was like a pancake club: eating pancakes and donate money. It was something fun I liked to do, because I like to cook and it gives people joy. Sometimes we have six different griddles, and a bunch of teachers, we have the entire freshman class in to have a pancake breakfast. The high school is fun when you get to know the kids outside of the classroom, so I intend on involved in different club activities, coaching.
About the Photographer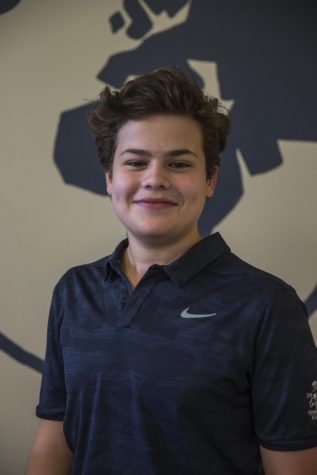 Michael Melinger, Chief Multimedia Editor
Michael Melinger is a Senior at Clayton High School.  This is his fourth year on the Globe.  He currently serves as the Chief Multimedia Editor for the Globe.  This is his third...