The Future of the Choir Program
The choir program at Clayton seemed to be nearing its end: but this year, instrests have piqued once again under new leadership.
In recent years, the choir program has fallen into a rut of obscurity, with minimal presence in the high school and decreasing participation. However, with the introduction of new part-time teacher Raynard Brown, the potential seems to be growing. Despite the dramatic drop from 66 requests in the 2016-2017 year to a mere 35 by the next school year, gradually more students are expressing interest: the total number of students participating in the 2018-2019 year have now hit 58. Currently, 16 members are in the chamber choir class, and around 42 are attending the zero hour show choir meetings.
Clayton High School sophomore Leo Thomas is excited at the prospect. He found a passion for music when he first joined choir in third grade at Captain with his teacher Mr. Mayer. He has continued to take choir ever since. He's also seen a new choir teacher every year since sixth grade, but with low participation; however, a new future might finally be in store for the program. Although Thomas was one of three boys and the only bass in the CHS choir last year, with the start of the 2018 school year he's already seen the choir's numbers increase and people flooding into show choir.
"This year we're bigger than we've been in a while," Thomas said. "While I'm sure Mr. Urvan, the choir teacher at Wydown, has something to do with the renewed interest in choir, I think it's mostly because of Mr. Brown."
Brown grew up singing in church and started teaching in 1985, in Lebanon, Missouri. The program ran about 700 to 800 students in a choir. A lot of traveling was involved, especially since the big time show choir traveled a lot during competition season. They even sang for three different presidents. After Brown married, he moved back to St. Louis, where he taught at Parkway for 16 years. Brown also did professorships and taught at UMSL, Ithaca College and Maryville, until finally deciding to retire. When he started getting ready to quit teaching, a friend mentioned a part-time job at Clayton. Brown ended up interviewing and was offered the job.
"He's there for you, he's not there for him. He's there because he loves it," sophomore choir student Cavan Helmering said.
After examining past records, Brown agreed that choirs at CHS tend to be smaller, which he believes is due to Clayton students being heavily involved in other activities. Helmering mentioned that numbers are low in comparison to other schools in the area.
"It's a 16 person choir, other schools have like over 50… they'll have a huge amount of people. We don't really have that much," she said.
The choir class itself is only offered one period in the day, which creates scheduling conflicts since classes cannot always be moved around to accommodate choir in students' schedules. Still, Brown is certain that the choir program will grow and is already fascinated with the current progress.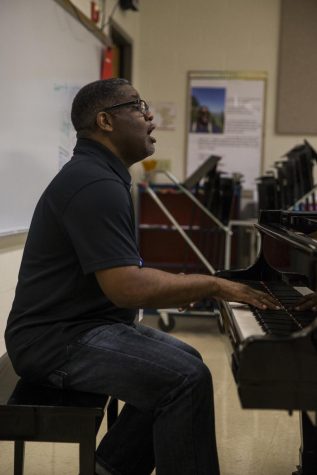 "The students who are in there now are doing phenomenal, and I think that's why I want to name the show choir Legacy, because I see kids who are going to leave a lasting legacy. I think the program is going to grow… All the choirs sound amazing. I really, really mean that," Brown said.
Although he's impressed by the number of students coming in, he plans on hosting activities such as an ice cream social to raise awareness and allow others to get to know him. He has assigned the role of executive assistant to some of his students, who are helping in planning these get-togethers.
"Big time goals are to give students great opportunities, kind of just go out and see that the choir world is much bigger than they think, and kind of connect with other schools and other communities… Probably do some events that really speak into the community, whether we can help somewhere, or we can do activities that reach out to a disenfranchised group of people, where choir has a real purpose other than just singing songs," Brown said in regards to his long term plans for the choir, which speaks to the new future the choir program might have at Clayton. Not only does he believe that choir has a greater purpose, he believes it cultivates a memorable community.
"I know with my past students they've built such a great community that… last summer, I went and spent seven days with 24 of my former students down in Nashville. The reason why that is is because they built such a great family, a great community, and they have purpose and they have function and they build great memories. When I think you're along the way trying to get a really solid education… I think you also don't want to leave out an opportunity to live a solid life. And I think choir will kind of give you that," he said.
The current students enrolled in choir sing high praises for the new teacher. Freshman Jimmy Landau said, "Mr. Brown is by far the best choir teacher I have ever had… he can tell us how we're all doing, and what we need to work on." Other students share the same sentiment.
"Mr. Brown brings an exciting yet professional atmosphere to the choir room. He pushes us to improve but always lets us know that he knows that we can," Thomas said. It is widely agreed upon that Brown is both accepting of every voice, regardless of the skill level, but pushes the choir to reach their potential as a whole.
"
It's kind of like learning to drive a car. You just do it. The fun comes because you go places. That's the way choir needs to be."
— Raynard Brown
Regardless of the current leadership and any new changes to be implemented, all students reap the benefits of the choir program. Bath University psychologist Nick Stewart's research points towards choral singing being beneficial for an individual's mental health. Although students concur branching out, sharing their voice and the prospect of being judged by others are all nerve-wracking, the fear is also combated by the supportive members of the choir. In general, as Brown suggests, there is a strong sense of community within the choir program, furthered as students grow closer over the course of the year.
For Helmering, choir and singing in general is an escape for her. "No matter how crazy life is, singing is always there for me. I've been singing since I was five," she said.
Show choir is beneficial to those interested in musical theatre productions and especially the school musical, since students learn to dance, sing Broadway-like musical theatre songs, and understand how rehearsals run. In both choirs, a lot of experience isn't necessary, only effort, and the result is the ability to develop skills as a singer with others who enjoy the art. Brown believes his class is an easy A, and although there are all the typical instructions or rules that come with a course, it becomes second nature to follow them, since his main philosophy stems from the idea of making mistakes, making them loud, and simply putting forth an effort.
"It's kind of like learning to drive a car. You just do it. The fun comes because you go places. That's the way choir needs to be."
Your donation will support the student journalists of Clayton High School. Your contribution will allow us to purchase equipment and cover our annual website hosting costs.
About the Contributor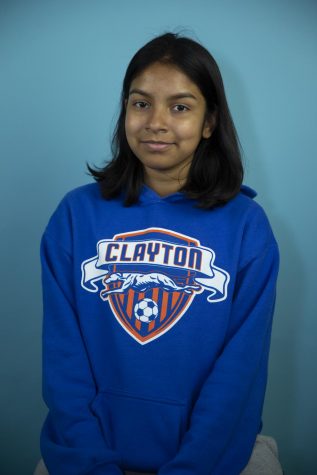 Disha Chatterjee, Feature Section Editor
Disha is a junior and this is her second year on Globe. Disha joined Globe because she loves writing and wanted to get involved in a new experience. She is looking forward to trying...